As part of its sustainability strategy, Acer is not only investing in recycled materials, less packaging and reusable components, but has also commissioned PX3 – an IT consulting company specialising in sustainable technology – to conduct benchmarking of devices in order to thoroughly quantify their energy consumption, including the Chromebook Spin 311.
This newly upgraded notebook has sealed Acer's leadership in the Chromebook market. Weighing only 1kg, it combines 15 hours battery-life, ease of use, tough security and energy efficiency, making it an excellent low-cost, yet versatile solution.
In addition, Acer Chromebooks' Chrome OS enables efficient energy use and optimised device performance, as well as delivering digital well-being in the classroom and beyond.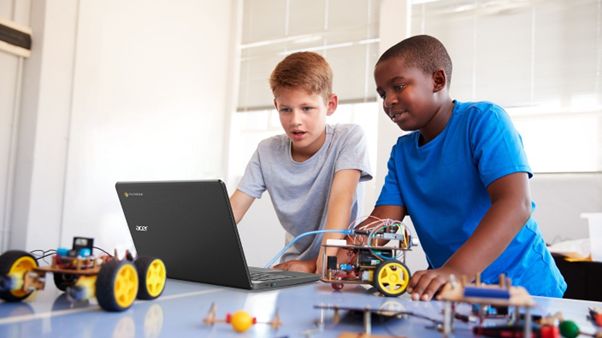 Green technology
PX3's scientific exercise on this device measured its energy consumption while it was used extensively for 'real-world' productivity tasks. The result showed that the Spin 311 is a category-leading energy performance device, consuming as little as 0.019 kWh per working day.
As such, using a Chromebook 311 would reduce power usage and related emissions from an average mixed environment of desktops and laptops by around 70%.
What's more, if compared with a typical legacy estate of Windows desktop PCs, energy and emission savings achieve up to 84%. PX3's research director affirmed that "Organisations seeking to adopt sustainable IT strategies are enabled to achieve abatement goals, reduce electricity consumption and accurately substantiate success by transitioning to the Acer 311 Spin Chromebook."
It's another example of Acer demonstrating its forward-thinking and commitment to investing in devices that balance lower-energy use with the demands for performance and battery life.
"Using a Chromebook 311 reduces power usage and related emissions from an average mixed environment of desktops and laptops by around 70%."
Paperless classes
Acer Chromebook and Google Workspace for Education offer the classroom environmentally friendly options and flexibility. Apps such as Google Classroom and Google Meet keep parents informed electronically while reducing emissions caused by travelling to conferences and face-to-face meetings.
Moreover, Google Docs, Forms, Slides and Sheets improve efficiency and reduce the paper used for tests, textbooks and communications.
Flexible & eco-friendly
Schools that choose Acer's Chromebook Spin 311 benefit from its multiple form factors, which adapt to any learning environment. The device is a game-changer when it comes to eco-friendly technology for your classroom.
To find out more, download the full research report, 'Sustainable IT in education – issues, trends & attitudes among decision makers', on the Acer gated website.
The exact specifications, prices, and availability of Acer devices varies by region. To learn more about availability, product specifications and prices in specific markets, you can contact your nearest Acer office via www.acer.com