Write-in workbooks for religious studies students with everything they'll need ahead of their exams…
At a glance
Ideal workbooks for exam preparation, sharing proven strategies for raising attainment
Authoritative coverage of both A and B AQA specifications
Examples and practice questions for student completion
Helpful hints and tips which students can use or cover up
Answers and mark schemes online for immediate feedback
---
AQA GCSE Religious Studies Workbooks are not your typical workbooks. They ask big questions, while supporting and stretching students via shrewdly designed activities that reinforce core content with linked activities that lead into exam practice questions.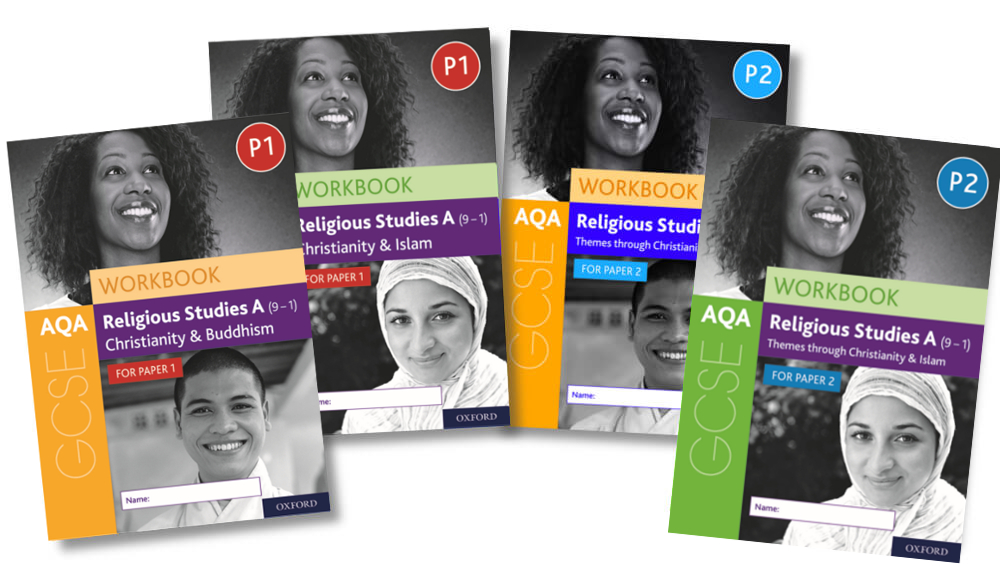 There are workbooks available for Paper 1 and Paper 2, and they contain comprehensive coverage of major faiths with a consistent and crystal-clear structure to each chapter.
The no-nonsense presentation gets straight down to the core business of learning, with each chapter diving into a range of challenging activities linked to top tips and purposeful pointers, so that students know where to look for further information.
The activities ask students for plenty of input via written responses and will get them interacting with key quotes and talking points inspired by, or taken from, different sources of religious belief and teaching.
There's also the option to set additional challenges through various stretch activities that are built in to each chapter.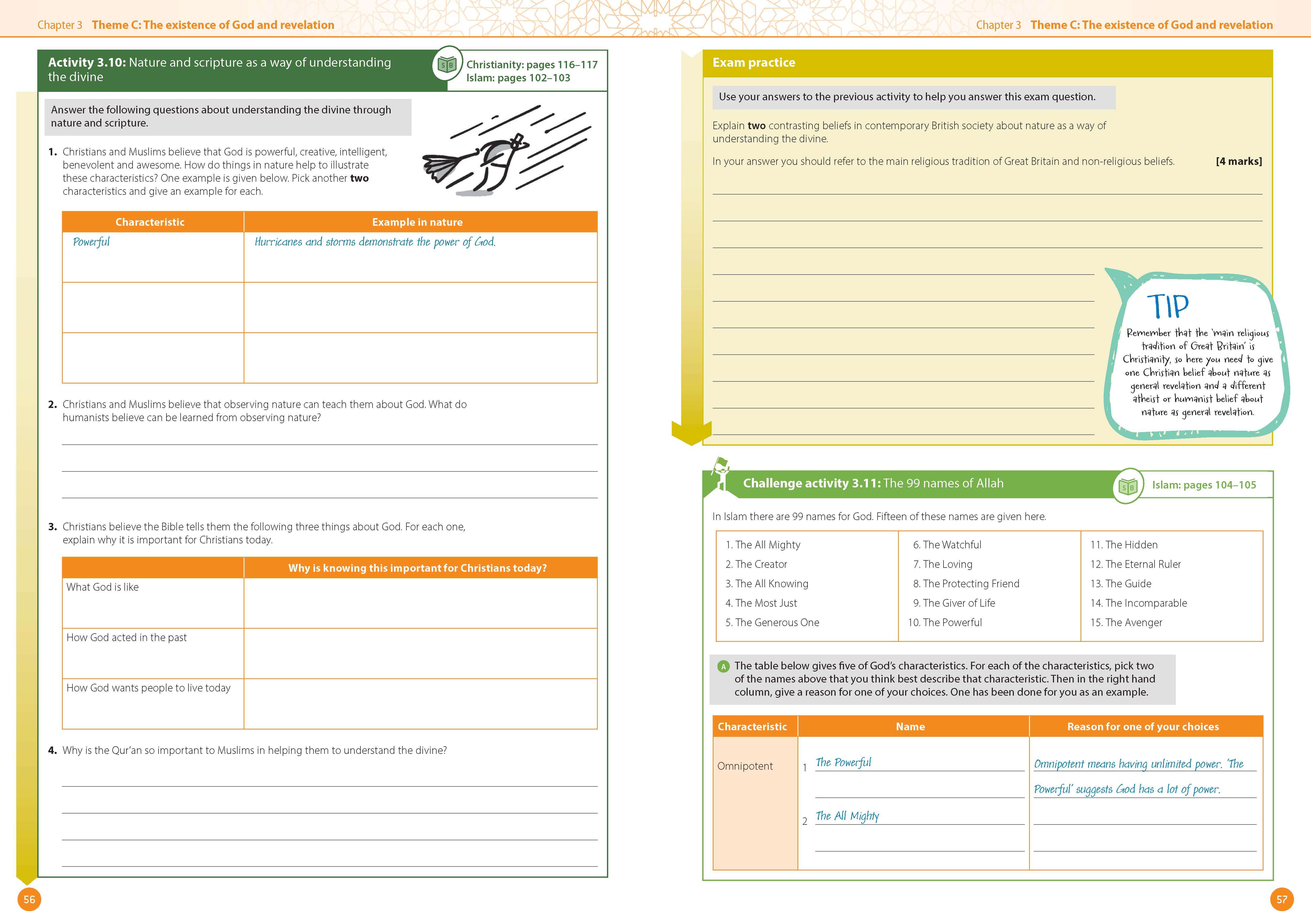 To help students get to grips with the specialist subject language they'll need, a number of DIY fill-in glossaries are included at the end of each chapter, with space provided for writing definitions and example sentences.
There are clear signposts throughout for helping students understand what's required of them for different questions, how those questions are weighted in terms of marks and the types of responses needed to attain full marks.
Exam practice questions feature heavily, alongside activities that help students understand what it is that examiners will be looking for.
The books' exam practice chapters include expertly crafted sample answers, scaffolded activities and practice questions, as well as support for evaluation and the long 12-mark question.
The sample answers can provide valuable insights into students' potential strengths and weaknesses, and what can be done to produce jumps in performance.
Students are clearly shown the type of responses that will get the marks and the type that won't, and are given the chance to improve on a series of mock responses shown within the book.
The answers can all be found online, enabling students to check how well they have done and examine what they must do to improve.
Write-in workbooks are a great idea, and a highly effective addition to the reading, learning and revising process for how they encourage full engagement with a subject.
These particular books are ideal for use alongside the AQA Student Books and Revision Guides, and priced at £5.99 per title, represent terrific value for money.
---
Verdict
Loaded with challenging questions and activities
Embeds thinking skills
Strengthens understanding of core topics
Colourful, clear and engaging
Sample answers to help guide improvement
Dovetails effortlessly with the 'Recap, Apply, Review, Succeed' approach
Upgrade if…
You are looking to upgrade students' thinking skills and exam responses in religious studies, so that they can showcase their abilities to argue, reason, justify, explore and evaluate ideas.
Find out more at oxfordsecondary.com/re.
---
Reviewed by John Dabell