To celebrate the forthcoming Tokyo Olympic Games, Aldi and Team GB are challenging young people aged 5-14 to get creative and design an Aldi lorry that celebrates fresh, healthy food.
By taking part in the competition, students have the chance to see their designs come to life – with the two winning designs each used on their own Aldi lorry, ready to deliver produce to Aldi stores around the country!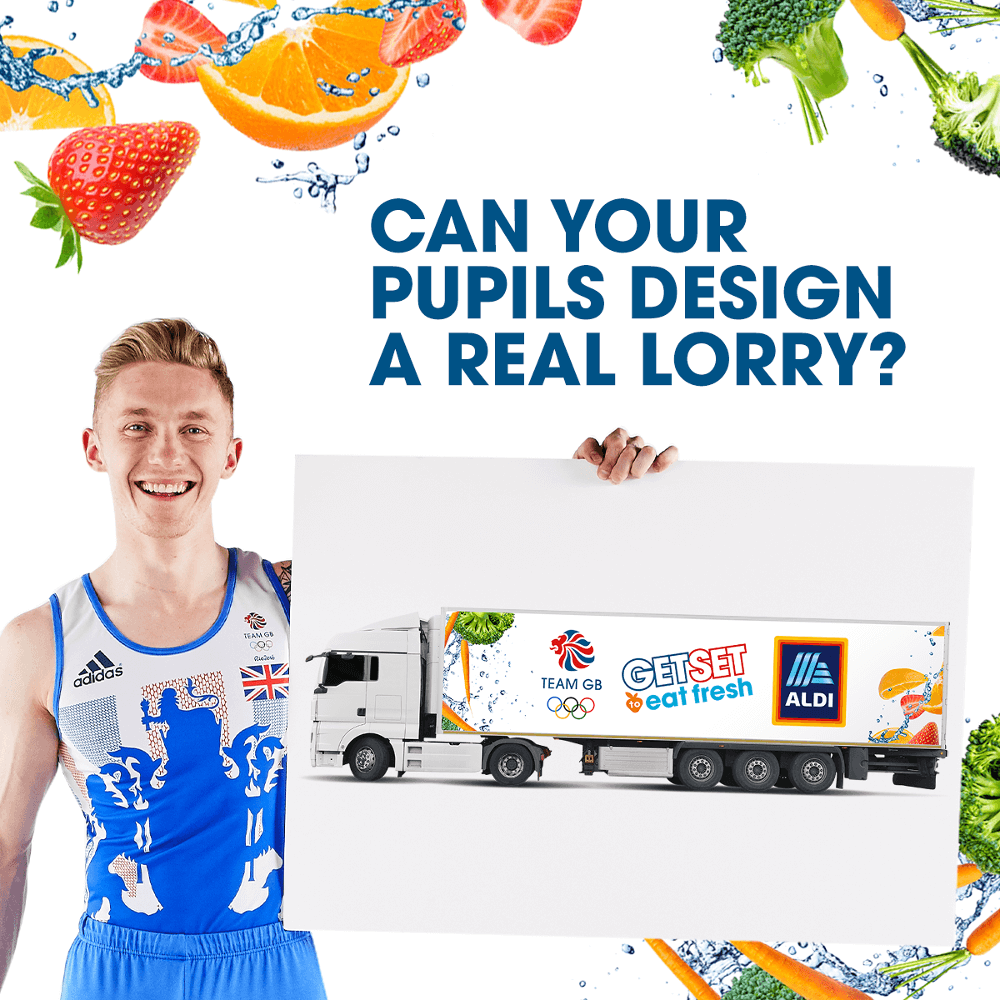 The winning student will also receive a Team GB goody bag and £50 of Aldi vouchers to spend on fresh produce or kitchen equipment, and their school will win £1,000 of Aldi vouchers for kitchen equipment or ingredients.
The competition, which is part of Aldi and Team GB's award-winning school initiative, Get Set to Eat Fresh, encourages students to explore different ways to celebrate healthy, fresh food, and learn the skill to create a great design for an Aldi lorry.
Design a Lorry resources
The competition is supported by new Get Set to Eat Fresh resources that offer curriculum links to art, design and technology, PSHE/health and wellbeing and sustainability.
The teacher resources available for Design a Lorry include a series of adaptable activities to use with different age groups, including exploring what other young people say about healthy food, ideas generation games and healthy food quizzes, which test pupils on key issues such as portion size and daily water intake.
These resources help get students excited about the Design a Lorry competition and explore how their design could be seen by (and should aim to inspire) a diverse range of people from all over the country – from school children and athletes to Aldi farmers and suppliers – as the lorry makes its way around some of Aldi's over 950 stores that reach every corner of the UK.
The prizes
The winning design will be selected by a judging panel, including Aldi's Team GB Athlete Ambassadors such as triathlete champions the Brownlee Brothers, Olympic gymnast Nile Wilson and sport climbing star Shauna Coxsey.
The judges will be on the lookout for an inventive, exciting and eye-catching design that celebrates good food and will inspire others. Aldi and Team GB are encouraging students to get creative to win prizes for themselves, their schools and see their design skills on their own Aldi lorry.
How to enter
Students can submit their entries up until Friday 25 June. To download the Entry Template and Cover Sheet for Entries, please visit: getseteatfresh.co.uk/designalorry.
For more information about the Design A Lorry challenge and supporting resources visit: getseteatfresh.co.uk.