You Can't Google Your Way To Resourcefulness Or Resilience – We Must Nurture These Human Skills In Our Pupils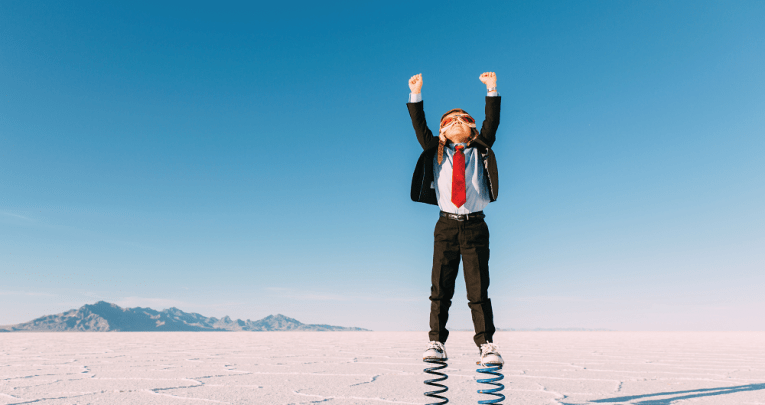 "You won't find me campaigning to put enterprise on the statutory primary curriculum", says Ben Cook
by Ben Cook
Teachers want the best for their pupils. In the long-run, this means preparing children for life after formal education, whichever career path they take. But what does that mean in 2017?
Does it mean striving to produce straight-A students? What about the skills tomorrow's employers will really be looking for? What about teaching the things we can't just Google?
The world of work is changing faster than ever before. A recent study by Oxford University predicts that 35% of jobs are at risk of automation within the next 20 years. Predicting the skills required by tomorrow's workforce is one thing, working out how to teach them and adapting the curriculum as such, is certainly another.
It is becoming increasingly apparent that developing the skills and attitudes that help people deal with change and overcome a range of challenges must be at the forefront of education.
I believe the onus is on primary educators to best prepare children for the world of work they'll face in 10 to 20 years' time, because it's in our formative years that it's easiest to develop the mindset that will carry us through the rest of our education and into our careers. Once students reach secondary school, they're well and truly on the exam conveyor belt and academic performance is unwavering in its hold over pupils, parents and policy makers.
The power of role models for young children's development cannot be understated. We understand how important it is for children to find the right friendship groups and what a difference family role models make. But there is a role model you have complete control over: you. The key is in embodying the change we'd like to see in our pupils and showing the traits we want to cultivate.
Crammed curriculum
The primary curriculum is a necessary evil. Understandably, there's a love-hate relationship with it among teachers, governors, parents and children. The structure and uniformity that the national curriculum stipulates means pupils begin secondary school on an approximately level playing field before embarking on their next round of examinations.
With an already packed primary curriculum, how do we go about introducing the skills I describe as 'enterprising'? These are as much character traits and attitudes as they are skills; resourcefulness, independence, creativity, and hard work. How many of us agree that there's too much spoon-feeding of material and too much focus on retaining information in order to pass exams? Is it fair or effective to be bashing as many square pegs through round holes as possible in 2017?
The harsh reality is that over the next twenty years the jobs market will change markedly. It already is. In an age when information is everywhere and so many roles are set to be challenged through automation, robotics and artificial intelligence, it is the most human of skills that we must nurture. Increasingly, it is only the most human of skills that will be valued in the workplace.
As an enterprise educator, my role and challenge is to empower parents and teachers to help children adopt these skills as effectively as possible within the confines of the curriculum and the school day. You won't find me campaigning to put enterprise on the statutory primary curriculum. There are dozens of subjects vying for a position there, and who am I to say what should and shouldn't be taught? Besides, putting enterprise education into a mark scheme is challenging and nonsensical. How does one measure attainment in resourcefulness, resilience, positivity, and independence?
But this challenge actually gives rise to the perfect solution. Enterprise must be embodied in the culture of the school environment and its ethos of teaching and learning. While enterprising behaviour must be learnt, I don't believe it can be taught – at least not in a traditional sense. Enterprise education is the perfect example of where teaching and learning are not in perfect harmony.
Business minds
There are two elements to enterprise education. Firstly, we must help children learn the attitudes and behaviour of an enterprising person. This has far-reaching benefits across learning, personal development and achievement, both in academia and beyond.
Secondly, we must begin to give children basic insights into the role that businesses play in society. Too few children understand how our society and economy work in practice, even on a fundamental level. This is a major barrier in deciding the role they want to play in it as they grow up.
Children who develop valuable character traits and commercial awareness are precisely those who will be successful in our changing society. We have the power to futureproof children through enterprise education by empowering them to adapt to change and be a useful person, whichever path they choose.
Small steps
Creating wholesale change in schools won't happen overnight, but there are many steps to begin the process. There is nothing more powerful than a real-life enterprising role model. If you address challenges with the right attitude, so will your students. If you remain relentlessly positive in the face of adversity, your pupils will learn that. If you seek novel solutions to problems without fear of failure, so will they.
You don't need to be teaching 'enterprise education' to help children be more enterprising. By recognising and giving praise to the actions of pupils, not just successful outcomes, we can nurture a can-do and persistent attitude. Often, there is successes in just doing; just trying; not only in succeeding. Reward children who make mistakes – they've clearly tried to do something they're not sure they can do.
PSHE represents a great opportunity for enterprise education. Many elements of a traditional PSHE curriculum can be anchored using enterprise if done correctly. This period of less structured and scrutinised teaching and learning is the perfect place for this subject matter.
Building enterprise into the school day, without making it a separate topic, is key. Our society is developing far quicker than we'll be able to evolve the primary curriculum. It's down to forward-thinking and enterprising teachers to think critically about how we can adapt the existing school culture to better prepare children for a changing jobs market.
---
TEACHING ENTERPRISE ACROSS THE CURRICULUM
Traditional subjects provide ample opportunity to address real-world enterprise concepts, which means commercial awareness can be introduced.
Financial education and maths have areas of crossover. Understanding what profit is and why businesses need to make it to employ people is valuable for children's understanding.
Developments and discoveries in the world of science are crucial for the advancement of society. What improvements did they make to people's lives? How did the inventors get their inventions used by the general population? How could you create something that people will want to buy?
Writing company blogs or press releases in English lessons is a brilliant way to ply creative skills and bring commercial awareness into everyday language.
Use art and design or ICT to design posters or websites to develop marketing skills and commercial awareness. Why might people buy your products? How do they improve people's lives? Why are they different to your competitors'?
---
Ben Cook is co-founder of Clever Tykes, a company that provides enterprise education storybooks and teaching resources for KS2 that inspire children to be positive, resourceful and creative. The resources are available for free at the website, and you can follow on Twitter at @clevertykes.