Year 2 spelling words – 13 of the best worksheets and resources for KS1 SPaG
Help young learners get a good grasp on spelling before they get to KS2 with these activities, ideas, games and more…

by Teachwire
National Curriculum English Programme of Study
Pupils should be taught to
Spell by:

segmenting spoken words into phonemes and representing these by graphemes, spelling many correctly

learning new ways of spelling phonemes for which one or more spellings are already known, and learn some words with each spelling, including a few common homophones

learning to spell common exception words

learning to spell more words with contracted forms

learning the possessive apostrophe (singular) [for example, the girl's book]

distinguishing between homophones and near-homophones

Add suffixes to spell longer words, including –ment, –ness, –ful, –less, –ly
---
1 | Year 2 spelling workout worksheets
These review worksheets, covering the Year 2 homophones and near-homophone list from the English Programme of Study, are an excellent way to revise and practise these words.
This comprehensive set of teaching, practice and revision activities cover the statutory word lists and spelling patterns for Year 2, encouraging children to master rules and exceptions, identify misspelt words and apply their spellings creatively in context.
The worksheets include five different activities in which children look at spelling patterns, identify misspelt words and apply their spellings in context.
---
2 | Year 2 common exception words worksheet packs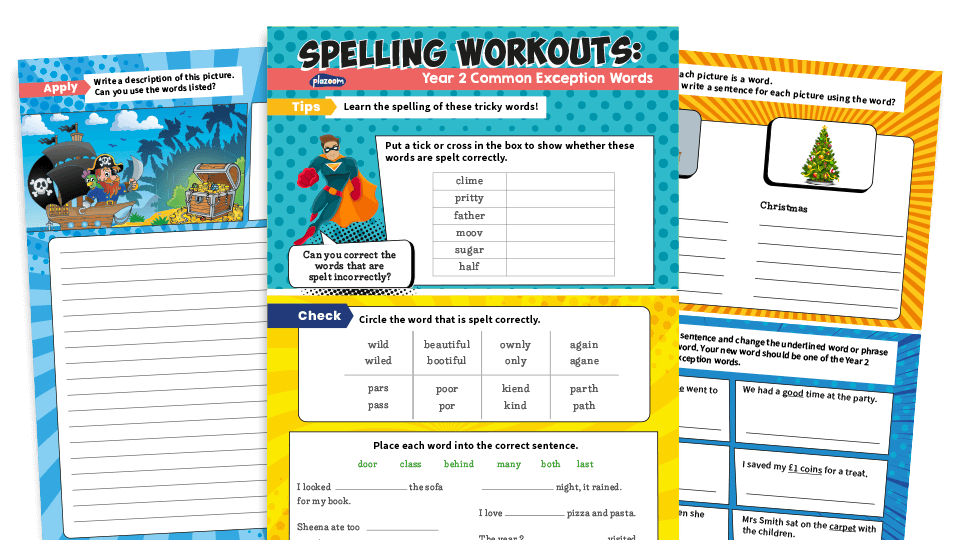 These Y2 common exception word (CEW) packs allow pupils to practise reading and spelling a selection of the 64 tricky words.
Each of the 6 worksheets includes two or three words for Key Stage 1 pupils to read, spell and understand, with an opportunity to develop letter formation using handwriting line guides.
---
3 | Year 2 common exception words – Word mat and word cards pack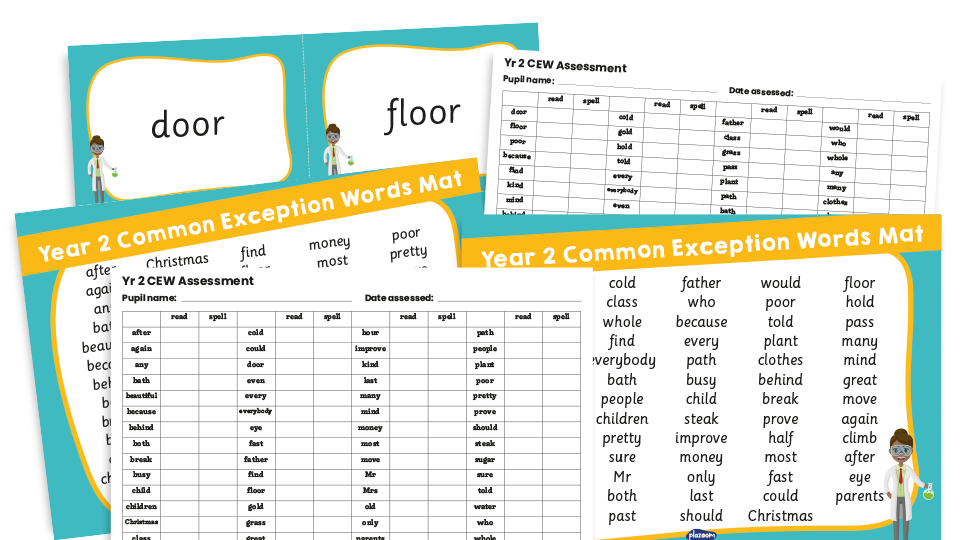 This Key Stage 1 pack has been put together to support you in ensuring that children are familiar with the Y2 common exception words, both for reading and for spelling.
The words are presented on cards for display; and as mats (in alphabetical and non-alphabetical order) that can be used for table work.
---
4 | One-syllable word families spelling activities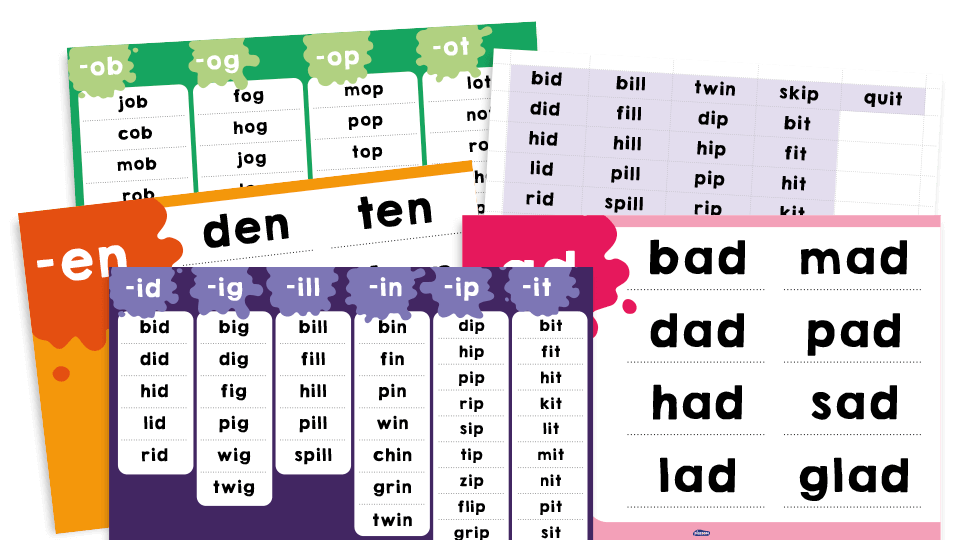 Looking for activities for Year 2 spellings? The resources in this spelling games KS1 word family pack will help children in KS1 to practise recognising letter patterns through interactive wall displays and card sorting activities.
This pack is great for covering KS1 spellings because there are 20 word families to look at.
---
5 | Interactive spelling games
For something a little different and a bit more fun, give these free-to-play games a go to consolidate spelling skills and eradicate common mistakes.
---
6 | 7 ways to boost spelling in primary
Greater accuracy will free children to write fluently, at greater length and to include more challenging vocabulary, so try these tips from Kirstie Hewett.
---
7 | Year 2 spelling patterns classroom display packs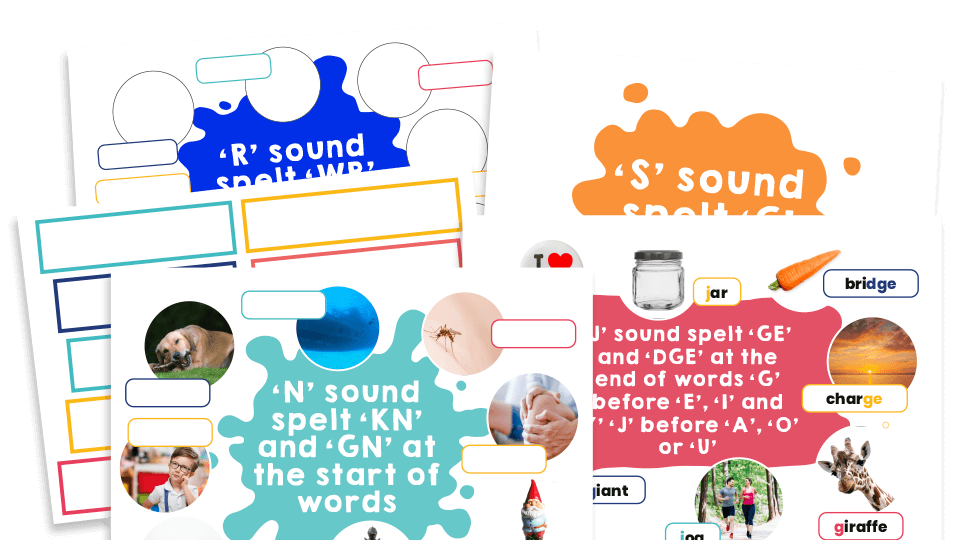 Enhance your KS1 classroom displays with these sets of 14 colourful posters based around Year 2 spelling patterns.
Each poster shows the spelling pattern surrounded by 8 eye-catching images illustrating words that use that pattern.
As well as the completed posters, the packs include:
posters where the example illustrations aren't labelled, so children can be challenged to identify the missing words;
posters showing the spelling pattern only, so children can add their own example words and pictures;
individual elements of the posters, which can be cut out and assembled as part of any larger wall display, and added to by the children.
Click here for pack 1 and here for pack 2.
---
8 | Year 2 spellings word-sorting activity pack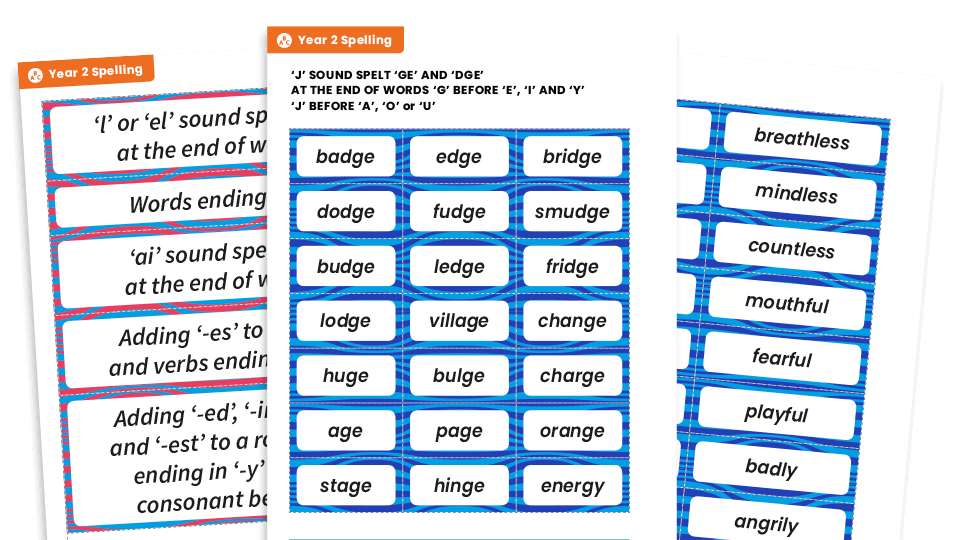 This Year 2 spelling words PDF pack contains a variety of Key Stage 1 spellings split into different Year 2 spelling rules and patterns.
Children can be given sets of word cards and asked to discuss the common spelling patterns, before sorting the cards into groups.
---
9 | Memorable strategies and games to make spelling stick
Does your class learn how to spell words one week, only to forget the next? It's time for more-memorable strategies, and Rachel Clarke offers six of her favourites here.
---
10 | Great speller and reader certificates
These free printable certificates are for giving out a 'Great Reader Award' and one 'Great Speller Award'.
Use them in class or in school-wide competitions and literacy initiatives.
---
11 | Year 2 spelling bingo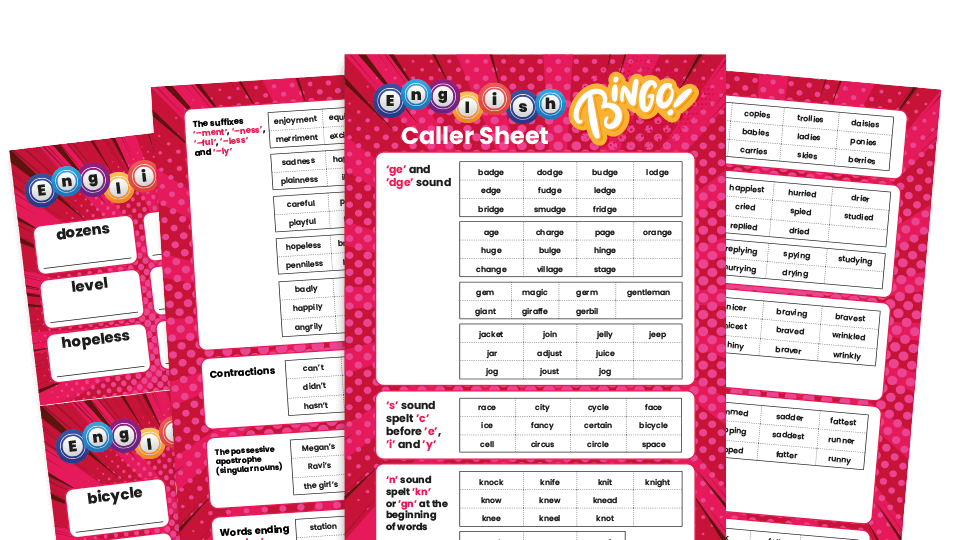 This spelling Bingo game is a fun way to support children in Y2 and above to practise and master key spelling patterns, and can be played as a class or in small groups.
It includes a 21-page PDF of bingo cards and caller sheets, as well as teacher notes.
---
12 | Year 2 spelling patterns word search revision pack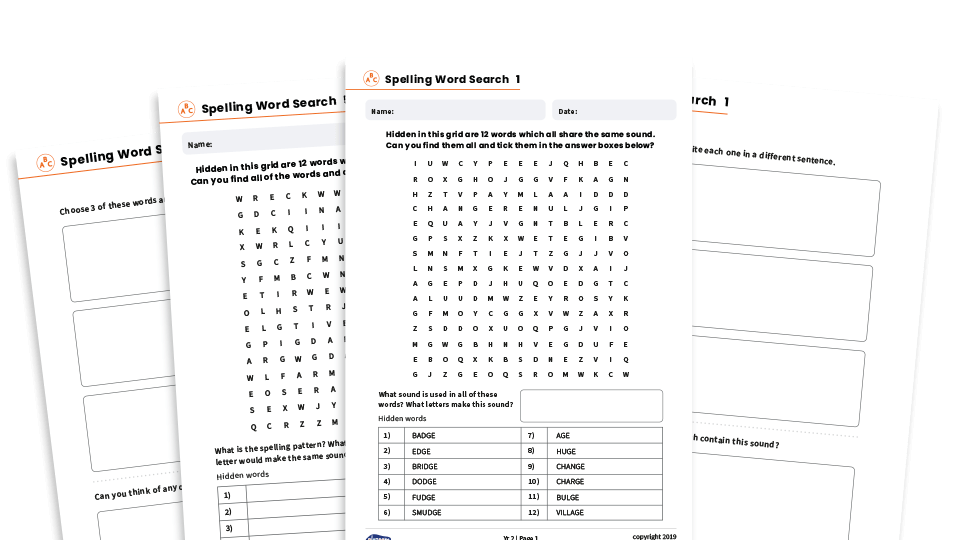 This Y2 spelling revision pack contains 25 PDF worksheets, each covering a different Key Stage 1 spelling pattern.
The children are asked to find hidden words in the letter grid, then identify the spelling pattern they share. Further questions on the spelling pattern are included on the second sheet. The hidden words are listed at the bottom of the page to help children with their search.
Two versions of each sheet are included – one with the list of words that children need to find, and one without for children who need more challenge.
Answer sheets for all the word searches are also included.
---
13 | Custom word lists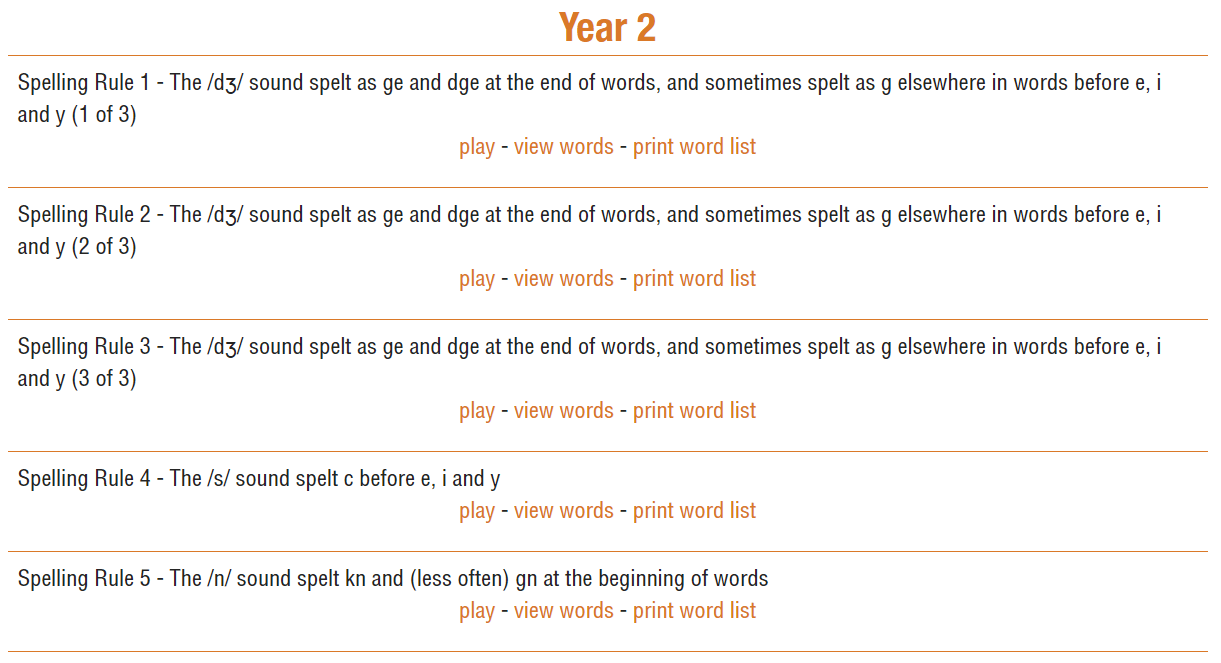 At SpellingFrame you pick a year group, then a spelling rule, then get a word list to either view, print or test yourself with online.
So, for example, you can choose from adding suffixes beginning with vowel letters to words of more than one syllable, words with the /s/ sound spelt sc, homophones and near-homophones, and more.
In the interactive tests, children can opt to have the entire sentence read out, or just the word they need to spell.