Who would have thought that some of the most positive news of 2016 would come from Ofsted?
The pre-Christmas treat arrived last week in the form of this document. It's one of a number of clarification papers that Ofsted has released over the last few years and, as always, it sparked a ripple of interest from the education world, mostly because of this paragraph: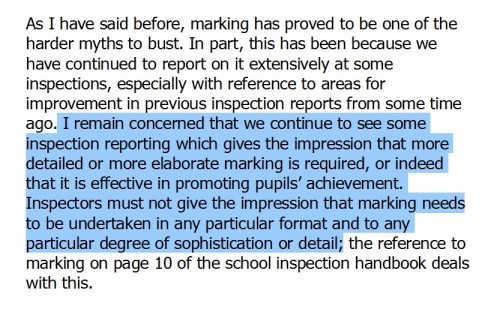 As I have said before, marking has proved to be one of the harder myths to bust. In part, this has been because we have continued to report on it extensively at some inspections, especially with reference to areas for improvement in previous inspection reports from some time ago. I remain concerned that we continue to see some inspection reporting which gives the impression that more detailed or more elaborate marking is required, or indeed that it is effective in promoting pupils' achievement. Inspectors must not give the impression that marking needs to be undertaken in any particular format and to any particular degree of sophistication or detail; the reference to marking on page 10 of the school inspection handbook deals with this.
To put this statement into context, it follows Schools Minister Nick Gibb's claim that teachers are "wasting time on marking in coloured pens". He's referring to the recent trend in schools' marking policies that insist teachers use green/blue/black/purple ink (anything but red, because red is bad) and then highlight the work in at least one other colour, before allowing pupils to respond to comments in blue/purple/pencil.
Exercise books are now a rainbow of annotation and it's not uncommon to see more on any given page from the teacher than the pupil.
How did we get here?
It's hard to pinpoint the exact moment marking went from being a task that could be completed on the bus ride home, to an activity that requires three different-coloured pens, a variety of stamps and stickers and a good five hours to spare.
Marking has always been part of teaching, and always will be, but this is marking on steroids.
It started about four years ago, when Ofsted announced it would no longer form judgements about teaching on 20-minute showpiece lessons (hurrah!), but would instead be using children's exercise books to build a picture of what happens in that classroom on a day-to-day basis.
This meant progress in books had to be evident at any point in the year. And how do you show progress in books if Ofsted arrives on the 8 September? Next-step comments. At the end of each lesson you go through a child's work, pull out a part they didn't get right or need to develop and set them a task that will help them improve.
Whether next-step comments actually show progress or not is a debate for another day but one thing we can all agree on – this sort of marking takes a huge amount of time. With two-fifths of teachers quitting within the first five years of their career and 76% of them citing workload as the main reason, the time has come for schools to rethink this sort of policy.
Every school I've worked at has, at some point, adopted a version of this marking policy, and I don't blame them. While researching this article I spent half an hour looking through random Ofsted reports, and in that time found reference to frequency and thoroughness of marking in all but two of them.
There aren't many schools in such a secure position that they're willing to take their chances with inspectors who bring their own ideas about what the marking should look like with them. So, until we stop seeing comments about marking written about in reports this isn't a myth – it's an inconvenient truth.
What can we do?
Firstly, headteachers need to be brave. Fortunately, anyone who has decided to take on the task of being a head in Britain in 2016 is already braver than most. They're already putting their necks on the line just by being there. But the only way the marking myth, will ever actually become a myth is by confronting it head on.
Schools should consider creating feedback policies which include the expectations for marking. And keep these policies simple. Last year I was working as an assistant head in a primary school in East London, and we were fanatical about streamlining. We had a 'no more than two sides of A4' rule for any policy. The simpler it is, the more likely staff are to follow it.
So, have the discussion with staff – what do they think needs marking? Remember, 'to mark, or not to mark' is not the question here – the question is what to mark and how.
Secondly, schools need to be creative in their thinking. I know of several that now release teachers from class for a couple of hours each week, so they can call children out one by one to talk to them about their work.
This way, feedback is immediate and the child can ask any questions there and then. Of course, with very tight budgets releasing teachers may not an option, so consider an afternoon each week where pupils are set work that can be completed independently, freeing the teacher to feedback to pupils one to one.
Teachers, if you're reading this from behind a mountain of books and your head isn't initiating the marking discussion, don't be afraid to start it yourself. Bring it up at the staff meeting, or better yet take the clarification document and wave it under your SLT's nose.
The marking myth is a difficult one to bust, and it's going to require schools and Ofsted to work together.
Zoe is a freelance writer currently living in Amsterdam. In her spare time she eats cheese, talks politics and runs the award-winning blog, The Girl On The Piccadilly Line. Find her on Twitter at @zoeparamour.
Get FREE weekly updates, lesson plans and resources sent to your inbox!