Friday: I'm wide awake before 6am. My stomach is churning – the excitement mirrors those treasured childhood memories of joyful anticipation on Christmas morning before mum and dad (bleary-eyed) gave us permission to get up to tear into our gifts!
The suitcase has been packed for a week but it's opened one final time. Toothbrush? Check. Sleeping Bag? Check. Scientific calculator? Check. Everything seems in order.
Maths is a pretty big deal at our school. Stories of the previous two Maths Camps are legendary, so when we assemble at the bus bay there are 70 students and 10 teachers ready to head off on this mathematical adventure.
Perhaps the "geek chic" on display wouldn't grace the catwalks of Milan or Paris, but I get all misty eyed as I survey the 'Maths Camp' hoodies everyone is wearing as they pile onboard.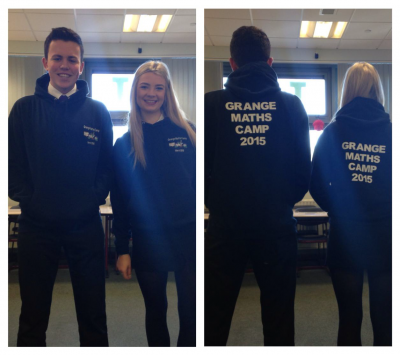 Our destination is Gartmore House, near a wee town with a brilliantly Scottish name: Aberfoyle.
The accommodation is basic but clean, and I'm sharing a dorm with "TDawg", "Monday Friday Taylor" and "Wardeboy".
I bagsy the top bunk and scale the ladders to immediately make my bed (mum raised me well).
There's no worries about security – we have those electronic access cards for the room door you get in hotels. No-one will be breaking in to pinch my wardrobe of pi-themed T-shirts I've brought to impress my fellow maths campers.
Everyone here is sitting higher or advanced-higher maths – the first study session starts and motivation is through the roof. Teachers distribute booklets to use throughout the 15 hours (yes, 15 hours!) of supported study that form the backbone of the weekend.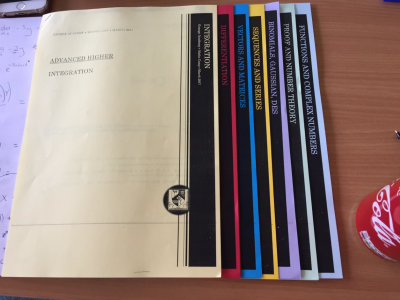 Part of the hard sell for Maths Camp is the impact it's had in previous years – on average, students have improved about 9% more from January prelim to final exam than those who don't attend. Hard work, but worth it.
Also we're issued with personalised maths transfers – so by the time we head for lunch our group resembles the nerdiest episode of Miami Ink ever.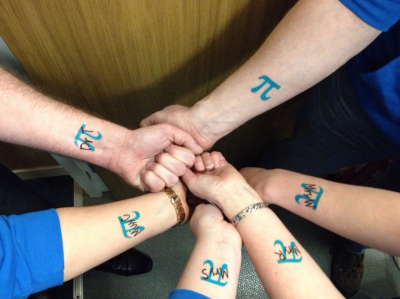 The afternoon study sessions are punctuated with short breaks, which gives us the chance to explore the grounds of the 18th-century mansion, to visit the games hall where we'll show off our football skills and kick lumps out of each other during "friendly" rugby matches, and make a cuppa for the caffeine hit that will fuel all the maths revision.
It's nice to see students and staff integrating (pardon the pun). It's relaxed and informal. Getting to know each other a bit breaks down that "them" and "us" barrier.
Friday evening entertainment takes the form of a "pub quiz". By "pub" I mean "big alcohol-free assembly hall", and by "quiz" I mean "competitive battle to identify the group with the biggest brains"!
In my opinion, stricter adherence to the rule about no mobile phone use was required!
Shortly after the winners are announced it's time for bed. Dangerously high decibel levels are recorded in our dorm – but the snoring culprit will remain unidentified.
Saturday: A fry-up is all the incentive required to coax us out of bed by 8.30am. And with bellies full, we're ready for a morning of maths.
There's an opportunity to remedy misunderstandings, to practise complicated techniques and to really get to grips with challenging past-paper-style questions. It's inspiring to be surrounded by such a keen bunch of fellow mathematicians – everyone is buzzing about the progress being made.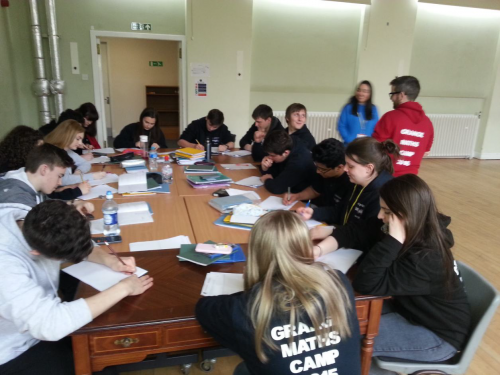 By now, brains have had a serious workout. So, in the afternoon it's time to expend some energy on a line-up of physical activities.
A juggling masterclass exposes those with a lack of coordination, but there are some naturals who wouldn't look out of place in a professional circus.
Inflatables have been hired too.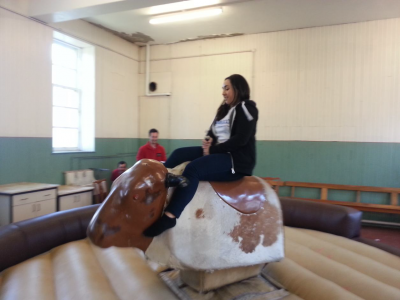 I may have been thrown off the bucking bronco in 21 seconds, battered off the duel, outstretched on the bungee run, but it's still fun, and by the end of the afternoon I'm ready for dinner.
One final evening maths session sets us up for the Saturday night entertainment. Ceilidh group "Jiggered" are our band for the evening. The floor is packed all night from the first dance to the big finale, the Auld Lang Sine (Wave)!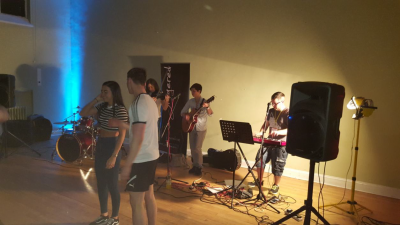 After 90 minutes of high-energy dancing, we're exhausted, sweaty and ready to drop. The subsequent dash to the showers to freshen up leads to the dorms filling with steam, triggering the smoke alarms.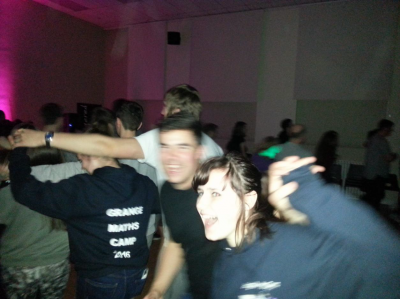 It's a bit of an inconvenience, but actually, standing outside at midnight with wet hair wrapped up in towels looking up into the cloudless, starry sky adds an another memory to Maths Camp.
Sunday: Bags under the eyes this morning as we queue for our tattie scones, sausage and bacon.
After this, we assemble for the obligatory group photo. Everyone knows the drill – tallest kids to the back. So, inevitably, I'm in the front row!
One final Maths session follows and then the bus rolls up to take us home.
The journey back is a quiet one. Maybe it's tiredness. Maybe it's the reality hitting home – Maths Camp is over for another year.
But at least I get to go again next year. It's one of the benefits of being a maths teacher at our school!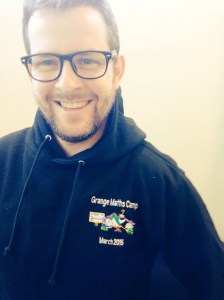 ---
Chris Smith is a Maths teacher who tweets as @aap03102 and writes a free weekly maths newsletter for over 2000 subscribers (sign up by emailing [email protected]). If you're thinking of running a Maths Camp start by downloading Chris' full report including resources, programme, photos and top tips here.
Get FREE weekly updates, lesson plans and resources sent to your inbox!