The best questions to ask to support children's reading comprehension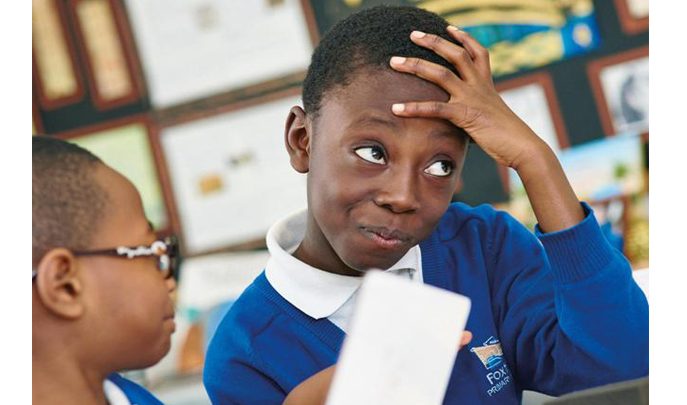 Ascertaining children's understanding of a text shouldn't feel like pulling teeth, nor should it require it. Just get creative with effective questioning, say Nikki Gamble and Camilla Garafolo…
It's hard to imagine a reading lesson where you wouldn't ask questions to find out what children understand about a text.
But since the 1970s, research has shown that asking too many questions without giving the reader time to formulate his own questions or process his thinking can inhibit, rather than support, comprehension.
There are, however, steps you can take to make sure your questioning is effective.
You can help children formulate their own questions and give them opportunities to pursue the answers.
You can use your questions to respond to pupils' ideas – to structure and scaffold their thinking so that they come to a deeper understanding of the text.
And you can ask appropriate questions before, during and after reading, which develops comprehension more effectively than only asking questions afterwards.
In Richmond, teachers have been taking part in the Developing Excellence in Reading project and reviewing the way in which questions and alternative prompts are used in their classrooms.
What follows is three of the strategies that have proved particularly effective when it comes to improving reading comprehension.
1 | Use question organisers
These help children analyse their own questions. For example, the question quadrant below illustrates how a group of Year 5 children organised their thoughts after reading David Wiesner's wordless picture book, Flotsam.
Following a first read through, they wrote questions about the things that interested or puzzled them and then mapped them onto the grid. (For younger classes, the quadrant may be too complicated.
If so, simply use a 'question organiser' with two columns – 'Questions that have one answer' and 'Questions that have more than one answer'.)
Initially, the teacher modelled the process, helping the children decide where their questions should be placed and then they completed the task independently in groups.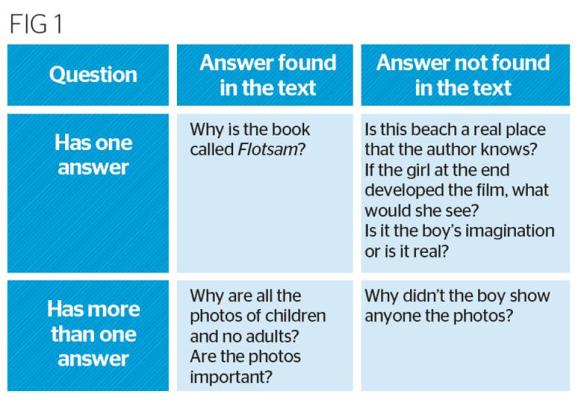 When they had finished, the teacher reflected with them. How easy was it to place the questions? Were some more difficult than others? Why?
When the children returned to the text for a second reading, there were 'pennydrop' moments as they found answers to their own questions.
At the end of the session, the teacher asked the group to cross through any questions they had been able to answer.
She also asked them whether any new questions had emerged. These were written on the grid using a different colour to distinguish them from the first set.
The quadrant had become a useful working document charting the progress of the pupils' thinking.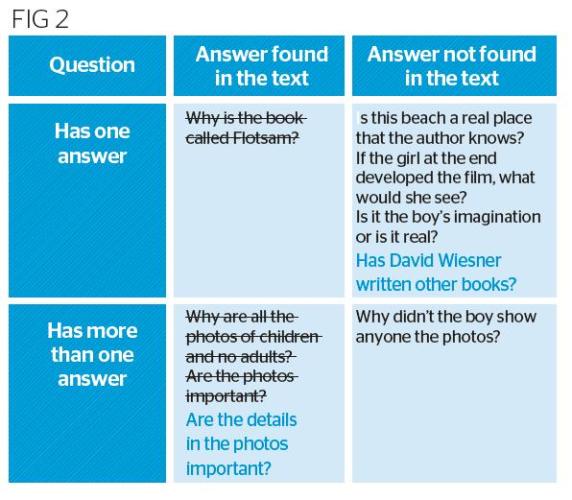 One year 4 teacher thought the Question Quadrant was too complex for her class and came up with a solution to simplify the process. She decided to use one large question organiser for the whole class, which she divided into two columns.
The pupils wrote questions on post-it notes and placed these on the organiser. As they read further, they returned to it and removed the questions that they had answered. As the class read further, new questions were added as they arose.
Once your class has filled out a question quadrant or organiser, reflect on which questions will be easiest to answer, and see if any question has potential for framing a subsequent guided reading session, or could be pursued as a homework task.
2 | Have a Quescussion
Encourage pupils to question as they read by having a discussion entirely conducted through questions. This technique is called a 'Quescussion' and was developed by Paul Bidwell at the University of Saskatchewan.
Quescussions are usually short, around two to five minutes, and involve the class calling out questions, and only questions. It allows many students to make brief contributions without interventions from the teacher.
You just set out the subject (or in this case, text) to explore, and let them raise any questions that will help them to analyse and gain a deeper understanding of the topic. There are only a few simple rules, so pupils quickly get the idea:
The discussion can only contain questions (they can be asked without the need to raise hands)
A pupil who asks a question must wait until at least four other questions have been asked before asking another
The teacher may stop the Quescussion to help the pupils think about the type of questions they are asking. They may be encouraged to ask more open-ended questions eg Why? How?
If a statement is made instead of a question the whole class will shout STATEMENT! (Rhetorical questions that are thinly-veiled statements should also be policed by the class.)
One of the benefits is that pupils who may be reluctant to talk feel more comfortable to volunteer a question as they are not in the spotlight.
Quescussions encourage more experimental and creative thinking because they are tentative. The teacher takes on the role of scribe to record the questions. These can then be grouped and organised and presented back to the class for future discussion.
Here's an example taken from a Year 6 Quescussion about a passage from The Secret Garden. The Quescussion provided an opportunity for the class to ask many questions that are central to understanding the behaviour of Mary Lennox.
'Mary had liked to look at her mother from a distance and she had thought her very pretty, but as she knew very little of her she could scarcely have been expected to love her or to miss her very much when she was gone. She did not miss her at all, in fact, and as she was a self-absorbed child she gave her entire thought to herself as she had always done. If she had been older she would no doubt have been very anxious at being left alone in the world, but she was very young, and as she had always been taken care of, she supposed she always would be. What she thought was that she would like to know if she was going to nice people, who would be polite to her and give her her own way as her Ayah and the other native servants had done?'
The Secret Garden, Frances Hodgson Burnett
'Who is Mary?' 'Where has her mother gone?' 'Has her mother died?' 'Where is her father?' 'How old is Mary?' 'It says she was very young…' 'STATEMENT!' 'How young is very young?' 'Why doesn't she miss' her mother?' 'Why is she all alone in the world?' 'Doesn't she have and brothers or sisters?' 'Does she have any friends?' 'Why is she self-absorbed?' 'What does self-absorbed mean?' 'Why does she only see her mother from a distance?' 'Why is she going away?' 'Where does Mary live?' 'What is an Ayah?' 'Where is this story set?' 'I think it's set in India' 'STATEMENT' 'Is it set in India?'
Have a go by selecting a short text, poem, passage or photograph and organise a Quescussion. Record the questions, then group them into themes, display them, and return to them later – after you have read further.
3 | Make a statement
Asking direct questions isn't the only way to encourage pupil questioning. Making a statement, especially a declarative one, can often reinvigorate a discussion. Initially, you may need to explain to pupils that statements are an invitation for discussion and are not irrefutable.
When statements are posed, questions will naturally arise in the discussion that follows. Unlike with questions, where you look for the 'right' answer, with declaratives pupils start to question what the statement means, and try to find evidence to either prove or disprove it.
This is especially the case when strong statements, which allow for differing points of view and contention, are presented. Here are some examples:
Memorial by Gary Crewe and Shaun Tan: 'People's memories are more important than memorials.'
The Nightingale and the Rose by Oscar Wilde: 'Oscar Wilde thinks education is more important than love.'
Maggie Dooley by Charles Causley: 'Maggie Dooley is lonely and unloved.'
The Tunnel by Anthony Browne: 'The boy is braver than the girl.'
Give groups a number of statements on strips of paper and ask the pupils to determine whether they agree or disagree with the statements, or whether they are undecided. When they have considered all possibilities, they should position the statements on a grid and provide evidence from the text to support their choice.
The table below is an example using statements about Anthony Browne's Gorilla: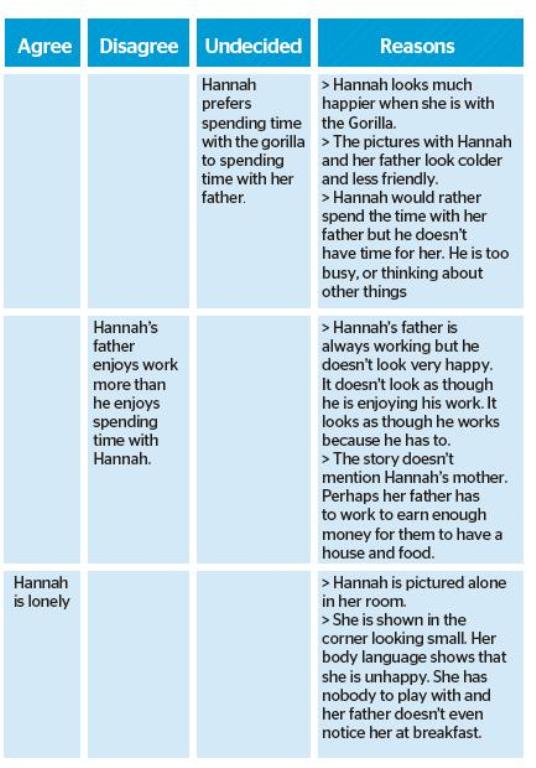 At Barnes Primary School, using a range of strategies has noticeably developed the pupils' sense of agency in their own learning. Discussions are more animated and purposeful.
One Year 4 child summed up the class' thinking nicely: "Last year when we read a book, we would read it and then answer some questions set by the teacher. However, now that we get to ask our own questions, I think more about what the book has said and its meaning."
Or, to use the words of another child, "I think it has helped me with my understanding, because now I stop when I finish a section of my reading, and check that I understand by asking myself questions."
---
Nikki Gamble runs Just Imagine Story Centre. For further information about Developing Excellence in Teaching and Reading 7-14, contact nikki@justimaginestorycentre.