Big Schools' Birdwatch 2023 – Resources for schools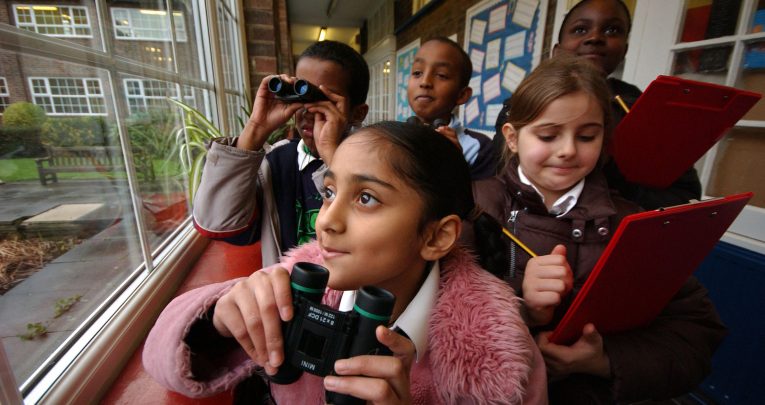 Join 60,000 other children by spending an hour in nature counting birds…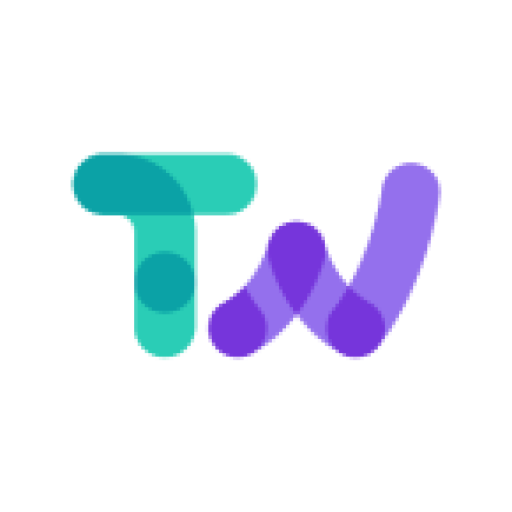 by Teachwire
The RSPB Big Schools' Birdwatch is a UK-wide survey of birds in school grounds. Every year, 60,000 children take part, spending an hour outside recording the wildlife they see.
RSPB Birdwatch 2023 dates
Get outside and counting at school any time between 6th January and 20th February 2023. The last day for sending in your results is the 20th February 2023.
RSPB bird spotting sheets
Sign up at the RSPB website to receive a resource pack or download free school resources right here.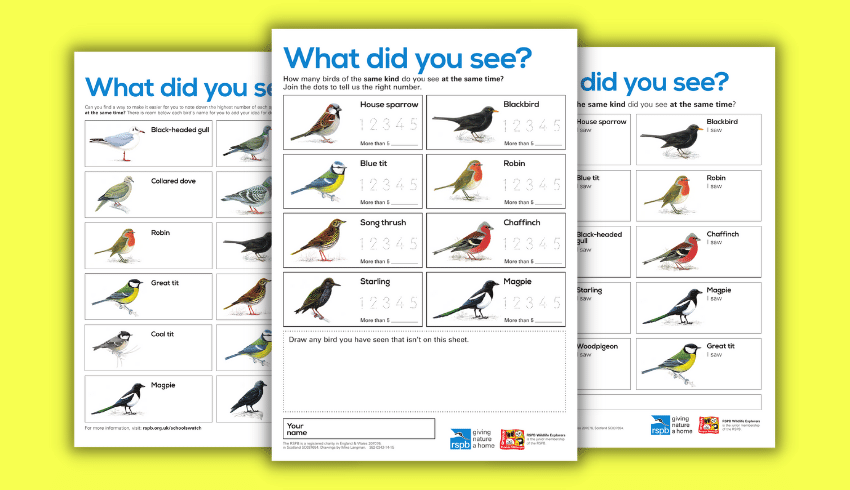 This free RSPB bird spotting sheets download contains:
Under-fives bird counting sheet
KS1 bird counting sheet
KS2 bird counting sheet
KS3 bird counting sheet
Introductory PowerPoint
Introduce the idea of the RSPB Big Schools' Birdwatch with this PowerPoint for KS1-KS2.
PowerPoint stories for EYFS-KS1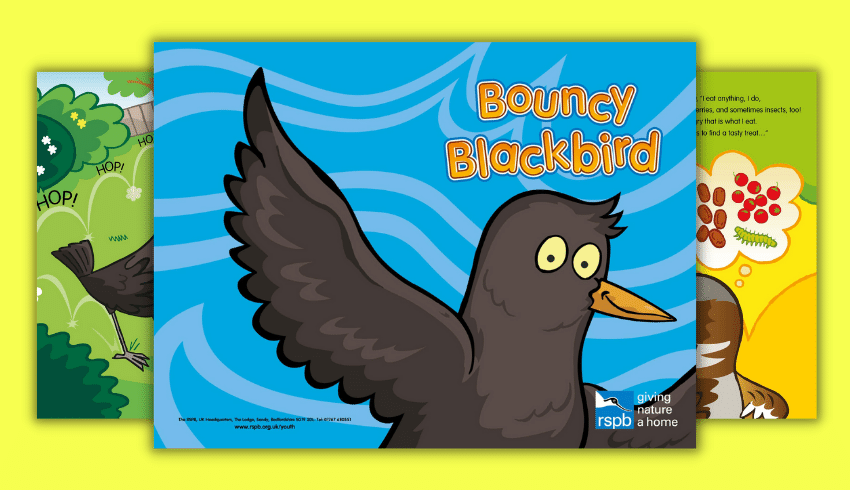 Teach EYFS-KS1 pupils what garden birds like to eat and how to identify them with these two PowerPoint stories from the RSPB.
EYFS activities pack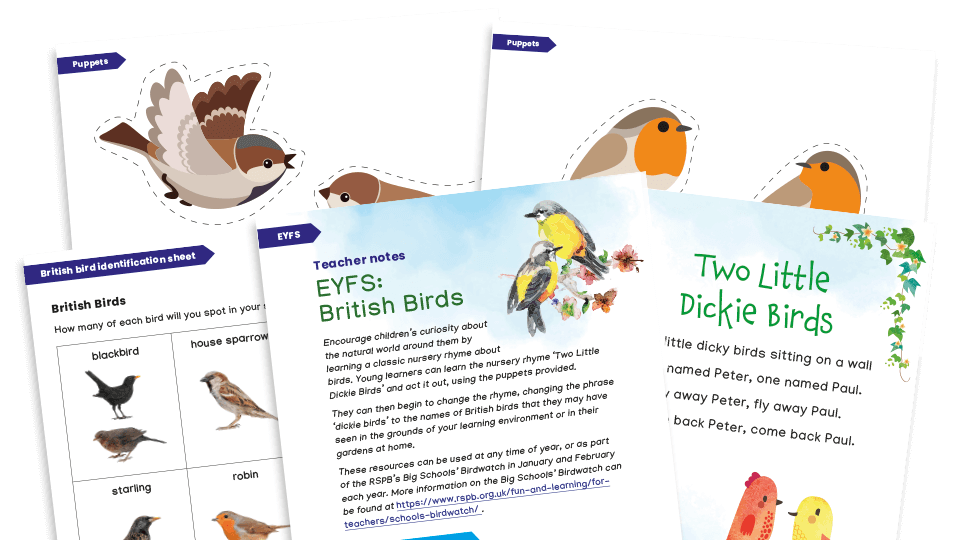 This free EYFS Understanding the World activities pack from Plazoom focuses on the nursery rhyme 'Two Little Dickie Birds'.
Use the included puppet templates to act out the rhyme, then begin to change the rhyme by swapping in the names of common British birds.
Big Schools' Birdwatch activities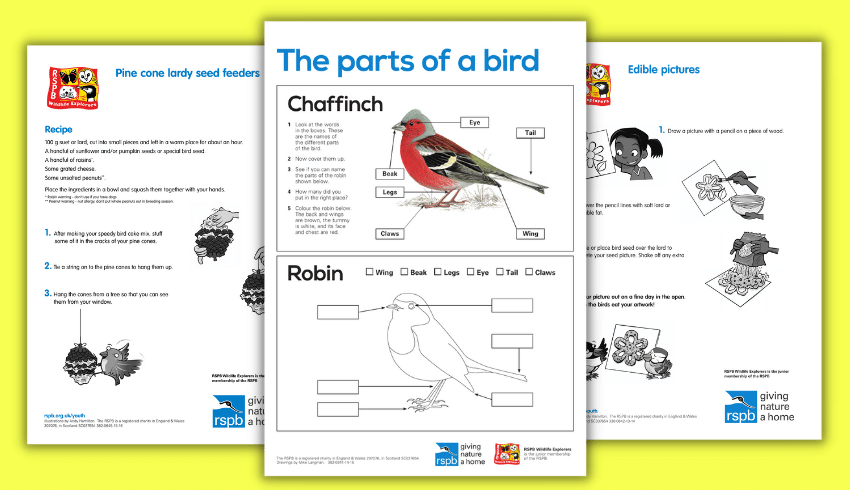 Download five Big Schools' Birdwatch activity sheets to help EYFS-KS2 pupils label the parts of a bird and learn how to make edible pictures, bird food and bird feeders.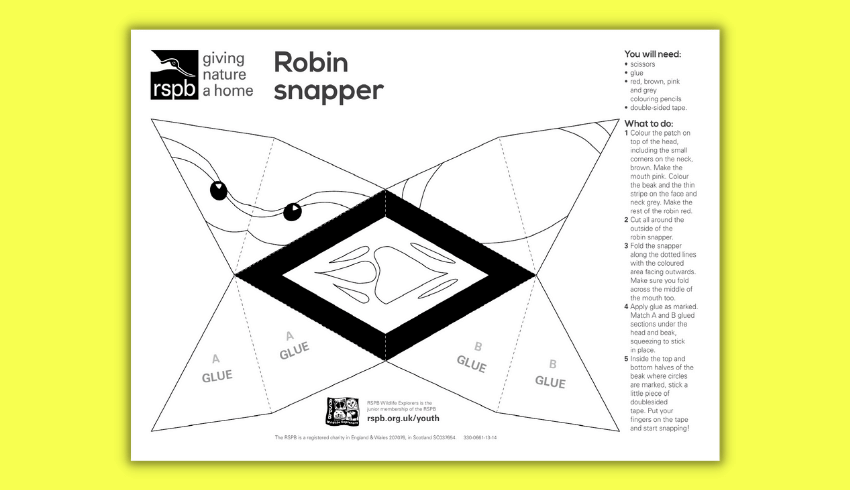 Use paper templates to make 14 'snappers', ranging from blackbirds and blue tits to redwings and robins.
Big Schools' Birdwatch classroom games
Use these Birdwatch Top Trumps style cards to compare wingspan, weight and other features of common UK birds.
Alternatively, play a matching pairs game with these instructions and picture cards.
KS1 British birds resource pack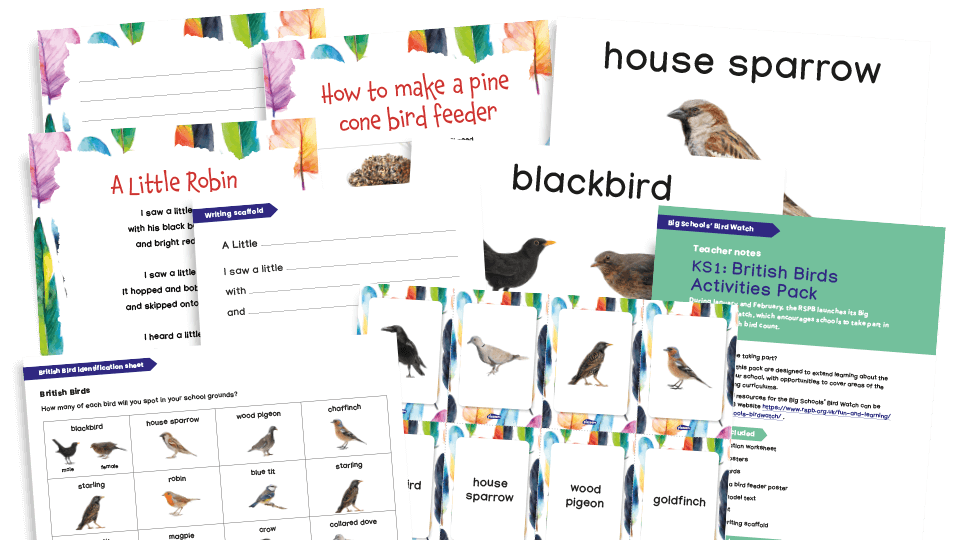 The resources in this free KS1 Big Schools' Birdwatch resource pack from Plazoom have been designed to extend pupils' learning about the birds that visit your school.
The activities cover science and writing and inside the pack you'll receive bird identification worksheets, posters, bird match cards, a poem model text and more.
Big Schools' Birdwatch Early Years lesson plan
This Early Years resource download contains a lesson plan, a Lucky Duck story book and instructions for making a paper plate bird and feeder, alongside teacher notes to help you deliver the lesson.
Bird feeder project
Are decorated bird feeders more or less attractive to birds, or does it not make a difference? Use discarded everyday materials and this lesson plan idea to find out.
Welsh resources
Download supporting resources for EYFS-KS3 in Welsh. You can also download counting sheets and an introductory PowerPoint to the Birdwatch in Welsh.