National Poetry Day 2022 – Best poems, resources, assemblies and ideas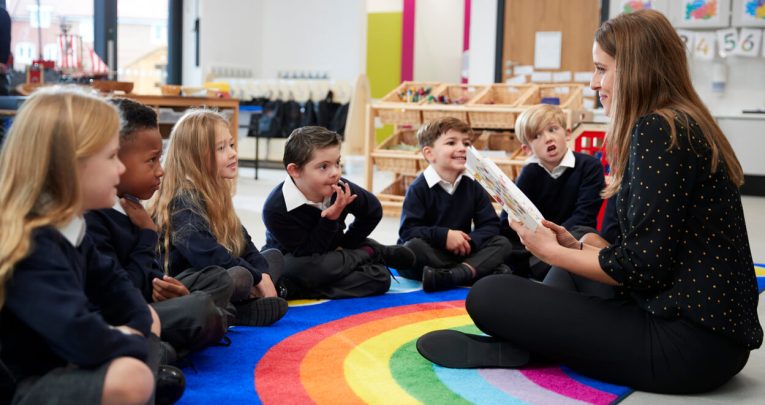 Celebrate National Poetry Day 2022 with these great lessons, activities and ideas for KS1-KS4…

by Teachwire
When is National Poetry Day?
National Poetry Day falls on the first Thursday of October. That means this year, National Poetry Day is on Thursday 6th October 2022.
What is National Poetry Day?
According to the official National Poetry Day website, it's an annual mass celebration that encourages everyone to make, experience and share poetry with family and friends.
What is this year's theme?
The theme for 2022 is The Environment.
Jump to section:
---
National Poetry Day 2022
National Poetry Day generates an explosion of activity nationwide, with thousands of amazing events across the UK – in schools, libraries, bookshops and more – all celebrating poetry's power to bring people together.
This year, participants are called to find or write poems that speak about the environment.
Head to the official National Poetry Day site where you'll find inspiring ways to get involved, plus free resources, poems and details of events happening near you.
---
Listen to this Michael Rosen podcast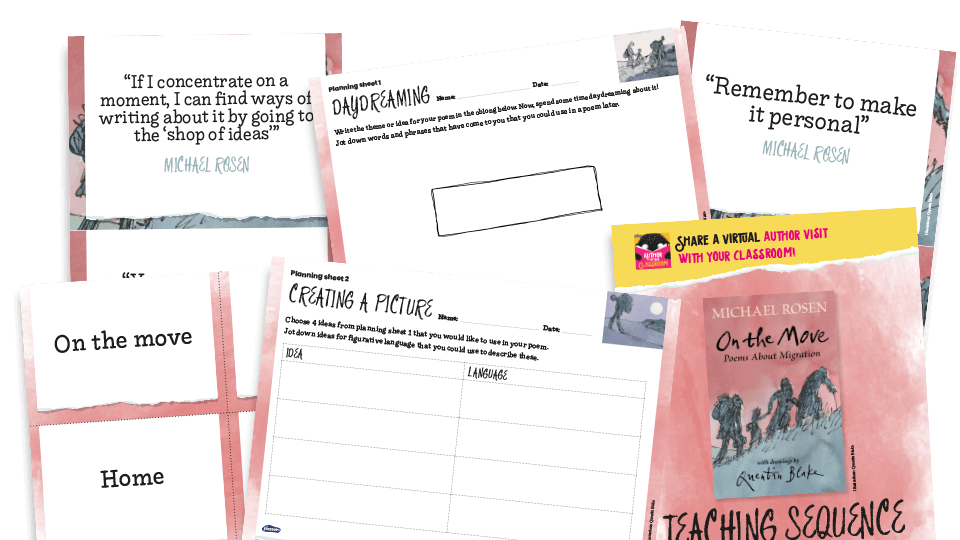 The Author In Your Classroom podcast has been created especially for sharing in schools. In each episode, a beloved children's author shares writing tips and advice, and there's an exclusive resources pack to go with each episode too.
Episode 16 features Michael Rosen, talking about migration and his poetry collection 'On the Move'. Download the free resource pack to receive a PowerPoint, poem, images for a wall display, planning sheets, teacher notes and more.
---
Download resource packs focusing on comprehension, vocabulary and composition
Use these poetry resource packs from Plazoom to cover a classic poem over five sessions.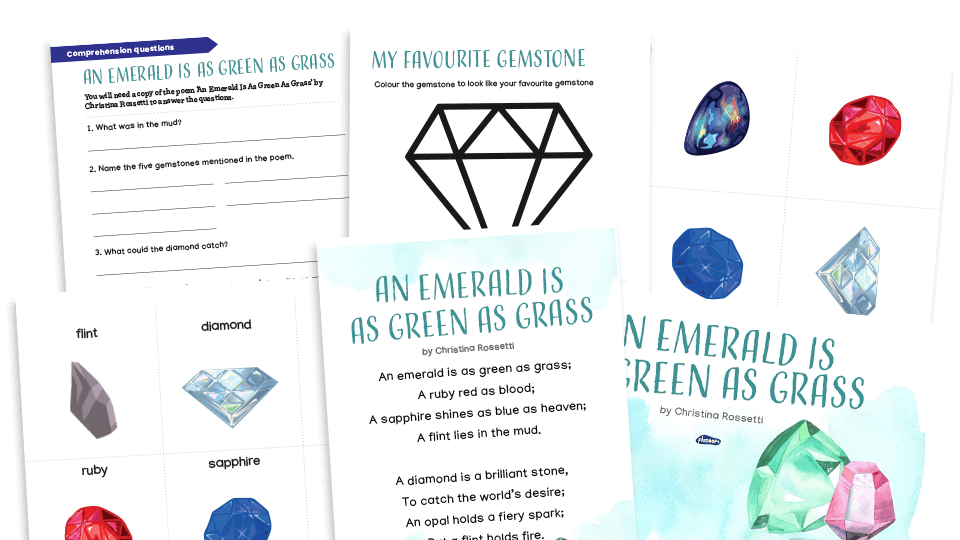 In KS1, pupils will explore 'An Emerald Is As Green As Grass' by Christina Rossetti, including the author's use of similies.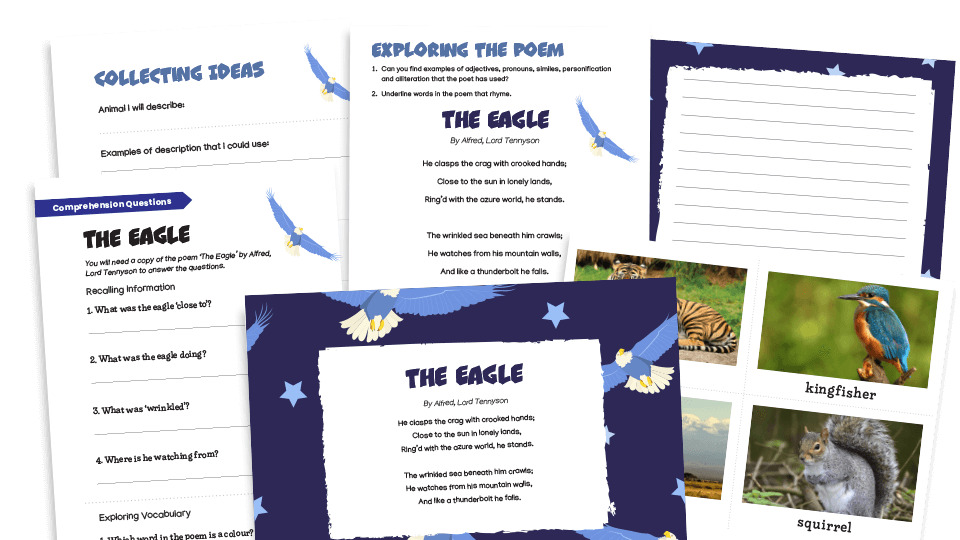 LKS2 pupils will look at 'The Eagle' by Alfred, Lord Tennyson, and explore how the author uses figurative language.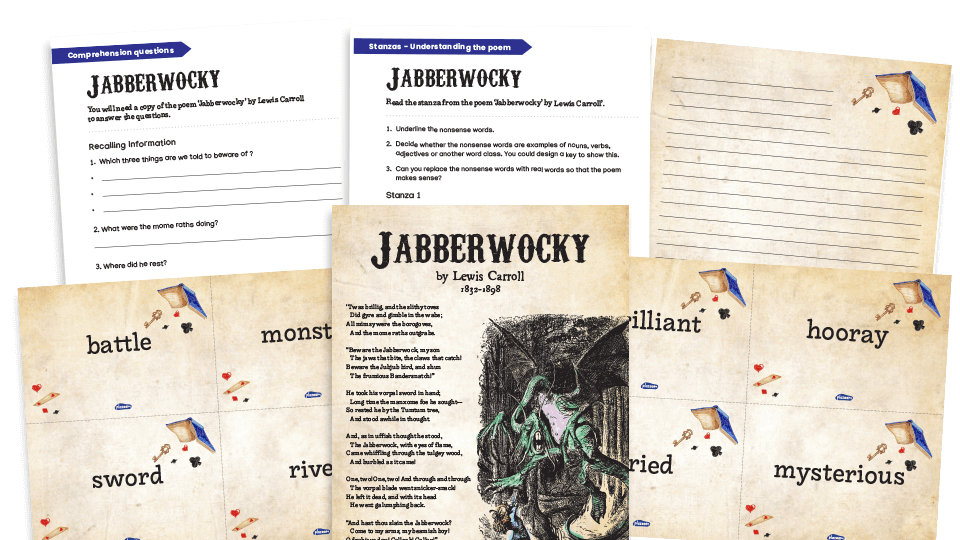 For USK2 pupils, it's classic poem 'Jabberwocky' by Lewis Carol, with a focus on exploring what the nonsense words could mean and also their word class.
---
Five poets read their poems
What better way to get pupils excited about verse this National Poetry Day, than by letting them hear poets reading and talking about their own work?
We wanted to know how thinking about 'truth' might inspire a poet – so we filmed five of your pupils' favourites reading a piece of their own work with a connection to the theme, and talking about some of the ideas behind it.
Read tasters of the poems below, and watch the videos featuring Karl Nova, Michael Rosen, Rachel Rooney, Victoria Adukwei Bulley and Joseph Coelho, then download the full text of the poems and suggestions for teaching and learning activities here.
National Poetry Day assembly plan
Use these videos to deliver a 30-40 minute KS2 assembly about National Poetry Day. Find full details of the assembly here.
Michael Rosen reads 'Newcomers'
Extract:
My father came to England
from another country
My father's mother came to England
from another country
but my father's father
stayed behind
'Newcomers' from the collection Quick, Let's Get Out of Here by Michael Rosen (Puffin Books, 2015). Text copyright © Michael Rosen, 1983. Illustrated by Quentin Blake.
Michael says
"Sometimes in poems you don't have to say everything, so the person listening can get the truth by the way you said it."
Why not try…
Asking pupils to write about something special to them, in a way that tells the reader how they feel, without saying it directly?
Rachel Rooney reads 'Truth or Dare'
Extract:
Have you peed in a swimming pool?
Count to fifty without blinking.

What do you secretly wish for most?
Say exactly what you're thinking.
© Rachel Rooney 2019
Rachel says
"I was thinking about the theme of truth and it reminded me that when I was young, we used to play a game where we would all sit in a circle and there was a bottle in the middle and we used to spin it and whoever the bottle ended up pointing to, had to choose between a truth or a dare."
Why not try…
Discussing why the poet chose to arrange the stanzas in the way she has done?
Karl Nova reads 'The Misinformation Age'
Extract:
We're in a time when everyone thinks their opinion is truth
They think every thought they spew is absolute
everyone seems to be an expert and a critic
that seeks to speak for everyone
I don't get it
© Karl Nova 2019
Karl says
"Truth in poetry is important in thoughts and emotion.'
Why not try…
Encouraging children to write about an issue they feel passionately about in the current climate?
Joseph Coelho reads 'January'
Extract:
They were the Rorschach of the winter months,
the folding of sky-shadows,
of air-shoals pirouetting into the January nip,
swarms riding frosted winds,
silently testing the sky with their ink-magic
'January' from the collection A Year of Nature Poems by Joseph Coelho, illustrated by Kelly Louise Judd (Wide Eyed Editions, 2019). Text copyright Joseph Coelho, 2019.
Joseph says
"As we know of legends, they are not always true, and I find that fascinating."
Why not try…
Getting pupils to draw on some of the poetic devices used by Joseph Coelho to write their own poems about the natural world?
Victoria Adukwei Bulley reads 'This Poem is Not About Parakeets'
Extract:
On the bus back, two men make noise and all else
falls silent, or leans away. One woman gets off
altogether. I pull my headphones out. The air
thickens. The men are angry. Words leave their
mouths and hit the windows like flies. They're
everywhere, everywhere you look. I've got seven
stops left. What we want is our country back.
'This Poem is Not About Parakeets' by Victoria Adukwei Bulley. Taken from: Rising Stars: New Young Voices in Poetry. Poems by Ruth Awolola, Victoria Adukwei Bulley, Abigail Cook, Jay Hulme and Amina Jama. Illustrations by Riya Chowdhury, Elanor Chuah and Joe Manners. October 2017 Published by Otter-Barry Books in association with Pop-Up Projects and Arts Council England.
Victoria says
"People's beliefs differ quite strongly and there are some truths that don't get the kind of amplification or voice that they deserve."
Why not try…
Talking about how it's possible to challenge people's views in a constructive way?
---
Dr Seuss KS1/2 activity pack
This pack includes three separate poetry activity sheets, each based off a different beloved Dr Seuss book.
One Fish Two Fish Red Fish Blue Fish (Reception/Year 1)
Explore rhyming words and make a fun hanging fish display
Green Eggs and Ham (Year 2)
Explore rhyming words and write your own foodie poems
Oh, The Places You'll Go (Year 3)
Write a short poem introducing someone to your home, school or town
With each one you can read through the extract with your class, use the activity prompts provided, then get children to tackle the main activity.
Then there's an additional creative task if you want to carry on your Dr Seuss-themed lesson.
---
How rap can inspire poetry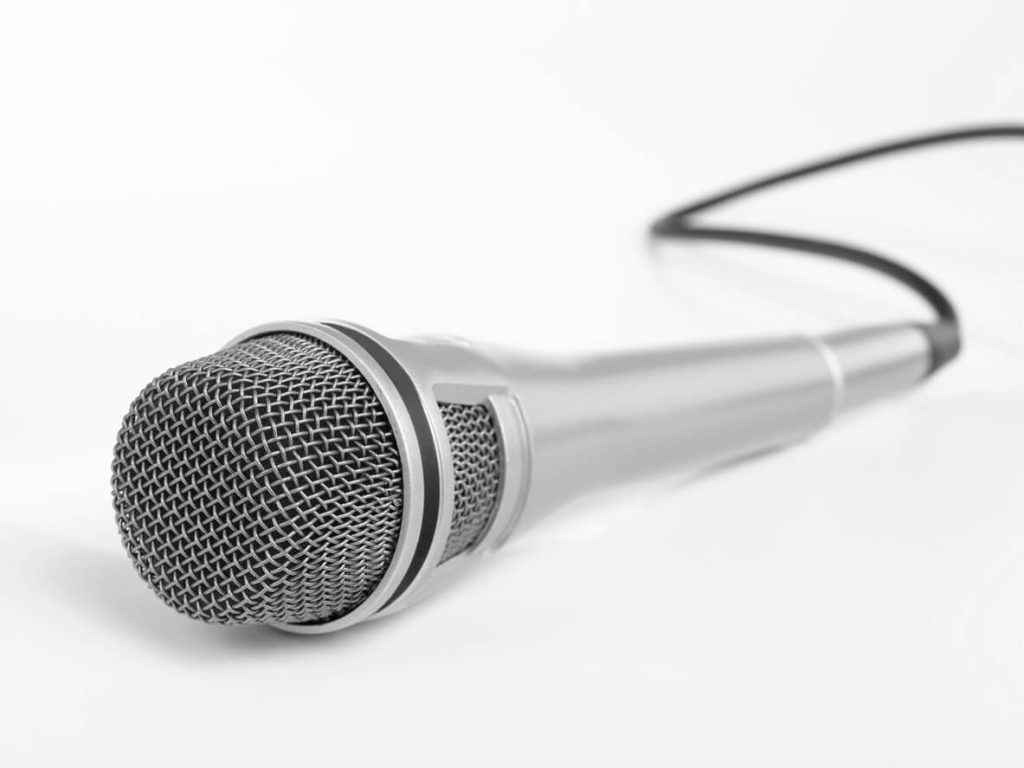 Did you know 'rap' is an acronym? It stands for rhythm and poetry, and it can unlock creativity and inspire a love of words, rhyme and music among children.
Karl Nova, as seen in the video above, wrote about how hip hop led to his passion for poems.
---
Pie Corbett poetry lessons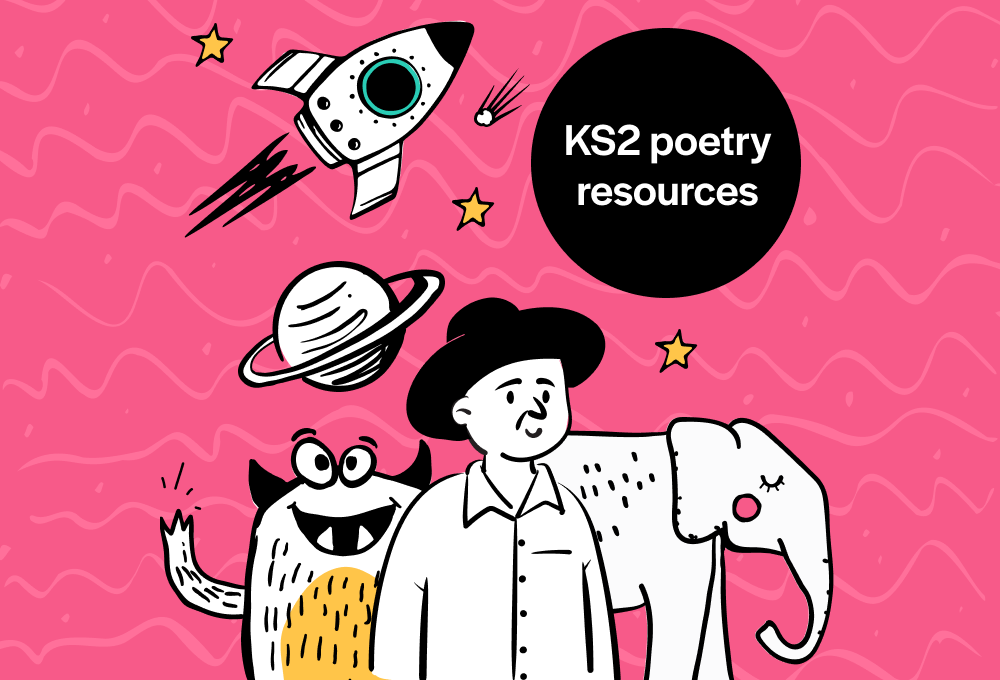 Each of the resources in this exclusive Pie Corbett KS2 Poetry Collection feature original poems based around a theme, and accompanying activities.
---
Write mischievous poems like Dahl's Revolting Rhymes
Roald Dahl took traditional fairy stories and turned them into wonderfully wicked Revolting Rhymes.
With a structured approach, this KS2 lesson plan can help your class do the same.
---
Write spooky sound poems inspired by Neil Gaiman
Getting children to write great poetry can sometimes be a bit hit and miss, but if they are given a clear framework and a fun hook, it can be a really rewarding experience.
This KS2 lesson plan shows how a well-known poem can be combined with a fantastic picture book to offer children a language rich stimulus that will enable them to write their own successful piece of poetry.
---
Improve writing by playing with poetry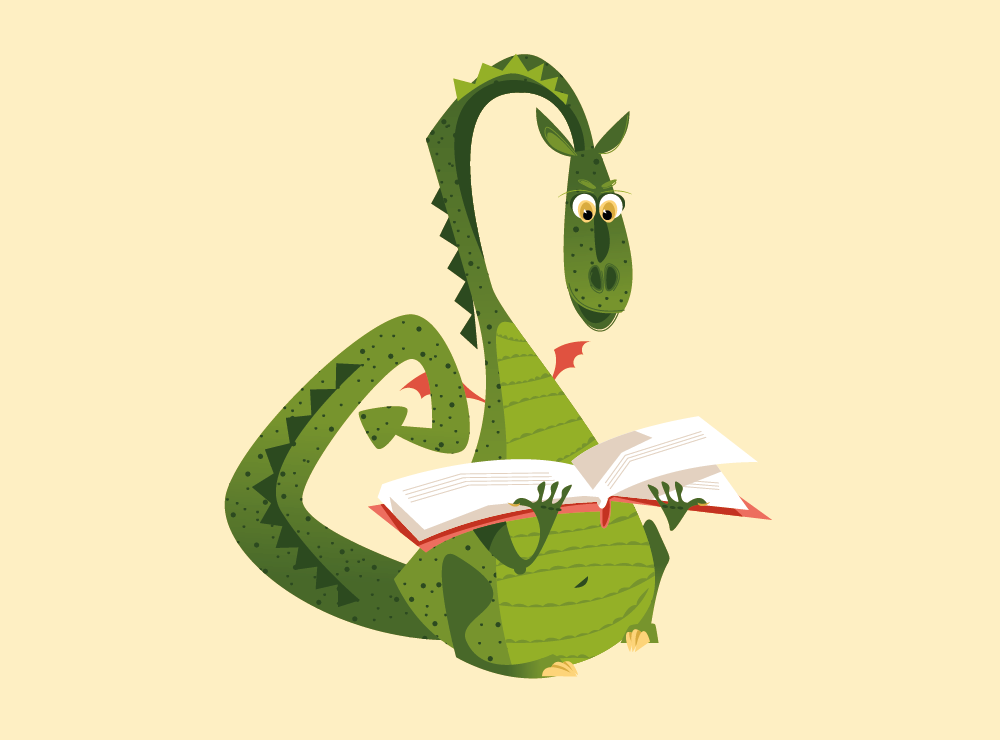 Experimenting with verse helps children to develop powerful language skills that will shine out in all their writing, and this article from Jane Andrews has a number of ideas for you to try in your classroom.
---
Creating imaginative characterisation in poetry lesson
Writing is hard; writing poetry is even harder. You have a lot to think about: structure, rhythm, rhyme and so on. Creating scaffolds for children can help them to really concentrate on the words they are using rather than structure.
In this KS2 lesson plan your students are going to take the basic creative structure of a poem and edit it to create a new one.
Through doing this they are going to look at how Michael Rosen's piece 'No Breathing in Class' can be used to teach children how to use characterisation.
---
The Tear Thief book topic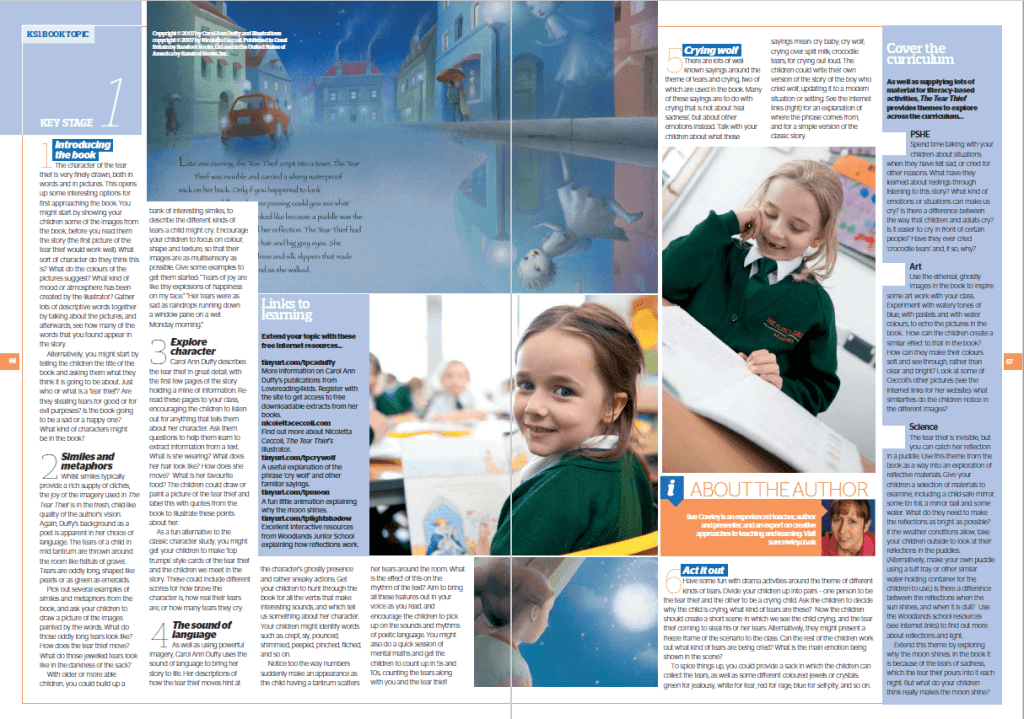 Poet Laureate Carol Ann Duffy imbued this tale of a ghostly character who moves invisibly through the night collecting children's tears with poetic language and powerful message about emotional truth.
This three-page PDF with KS1 cross-curricular activity ideas helps you explore the characters, and look at the metaphors and similes in the text, as well as the way the book uses the language of sound to create atmosphere.
---
Five ideas to help pupils find the power of poetry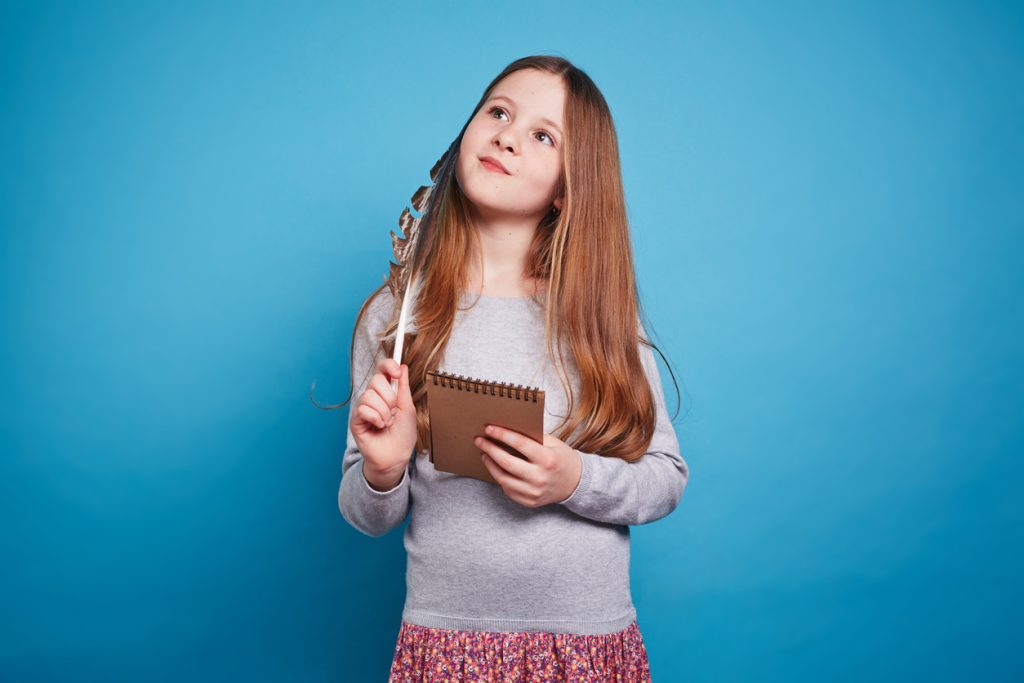 How do you become a good teacher of poetry? Find the poetry that speaks to you, that excites you, that inspires you, and then you do the same for your students, says Louise Johns-Shepherd.
This article not only offers five great ideas for helping to unlock the joys of poetry, there are also some great links to more resources that you'll find useful.
---
Use a perfectly performed poem to see creativity flourish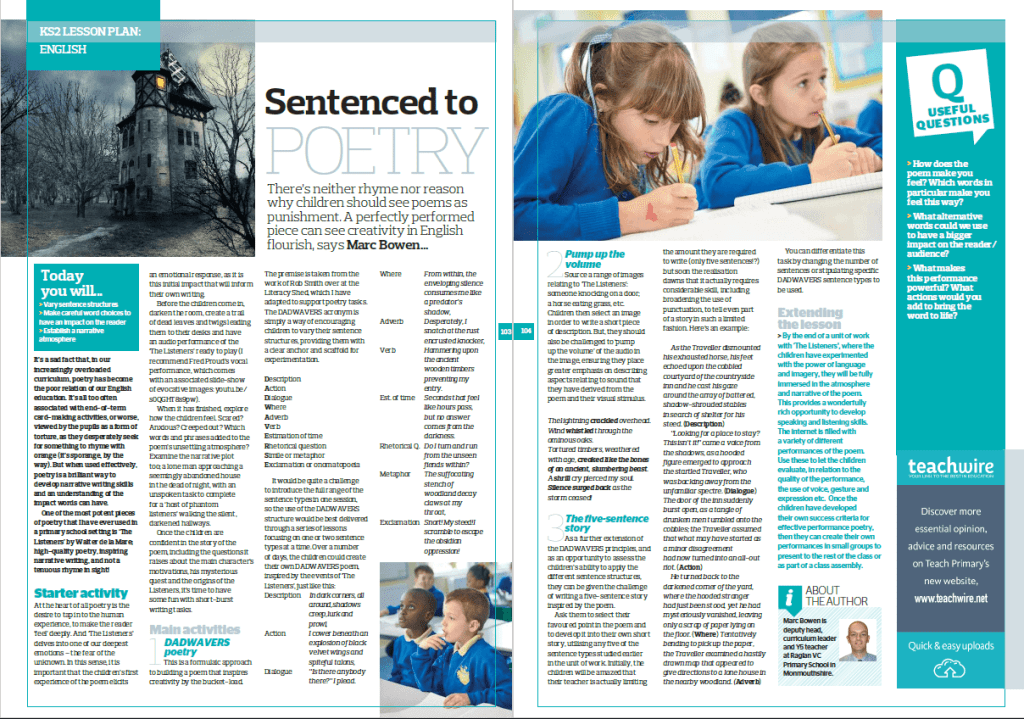 There's neither rhyme nor reason why children should see poems as punishment. Used effectively, it's a brilliant way to develop narrative writing skills and an understanding of the impact words can have.
This KS2 lesson plan uses one of the most potent pieces of poetry you can use in a primary school setting – 'The Listeners' by Walter de la Mare.
---
National Poetry Day resources for KS3-4
In the past poetry has received a bad rep with students, and really who can blame them? No teenager wants to have 'Daffodils' rammed down their throat for weeks on end.
But then, that's also true of Dickens and Shakespeare and pretty much anything considered classic that's taught in an uninspiring way. Does your average 14-16 year old appreciate the beauty of 'Ode to a Nightingale', the despair of 'The Waste Land' or the sweetly pleasant rhythm of 'Song in a Minor Key' that belies its tragic tale? Probably not, but they could.
National Poetry Day is the ideal opportunity to explore the wonders of poetry in a way that won't scare young students off it for life.
And of course you needn't stick to the classics – try modern poets; explore different eras, nations and styles; check out the writers of the Harlem Renaissance. Stretch yourself as much as you would your students.
Observations of nature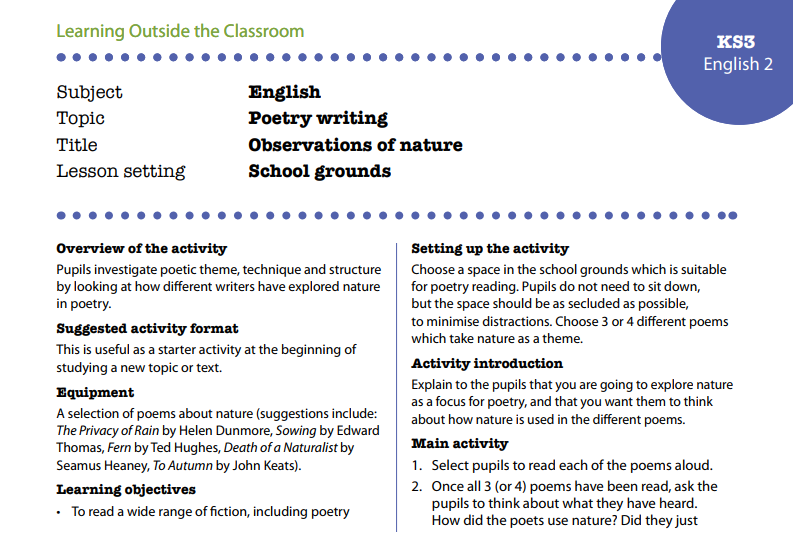 What's poetry without a wistful wander through woodlands? This KS3 lesson plan from Learning Outside the Classroom will encourage your students to recognise a range of poetic conventions and understand how these have been used, to perform poems in order to generate language and discuss language use and meaning.
---
Remember, remember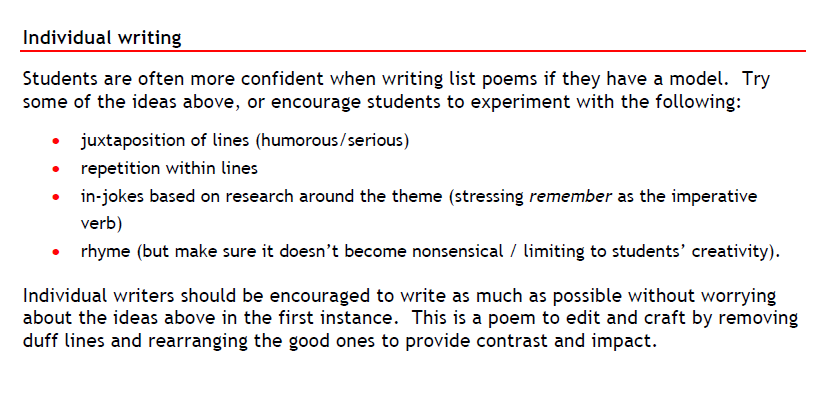 This KS3/KS4 lesson plan uses a semi-completed list poem as a writing prompt for your class to complete.
It starts with simple, literal ideas like 'Remember to brush your teeth', but then lets you play with language and imagery with sentences like 'Remember to turn out the darkness'.
---
Writing about freedom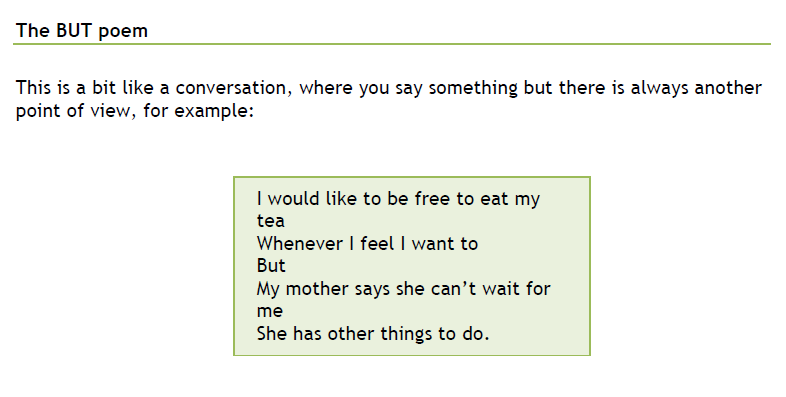 Written especially for National Poetry Day, this resource includes two creative prompts for students to come up with their own poems on the theme of 'freedom'.
It explores the ways 'freedom' can be portrayed in poetic language, and guides students to write about it in whatever way they see fit.