Music should not be playing second fiddle in schools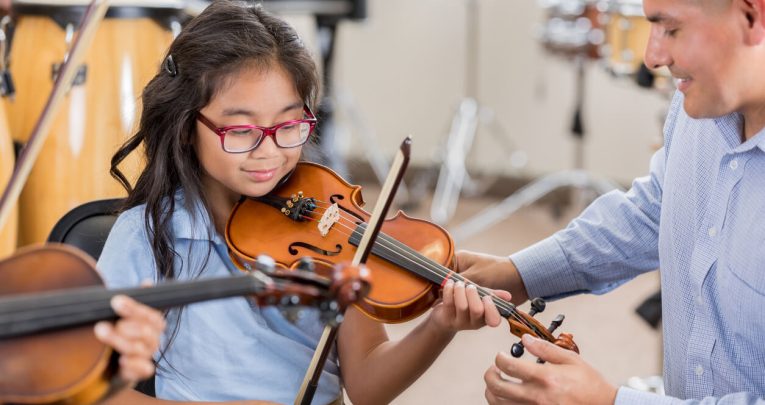 The pressures of the system and whims of headteachers are resulting in a national picture that's patchier than a metal fan's denim jacket…
Nobody is going to splurt out their morning cuppa in shock at this, but a recent poll by the Musician's Union found that children from families with an income of £28,000 were half as likely to take up an instrument as those from households earning £48,000.
As surprise stories go, it belongs in the same category of articles confirming that Jorge Mario Bergoglio is religious and that ursine mammals defecate in wooded environs. Nobody will choose music lessons above heating or feeding their families.
I was one of the lucky 'working class' kids who did get a music education. Lucky to have an amazing choral teacher at my state primary, Mrs Cambridge, who had us singing in beautiful four-part harmony every day – the best possible musical start in life, provided for free, by my school.
Lucky that many of us in Accrington still had old Victorian pianos at home, and as soon as I was old enough to reach the keys, I was picking out tunes from the TV.
Lucky that my parents could just about scrimp and save to give me piano lessons. Lucky that mum walked me through every weather up to my teacher's house in nearby Baxendale.
Children in private schools might take this fortune for granted. Over half (52%) of independent schools even have their own bespoke concert halls. Many have highly trained primary music specialists delivering outstanding programmes.
We know what it's like in state schools. Today, people like Mrs Cambridge are being pushed out of state primaries all over the country, driven into a narrow curriculum by a system which doesn't care for much beyond the data of 'core' subjects.
Primary schools should be the great social leveller, and against the odds, many music programmes are achieving this remit, providing high-quality education for all children. But hundreds of thousands of pupils are going without. It's patchier than a metal fan's denim jacket.
In 2018 the national schools commissioner, David Carter, said: "The reduction in the number of children studying the arts will have a knock on to the cultural capital of this country."
Numerous studies indicate that high-quality music education, started as early as possible, has profound benefits in terms of wellbeing, academic achievement and the development of social and emotional skills.
When a more creative and adaptive workforce is needed for the AI revolution and gig economy, providing that kind of education only for some children becomes an enormous social justice issue, creating a closed loop of knowledge, skills and opportunity.
But it's not only poor areas that are suffering. The crisis criss-crosses cultural and social divides.
You could be comfortably well off in a leafy-lane school in which the sum total of your music education is eight weeks of trumpet lessons, or a child in an area of high deprivation at a school like Feversham, which puts music at the centre of school life.
It's all down to the whim of the headteacher and the pressures of an education system which, despite the goodwill and efforts of many, pushes them away from creativity.
The support from hubs is equally divergent in terms of quality, and many schools don't even engage with the best of them. The patchiness in state primary schools is no respecter of locale. It's patchier than a Jack Russell in a cabbage patch.
Even those headteachers who do want more creativity in their schools have countless hurdles to overcome.
Talk of new accountability measures and model curricula might seem like reasonable solutions, but the skills shortage needs to be addressed first – otherwise we have to choose between high expectations of children that very few can deliver, or dumbed-down curriculum expectations that short-change children.
Schools must take responsibility but also not be blamed. Most primary teachers don't feel confident teaching music but love being trained and empowered to do so. A feeble two to six hours on an entire primary PGCE course is sadly the norm and it's not anything like enough.
We need sustained training, empowering individuals with knowledge of pedagogy and musical skills. But we must also train schools and governors in how to create a structure and environment like Feversham, where the creative arts can thrive.
Ultimately, our current music education system actually does a lot to break down class barriers. Sadly, though, it does so by making it a complete lottery as to who is included. It's patchier than Patch Adams, dressed as a pirate, in a hall of mirrors.
---
Jimmy Rotheram is a music teacher at Feversham Primary, Bradford who has made the top 50 shortlist for the $1 million Global Teacher Prize. Follow him on Twitter at @musicedu4all.