Michael Morpurgo – Why we set up Farms for City Children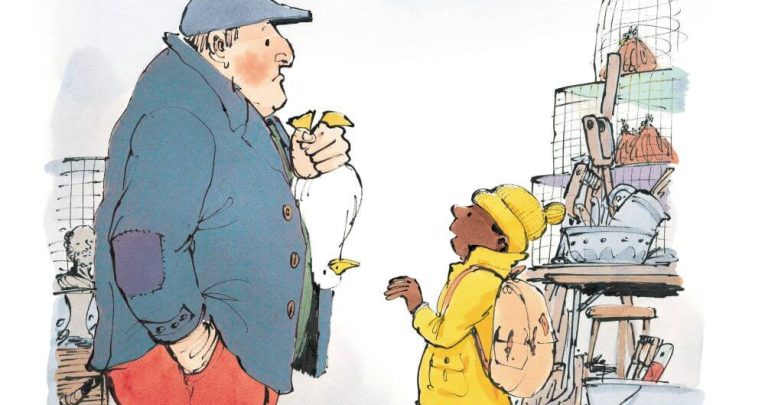 The beloved author and master storyteller Sir Michael Morpurgo talks about giving all children the chance to get up close and personal with nature…
I've been a very lucky man.
When I was a young I was a primary school teacher at Wickhambreaux Primary in Kent. It was there, reading to the class in our mobile classroom from 3pm to 3.30pm each afternoon and trying to encourage my Y6 class to enjoy stories, that I discovered I liked to tell my own.
I liked teaching anyway, but this was the half hour of the day I most enjoyed, because they seemed to like it too. That was how I became a writer, by telling my tales to 35 Y6 children. I found my voice as a storyteller and writer quite by luck.
Fifty years on I'm still telling my stories as a children's author, still trying to encourage children to a love of reading, because I know that reading is the pathway to so much that is worthwhile and enriching in life. I want to encourage them also to find their voice as writers.
I've been into hundreds of schools over the years. The most common question I am asked is: 'Where do you get your ideas from?". I tell them that it's from the world about me.
I try to live an interesting life, go places, meet people. I remember, I look, I listen, I feel, I care. I drink the world in, and from time to time – often – I come across an idea that I love so much, that it dreams itself into my mind and becomes the seedcorn of a new story.
Charity farms
My new children's book, The Birthday Duck, grew out of my life as a teacher. After a few years at the coal face, Clare, my wife and also a teacher, and I decided to set up a charity we called Farms for City Children.
It was Clare's idea really. She remembered how as a child that it was her holidays in the deep countryside of Devon that had given her the best memories of her life.
Wandering the fields, watching the buzzards soaring, the herons lifting off the river, the fleeting glimpse of a kingfisher or an otter, scuffling in her wellies through leaves, digging potatoes, seeing lambs and calves born, grooming horses, leaning into the wind at the top of a hill – all these and more had left in her a deep and abiding love of nature and of the countryside.
And I too, a city boy, had made the same sort of childhood discoveries on the Essex coast – seen hares in the fields, watched the seagulls flying over the sea wall, smelt the salt sea air, found hedgehogs and slowworms and frogs.
We knew, the two of us, how beneficial these times had been to us, and felt as teachers that all children, especially those who live far from the countryside, in towns and cities, should have the same opportunities we had.
We knew as teachers that there were many children who rarely, if ever, came this close to nature. We felt that this was their world; that it belonged to them as much as to anyone.
But we didn't want them simply to come out for a day, take a few photos and fill in an information pack on the countryside. We thought no, let them live in it for a week, tramp the fields, work alongside their teachers and real farmers, helping out on the farm, in the vegetable garden, in looking after the land.
Let them discover a totally new world of open spaces, huge skies, fresh air and fresh food. How good would that be for their self-worth, their wellbeing, their understanding of the world about them, and their mental health.
So that's what we did. In 1976 the first children came down to Nethercott House in Devon, from an estate in Birmingham, all in their wellies and overalls. And so began for Clare and for me, a whole new life of teaching, where the classroom was now a farm of 300 acres, with cows, sheep, pigs, horses, donkeys, hens, geese and ducks.
Have an amazing story with your favourite animal on the farm
Since 1976 over 100,000 children have come down from their schools with their teachers – winter, spring, summer and autumn, about 35 at a time – and lived and worked for a whole week on one of the three farms the charity now runs: Nethercott in Devon, where we started, Treginnis in Wales by the sea near St David's, and Wick Court on the river Severn in Gloucestershire.
Each different, each beautiful, but each providing for children and teachers a week they never forget.
And all these years I've been scribbling my stories, many of them now set in the countryside around us here in Devon, including War Horse, Private Peaceful and many others set on the farm itself, including my Mudpuddle Farm books, and now The Birthday Duck.
If I'm honest, the idea for the new book came from one of the teachers who brought children down to the farm, also from Birmingham.
He told me of a school trip he'd been running to Dudley Zoo, during which, unbeknown to him, a small boy had decided he liked a penguin in the zoo so much that he thought he'd like to take it home with him. So he'd picked it up and put it in his duffle bag.
This was not discovered until they were on their way back down the motorway back to school on the bus. No, honestly!
So, I thought, we take the children to market during their week with us, don't we? And they love to see the animals there, especially the poultry, and I knew they didn't like to see them cooped up in cages.
A story was growing in my head, and in time became The Birthday Duck. I hope you and the children enjoy the story and Sam Usher's wonderful illustrations of Nethercott.
---
Visit the farm
If you would like to take your pupils to any of Michael Morpurgo's three Farms for City Children, click here to find out more.
---
Michael Morpurgo is the author of The Birthday Duck (£12.99, HarperCollins Children's Books). Visit his website here. Use this free KS1 resource pack to plan a unit of work around The Birthday Duck.
More resources from the nation's favourite storyteller