Michael Morpurgo Month 2023 – Best teaching resources for KS1 and KS2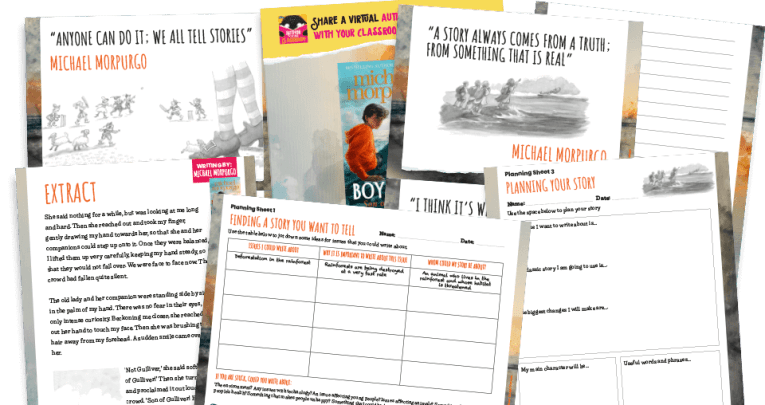 Make a date in your diary for February for Michael Morpurgo Month and start planning with these book topics, worksheets, lesson ideas and more for primary…

by Teachwire
What is Michael Morpurgo Month?
Michael Morpurgo Month is packed with exciting events, activities and competitions that celebrate author Sir Michael Morpurgo and his bestselling books.
To help you plan your celebrations, we've picked out some great Morpurgo-themed resources to use in school.
When is Michael Morpurgo Month 2023?
Michael Morpurgo Month takes place every February.
What's the theme for Michael Morpurgo Month 2023?
This year, the theme is horses. This is to celebrate 40 years of the Morpurgo's modern classic, War Horse. Use this month to introduce pupils to this beautiful tale.
---
Win a virtual visit with Sir Michael Morpurgo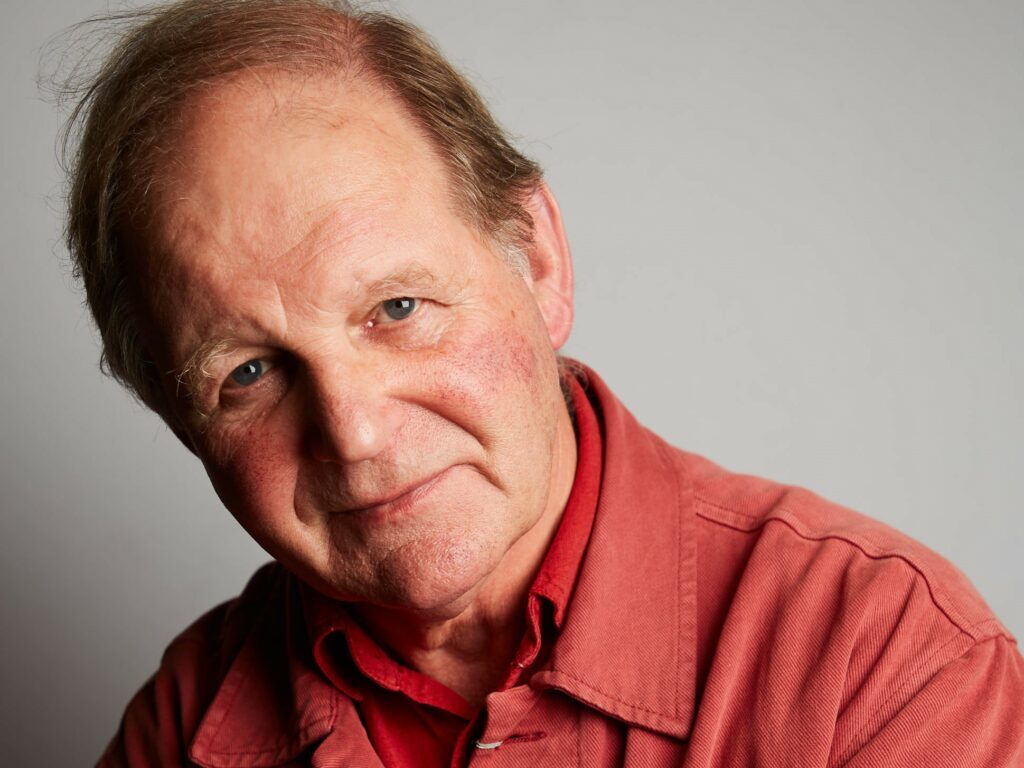 Visit the official Michael Morpurgo Month website from 1st February 2023 to find out how your school could win an exclusive virtual event with Sir Michael himself.
On the website you'll also find free audio excerpts of the six books being celebrated this year. These include War Horse, Farm Boy, Kensuke's Kingdom, Listen to the Moon and Barney the Horse.
---
Kensuke's Kingdom KS2 book topic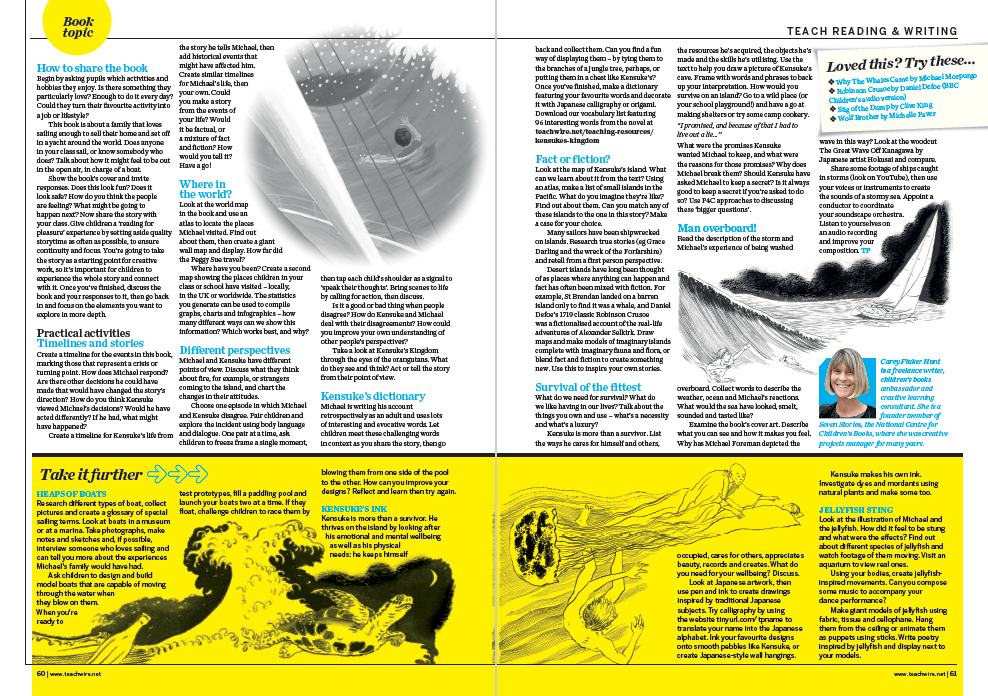 Kensuke's Kingdom won the Teachers' Choice category in our Teach Primary Book Awards. It's packed with exciting themes to inspire creative cross-curricular work.
Use these KS2 cross-curricular activity ideas to study the book in your classroom. You can also download this vocabulary list of 96 words related to the book.
---
Author in your Classroom podcast and activities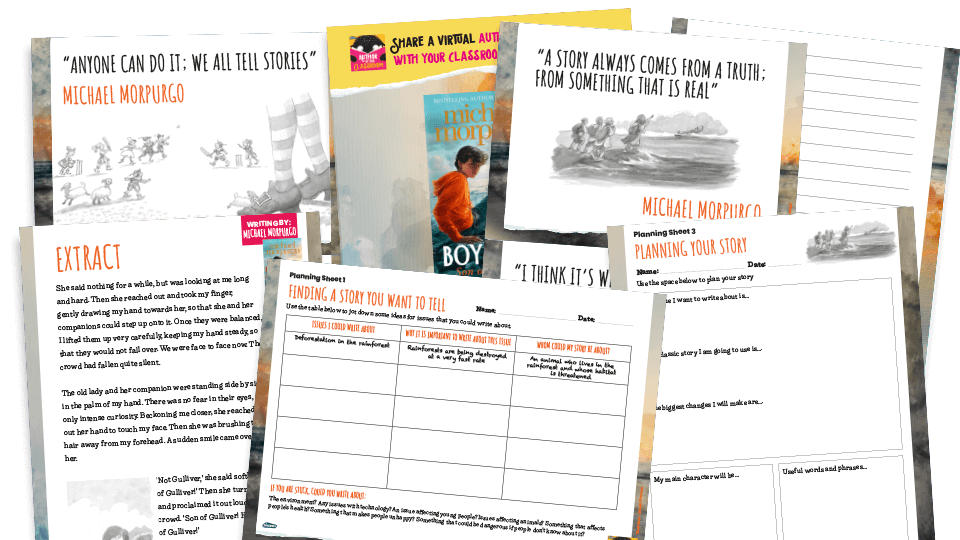 Inspire KS2 pupils to write their own story using a classic tale to raise awareness of an issue that matters to them, with advice from Sir Michael Morpurgo himself.
This free resources pack from Plazoom includes teacher notes and a PowerPoint. There's also planning sheets and beautifully designed elements for a 'new take on a classic tale' working wall.
It has been exclusively created to be used with episode nine of the Author In Your Classroom podcast. This is a virtual 'author visit' you can share with children whenever you like, absolutely free!
---
Boy Giant KS2 activities
When war comes to Omar's Afghan village, 10-year-old Omar and his mother set off on a long and dangerous journey. They're heading for England and Uncle Said's café.
But Omar's mother can't afford two boat tickets and Omar must travel on alone. When the worst happens at sea, Omar expects his life to end.
Instead he is washed up somewhere marvellous and strange. It's the island of Lilliput, whose tiny inhabitants welcomed Gulliver so long ago.
Helped by his new friends, Omar becomes Son of Gulliver – a role that requires him to develop peacemaking abilities.
Find classroom activity ideas and a 12-page PDF packed full of more lesson ideas and activities to explore alongside reading the book.
---
Flamingo Boy resources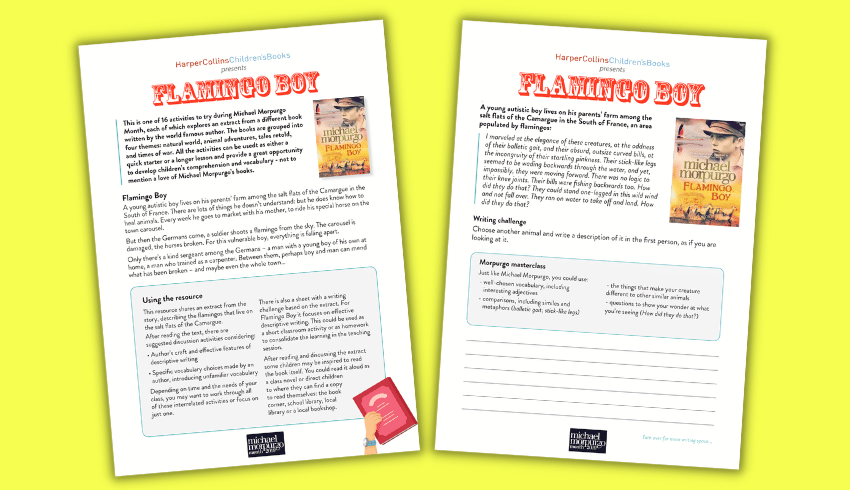 All the activities in this Flamingo Boy resource from HarperCollins can be used as either a quick starter or a longer lesson. They provide a great opportunity to develop children's comprehension and vocabulary.
This resource shares an extract from the story, describing the flamingos that live on the salt flats of the Camargue. It also features suggested discussion activities considering the author's craft. This includes looking at effective features of descriptive writing, specific vocabulary choices made by an author, and introducing unfamiliar vocabulary.
---
More Michael Morpurgo Month resources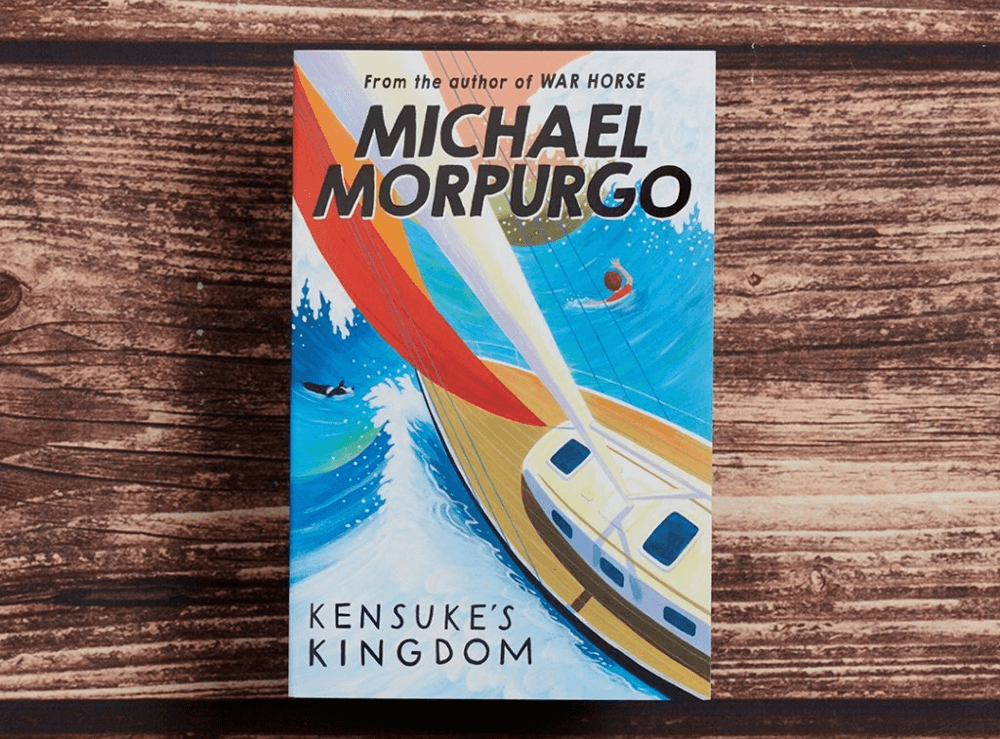 You can also get similar resources from the HarperCollins site. Click the links below to find resources for the following titles:
---
The Butterfly Lion persuasive writing KS1 book topic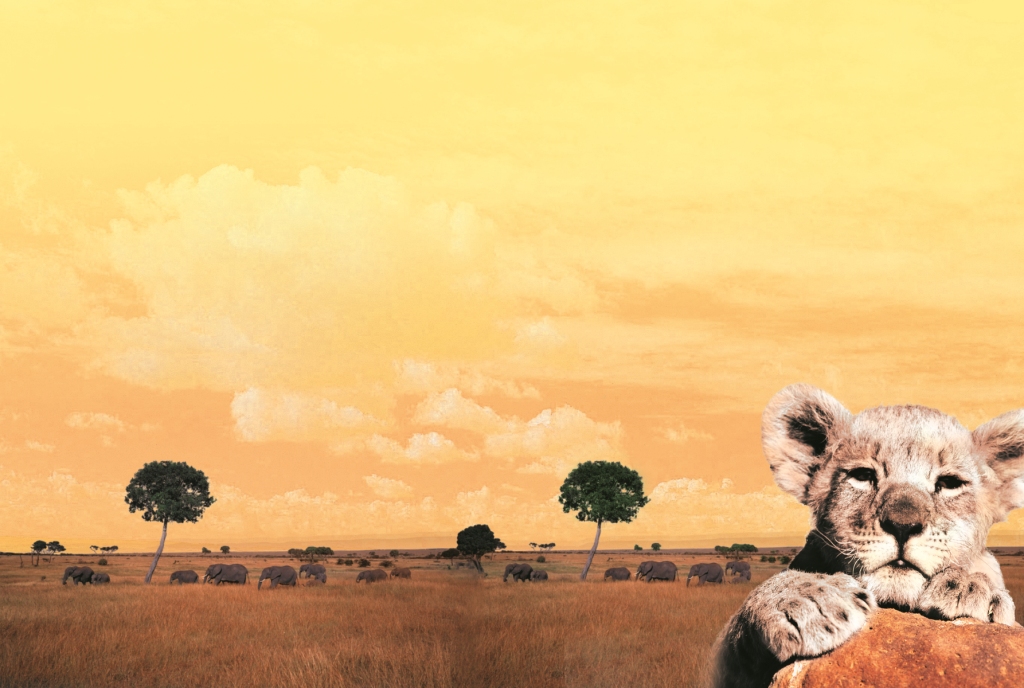 These KS1 activity ideas for The Butterfly Lion ask children to imagine what life would be like with a lion for a best friend.
Ideas include writing a persuasive letter from the main character's perspective in boarding school, a survival guide for lions and a plot outline for the novel.
---
This Morning I Met a Whale
Use Morpurgo's tale of a boy who spies a bottlenose whale in the Thames as the centrepiece of your next Key Stage 2 storybook curriculum.
In this free PDF there are loads of ideas and writing opportunities. These range from environmental information pamphlets and persuasive letters to news reports.
---
Where My Wellies Take Me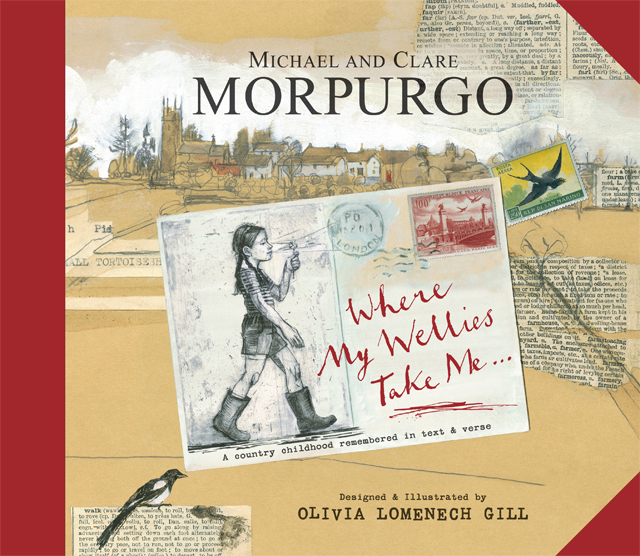 Where My Wellies Take Me, by Michael and Clare Morpurgo, uses 40 evocative poems to celebrate the wonder of childhood, germinating a love of verse that will stay with pupils for many years to come.
Explore the spark of an idea in starting the writing process, map out your poetry project in your local area and create an inspiration scrapbook with this free PDF of classroom ideas.
---
Private Peaceful writing resources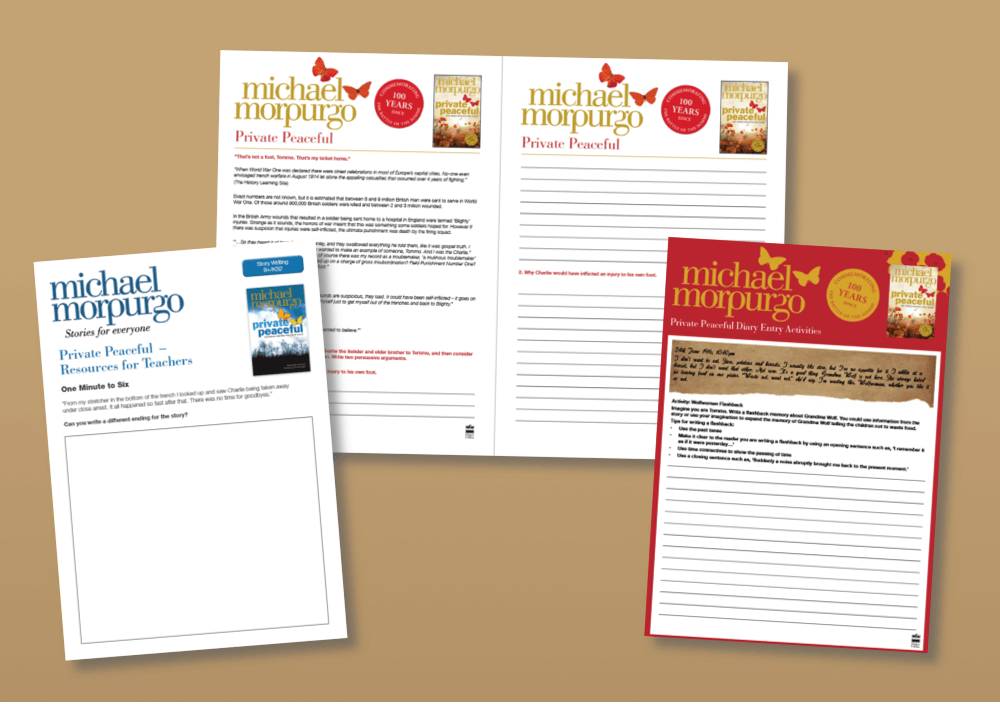 There are three different worksheets of writing exercises for the ever-popular Private Peaceful.
One asks students to write a different ending for the story. Another features 13 pages of diary writing activities. The third features four sheets of reading comprehension and writing activities.
---
Writing worksheets for three books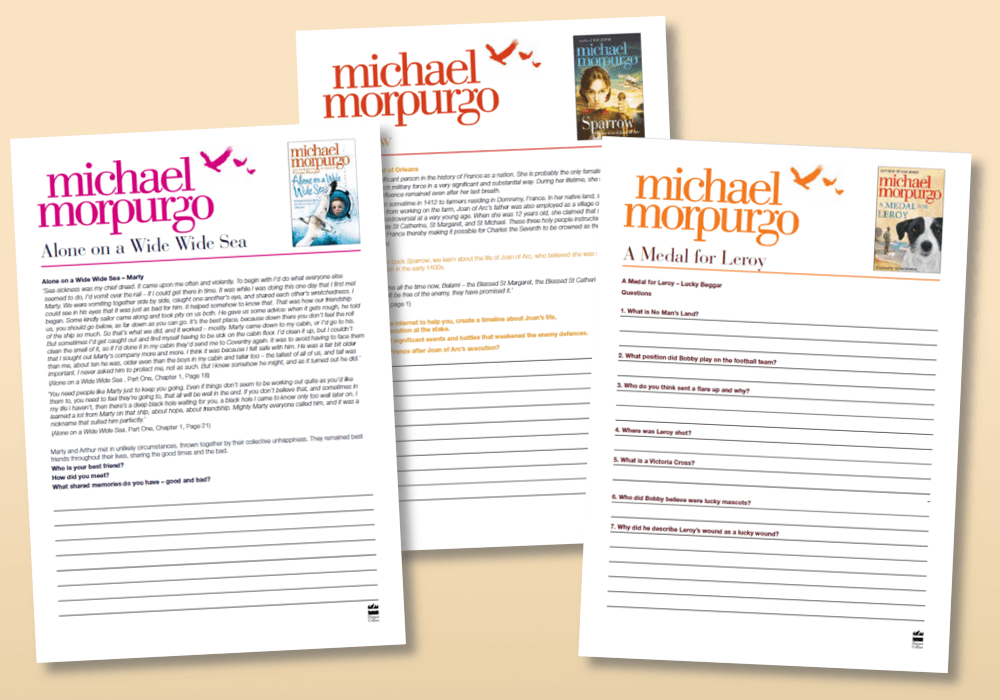 This resource features three printable worksheets for three Morpurgo books: Sparrow: The True Story of Joan of Arc, Alone on a Wide Wide Sea and A Medal for Leroy.
Each worksheet features a variety of writing, comprehension and research activities for pupils to carry out. These include writing a timeline of Joan of Arc's life and describing how you met your best friend.
---
More Michael Morpurgo Month teaching ideas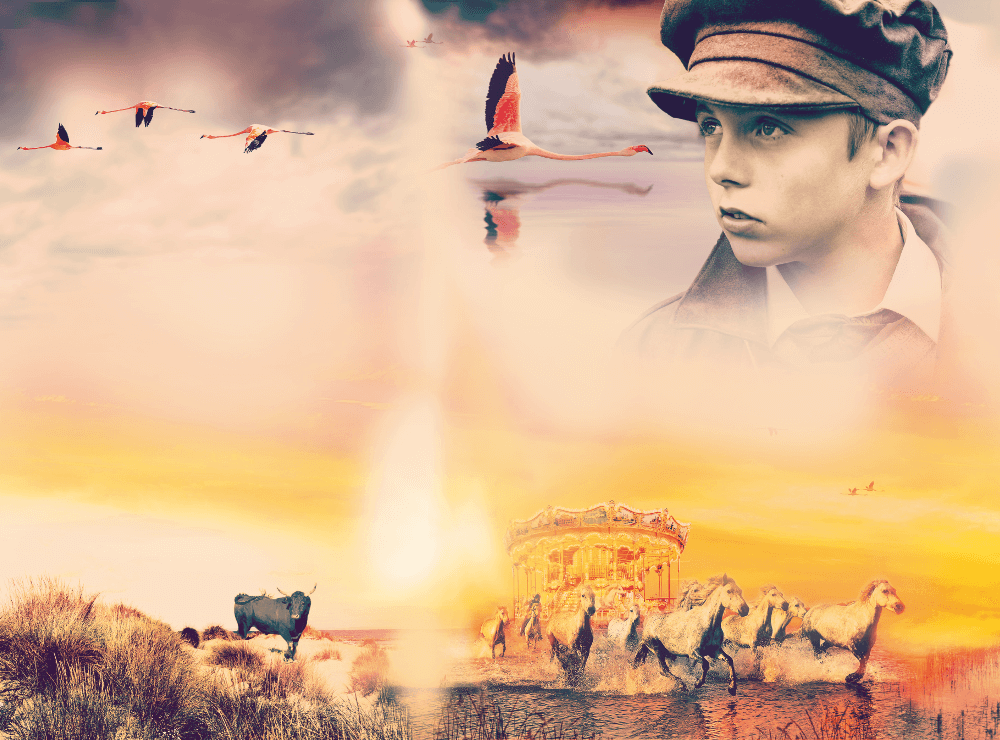 James Clements, education writer and former primary teacher, shares ideas for celebrating the master storyteller this February…
For generations of teachers, myself included, Michael Morpurgo's books are an integral part of school life.
As a child, I remember listening with baited breath as our headteacher read Friend or Foe aloud in assembly. He was sure to always stop on a cliffhanger so we'd have to wait a whole week to find out what happened next.
In my first year teaching, I adopted the same approach with Kensuke's Kingdom, my class howling when we had to stop each day at home time.
During his long career, Sir Michael Morpurgo has served as Children's Laureate and written more than 150 books. He's sold more than 35 million copies worldwide, touching the lives of many readers.
Michael Morpurgo has long been a powerful advocate of reading aloud to children, famously saying:
"Let there be half an hour of storytime at the end of the day in primary schools up and down the country. Make this the half hour they all long for, that they don't want to be over. Let the children go home dreaming of the story, reliving it, wondering."
The suggested books and classroom activities below are perfect if you want to take part in Michael Morpurgo Month. Or use them to enjoy the richness of his stories at any time of the year.
The natural world
Kensuke's Kingdom
This story of adventure, survival and friendship is a staple of the KS2 classroom. As well as being a masterclass in evocative descriptive writing, it provides an excellent opportunity for teaching narrative point of view.
Retelling the same scene from the perspectives of both Michael (the stranded boy) and Kensuke (the inhabitant of the island) can help children to explore how different characters see the same situation. Explore how this can be communicated by a skilful writer.
Running Wild
In this tale of the unlikely friendship between Will and Oona the elephant, Michael Morpurgo captures the setting of the Indonesian rainforest to perfection.
Read as a class and imagine what it would be like to be there. Next, look carefully at how the author describes the setting. This can support children's own development as writers.
The class can then choose another setting – the desert, the tundra – and use the same techniques to create the feeling of being there.
Animal adventures
The Butterfly Lion
This is a magical story that spans many decades. The Butterfly Lion provides a motivating and memorable way of teaching children to control shifts in time in their own writing. Listen to the story and think about how the author moves from one period to another.
Children can then use some of the techniques themselves. Write stories that move from the present to the past and back again, or try out adverbials of time.
The Fox and the Ghost King
Bringing together history, nature (and football!), this short story is a perfect book to read aloud to older KS1 children. Beautifully illustrated by Michael Foreman, it's packed with rich vocabulary for children to explore.
Asking pupils to think about some of the words that younger children might find challenging and then writing a glossary to help them understand the book will help them reflect on their own comprehension and to practise communicating the meaning of words.
Pupils could then be challenged to use the word in their own writing.
Tales retold
Arthur, High King of Britain
This is a beautifully constructed story-within-a-story. When a boy awakens after being stranded on a sandbank, he finds himself confronted by the legendary King Arthur himself. The King then proceeds to tell his story.
As well as terrific writing, this book gives older children the chance to explore narrative structure, using the device of a character telling another story.
Pupils could try to write their own story-within-a-story, based on another myth or legend they know.
Pinocchio by Pinocchio
A delightful version of the much-loved story, this version is told by the puppet himself. 'The truth is I'm not just a puppet, I'm more than just bits of wood and string. I'm me. So I thought it was about time that I, Pinocchio, told you my story…'
This text can provide a great model for first-person writing. Children can invent new adventures for Pinocchio or retell another familiar story with themselves in the role of the protagonist.
Times of war
Friend or Foe
Evacuated to Devon during WWII, David and Tucky have their lives changed and preconceptions challenged when a German bomber crashes nearby.
This BBC radio play of the story is free to listen to, which makes this a valuable text for comparing play scripts and prose, and how the same story can be told in different ways.
Children can then choose scenes from the book and adapt them for performance.
Flamingo Boy
The powerful story of an autistic boy set in WWII, this story provides an excellent opportunity for children to research the background to a work of fiction.
While listening to the story, groups of children could be given different topics from the books to research: the Camargue, the occupation of France during WWII, flamingos, carousels.
As well as practising their research skills, the new knowledge they will build will give them a connection and deeper understanding of the book.