Long Distance Relationships – Could Your Perfect Partner School Be On The Other Side Of The Globe?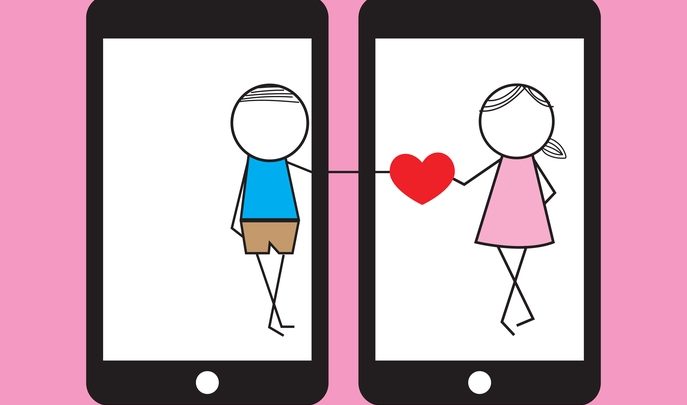 Do you take this school as your learning partner, for better and for worse, in sickness and in health? Jeremy Hannay says 'I do'…
The dating game is vastly different from a decade ago. Long gone are the days of seeing someone across the room, walking over and talking to them, before asking for their number. Things have changed. Today, it's all online exchanges; photos, emails and texts; relationships at a distance – eHarmony, match.com. People over the world are available at the click of a button or the swipe of a thumb… But just as the dating world has changed, the landscape of education has taken a similar course. Where once we connected with our neighbouring schools and local authorities, and met face to face to moderate and collaborate, we now have the ability to extend beyond the limits of our locus. Before entering into any kind of relationship, though, it's important that you know your own strengths and weaknesses. In our case, when we started our search for companionship, our maths results were historically good, but our English results reflected a pedagogy that lacked the most up-to-date evidence and research. We also believed that our approach was not creating lifelong lovers of learning. What we identified was the need to place students at the centre of their own learning; and to recognise their developmental strengths and requirements and respond to these, swiftly and with precision. We wanted to take a more enquiry-based approach.
Coupling
So we began searching the globe for that special someone with best practice in enquiry-based learning (and a non smoker who must love kids). We wanted to improve by learning from the best in the world, and we knew exactly what we were looking for and what we had to offer. As a national Talk 4 Writing training school, an iPads school and a training centre for the Singaporean approach to mathematics, we felt that a reciprocal relationship could be formed that was productive for both parties. In researching which countries, in general, led the way in enquiry-based learning and positive pupil outcomes, the same three nations repeatedly came to the fore – Singapore, Finland and Canada. We set our sights on Canada. As a Canadian myself, finding a partner was made easier since I'd already undertaken the Principals' Qualification Programme (the equivalent of the NPQH) whilst living and working in my home country. During the course, I met a variety of aspirant and serving deputy heads and it didn't take me long to reconnect with one of my former acquaintances – a passionate and inspirational deputy named Barb Speed from Clara Hughes PS in Ontario. (If you don't have pre-existing connection, then perhaps the British Council's Connecting Classrooms programme would be a good place to start.) We talked at length about our schools, their similarities and our aligned vision to empower all of our pupils, regardless of their postcode, to propel themselves into the future. As a school, Clara Hughes was proficient in delivering an enquiry-led curriculum, but were looking to enhance the accountability and ingenuity with iPads as lifelong learning tools. It was a match made in heaven.
The honeymoon phase
Romance was blossoming. After the course, we connected via email and Skype, and I arranged a visit to them in October. Following a long flight and excellent directions, I was able to tour the school and see enquiry in action. The deputy and I met with the head and an advisory teacher to devise a plan to provide remote support – using Skype, email and Google Drive – between our schools. We created a schedule of events, including enquiry-based projects that would be shared between us.
Through these, our school would provide scaffolds for using the Explain Everything app (a great and flexible tool for learning and assessment that lets you annotate, animate, and narrate explanations and presentations), while they would provide the curricular approach for us to follow. As a wonderful first-date ice breaker to connect our KS2 pupils, we designed a Mystery Schools Project in which our respective classes had to determine where, down to the latitude and longitude, the other school was located. This project took place over the course of a half term, and was based on a series of pupil-designed questions and discussion points made in small groups.
It culminated with the pupils meeting via Skype for a discussion and any follow-up questions. It allowed both pupils and teachers at our school to investigate the power of using an enquiry model of project-based learning, but it also gave those at Clara Hughes the chance to develop strategies for delivering a curriculum using iPad technology in an accountable and engaging way.
Lasting love
Good relationships, past or present, are rooted in frequent, positive and clear communication. They require passion from both parties and a genuine interest in and appreciation for what the other is bringing to the table. They also need patience; time differences, unexpected school-day interruptions, technological troubles can often test things.
Ours works thanks to the effort of expert teachers, inquisitive pupils, savvy technicians and teacher-leaders with an embedded moral imperative. They're all contributing to transforming the working and learning conditions of others, in order to foster growth, commitment, engagement and leadership.
And most importantly, you need two schools that believe that – no matter what adversity lays in front of them – all successful, sustainable relationships in education are built on pupil potential, not proximity.
Asking for it
At Three Bridges, Y5 teacher David O'Connell has helped to incorporate these core foundations into the school's enquiry-based approach…
1 Quintessential questioning An enquiry-based pedagogy is an approach to learning where pupils are driven by a process of questioning, discourse and thinking, which is owned by the pupils but skilfully facilitated by the teacher. It all starts with a question, e.g. 'How is mood created in paintings?' 'Would you have rather been a Spartan or an Athenian?' 'What came first, the chicken or the egg?' Skilful teacher questioning subtly guides pupils through the enquiry journey – 'What do we need to know?' 'Where are we going to look?' 'How do we know we understand what we are researching?' 'Does this remind you of anything?' 'Do you agree?' This not only guides pupils towards independence, but also allows misconceptions to arise naturally, and gives them a chance to identify and resolve them individually.
2 Deliberate discourse It is important to give pupils time to reflect, discuss and answer questions, because the way they respond is key to how their enquiry develops. As an example, using the 'ABC' method, pupils are given a scaffold to explore questions or statements presented by saying 'agree because…', 'build upon by adding…' or 'challenge because…'. This promotes pupil-led discussions where, after the teacher initially models verbal feedback, the structure for constructive feedback becomes embedded within the children – we hear the ABC method used in playtime debate about who will win the Premier League.
3 Time to think Through teacher models, deliberate discourse and quintessential questioning, the pupils' develop their metacognitive abilities. And once they have an awareness and control of their own thinking, they are able to guide and evaluate their enquiry independently, as well support those around them. In these processes, the teacher acts as a facilitator to guide pupils to acknowledge, regulate and control their thoughts.
Jeremy Hannay is deputy headteacher at Three Bridges Primary in Southall