Letters and Sounds – How to teach phonics revised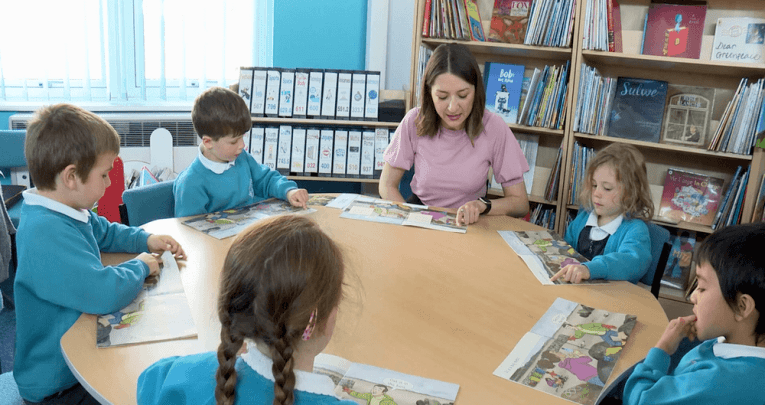 Despite the DfE pulling funding and support, Wandle Learning Trust has proved its revised Letters and Sounds programme remains useful and valid…
If Letters and Sounds was a person, it might right now be tweeting 'reports of my demise have been greatly exaggerated.' We like to think we would be tagged in those tweets in recognition of the reviving role our schools have played!
In May, 14 years after its publication, the Department for Education (DfE) announced that the 2007 Letters and Sounds Framework was no longer fit for purpose. As such it would cease to be a validated phonics programme after 2022.
Widely interpreted as DfE reading Letters and Sounds its last rites, this impression was compounded by the Department also pulling out of the revised Letters and Sounds programme it had commissioned our schools to produce. Their support and funding ceased almost immediately.
Running Outstanding schools serving vastly different communities, both with Phonics Screening Check results in the top 5%, we know that Letters and Sounds is effective. Our schools had already committed so much time and passion to the revised programme, neither of us were prepared to see Letters and Sounds disappear.
With the Department out of the picture, we felt we had no choice but to plough our own investment into continuing the work. Schools had to have the option of a quality, validated Letters and Sounds programme, of that we were in no doubt.
Now, just a month after launching our own SSP (Systematic Synthetic Phonics) programme, named to recognise our partnership, Little Wandle Letters and Sounds Revised is already enjoying the support of hundreds of member schools.
We are delighted to concur that news of Letters and Sounds demise was indeed greatly exaggerated!
Little Wandle Letters and Sounds
The seeds of what would eventually become Little Wandle Letters and Sounds Revised were sown back in March 2020, with a commission from the DfE to create daily Letters and Sounds phonics videos for schools to share with families during lockdown.
Within the space of a few weeks our own teachers, working alongside early reading experts, had written a term's worth of lessons. We had all hands on deck to create lessons which were based on strong, direct teaching and were engaging and visually appealing for children.
While for most children these would not be their own teachers, we wanted to create as authentic a lesson experience as possible, complete with plenty of warmth and positive praise.
Like the PE sessions from Joe Wicks – who generously provided an intro clip for some of our videos – we hoped our lessons would become a regular, reassuring part of the new morning routine. Alongside our YouTube channel we also provided a website with a full list of upcoming lessons to aid teacher planning.
Understandably, not every teacher in our schools felt ready to be beamed across the nation's front rooms. However, we could see those that did visibly grow into their roles as the weeks went on.
As teacher/presenter Emma says: "At first it was very nerve-wracking when we started to see how many people were accessing the videos. However, it soon became part of the weekly routine, and you could easily forget how big the audience was.
It was also reassuring when we received lots of positive feedback about the lessons and how much people appreciated them."
Phonics works
To date, our lockdown Letters and Sounds lesson videos have received 8.5m views and our teacher presenters have found unexpected fame as 'YouTube stars,' being recognised when visiting other schools and even in the supermarket!
Distilling our best practice into videos for use during lockdown and seeing how well-received they were, whet our appetites to do more.
We knew Letters and Sounds schools around the country were creating their own adaptations of the programme to make up the missing features. But what impact does this have on teacher workload, how consistently are adaptations being applied across classrooms in the same school?
Equally, how does current Letters and Sounds practice incorporate everything we now know about how children learn best? These were all questions we asked ourselves and to which we decided our revised programme could provide answers, as well as meeting the expectations of Ofsted's deep dive into reading in the process.
Developing our own daily practice into weekly lesson content for every Reception and Year 1 lesson created the core of Little Wandle Letters and Sounds Revised.
Around that we wanted to make excellent, accessible written and video guidance modelling all aspects of the teaching, plus clear, concise getting started materials and online whole school training.
This has the aim of giving schools the reassurance of knowing how Little Wandle Letters and Sounds Revised should be used to bring about the best possible outcomes.
Teachers who honed their presenting skills in our YouTube lessons during lockdown now feature in our Little Wandle Letters and Sounds Revised videos.
In selecting those to feature, we felt a responsibility to reflect back to children people who look like them, as well as communicating to the wider world that teaching is an inclusive profession.
In the words of class teacher and presenter Josh: "I believe the involvement of male teachers in the production process has been vital, especially considering that the proportion of males teaching in Key Stage 1 is still extremely low. I hope that my participation in this programme might inspire other males to teach phonics – it is such an enjoyable subject with such significant rewards!"
Making phonics fun
As well as building a resource that is purposeful for teachers, we were equally determined to create something joyful for children. Mnemonics and catchphrases were something that was missing from the original Letters and Sounds and provided the perfect way to appeal to children.
We felt confident we were on the right track when one of our trial schools fed back: "The catchphrases are a great addition. 'Chair in the air' [represented by a teddy floating away on an armchair tethered to a huge bunch of balloons] really makes my children laugh."
Our experience of creating Little Wandle Letters and Sounds Revised has challenged us as senior leaders to demonstrate the qualities we expect from others – boldness, determination, resilience, and leadership.
As an opportunity to make a difference to children's lives, it's hard to imagine anything more fulfilling than creating this programme.
For us, six-year-old Michael, who played a starring role in our pronunciation videos for Little Wandle members to share with families at home, sums it up perfectly: "It made me feel really happy and excited to be involved. It helped me with my phonics too! I hope I have helped other children with their phonics."
---
Rachel is the headteacher of Little Sutton Primary School in Sutton Coldfield. Mark is the executive headteacher of Wandle Learning Trust, a multi-academy trust based in Wandsworth, south London. See the Little Wandle Letters and Sounds programme at littlewandlelettersandsounds.org.uk.