KS1 and KS2 art ideas, activities and resources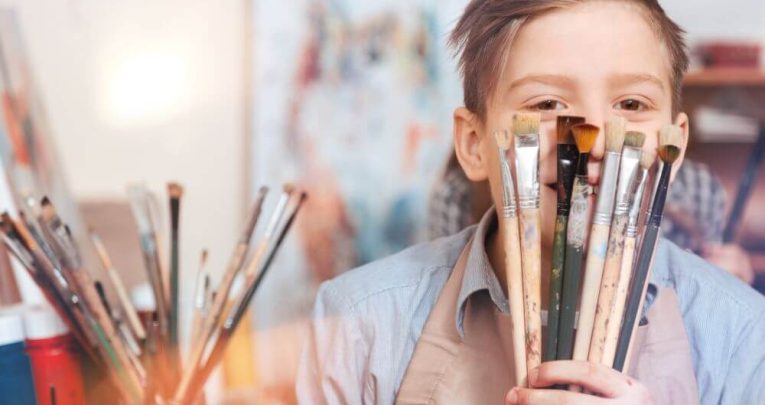 Create a rich learning environment in your primary classroom with these fantastic art ideas, activities and resources

by Teachwire
Art – it's a subject that many of us look back on fondly from our own schooldays.
Teaching it can be another matter though, especially if you don't feel particularly 'arty' yourself.
The lack of art and design training doesn't help either, with barely half a day per year given over to arts subjects on primary PGCEs. However, as primary teachers know, it's all the singing, painting, story writing and drama that goes on in primary classrooms that makes them such rich learning environments.
Read on for advice, activities and KS1 and KS2 art ideas.
Jump to a section…
What do children learn about in art lessons in KS1?
In Key Stage 1 art and design, children should learn how to use a range of materials to create products and share their ideas via drawing, painting and sculpture.
They should also try a wide range of techniques based around colour, pattern, texture, line, shape, form and space.
Art lessons should involve learning about a range of different creative people and pupils should be able to describe similarities and differences in art and make links to their own work.
What do children learn about in art lessons in KS2?
In Key Stage 2 art and design it's about developing art techniques and an increasing awareness of different kinds of art.
Children should work in sketchbooks and try techniques including drawing, painting and sculpture. They should also continue to learn about great artists from history.
For all primary pupils, the main purpose of the art and design national curriculum is to help pupils create work that helps them to explore their ideas and experiences.
By the end of primary, children should be able to analyse and evaluate art using appropriate language.
How does art enhance learning?
A high quality art and design education helps pupils to think critically and improve their evaluation and analysis skills.
It should also encourage children to be experimental and inventive in their learning.
Art and design education has also shown to raise attainment, improve concentration and encourage creative thinking within the classroom.
As headteacher Dan Edwards notes, creative subjects such as art and design create a safe space for pupils to explore and communicate their emotions and can even help children to support their own mental health and wellbeing.
American poet and essayist Dana Gioia put it best when he said:
"The purpose of arts education is not to produce more artists, though that is a byproduct. The real purpose of arts education is to create complete human beings capable of leading successful and productive lives in a free society."
Art lesson plans and teaching ideas
Illustrator Axel Scheffler, who often works with best-selling author Julia Donaldson, believes that introducing pupils to a wide range of different illustration styles can inspire children to draw. Here's an activity to try:
Make cross-curricular links between drawing and writing by reading out a short description of a character and asking pupils to draw what you've been describing.
Collect in all the pictures, then hand them out again, randomly.
Collect in all the pictures, then hand them out again, randomly.
What differences do pupils notice between their work and the illustration they're now holding? What extra details have been added?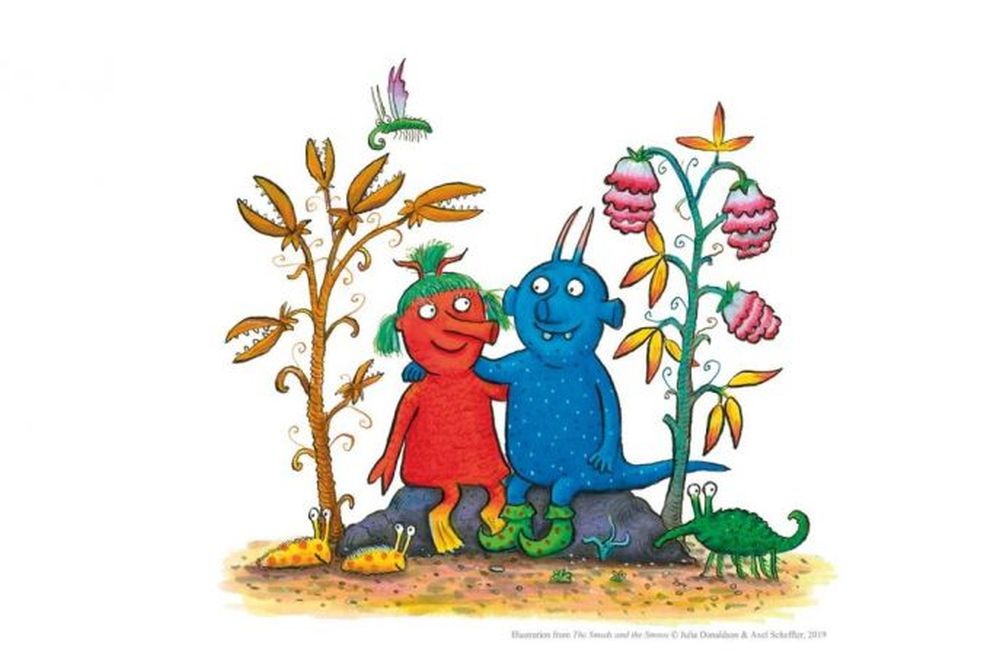 Find more art lesson ideas from Axel Scheffler here.
---
Help KS2 children to understand the principles of printmaking by creating a beautiful savannah sunset artwork based on African wildlife silhouettes.
Get the art how-to here.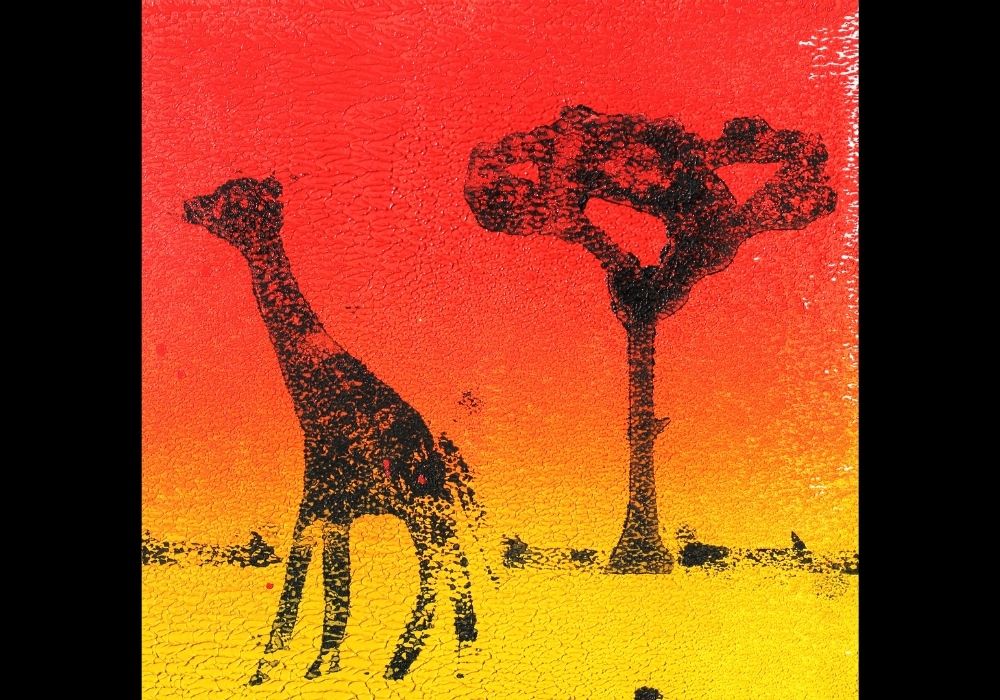 ---
Make links between art and football to motivate sporty pupils by focusing on the art of Keith Haring and creating your own vibrant responses in this KS2 lesson plan.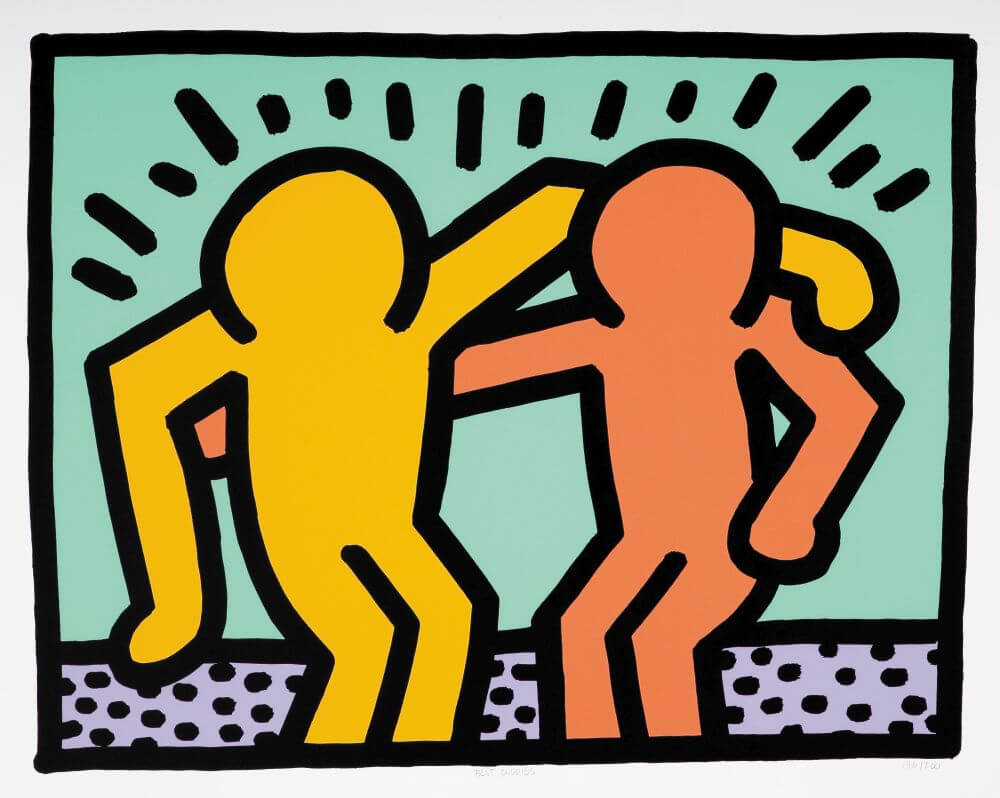 ---
If you'd like to use more high art in the classroom but don't know your Rossetti from your Rembrandt, don't feel intimidated.
Use the following 'thinking routine' with pupils to analyse a painting:
Ask pupils to simply list what they can see – people, colours, objects.
Next, ask children what they think these elements mean. What's going on? Why has the artist used certain techniques?
Now ask pupils what the painting makes them feel and wonder about. What are the characters saying to each other?
Art scheme of work
If you're looking for more than just one-off art activities, this free six-week medium term KS2 art plan focuses on Vincent Van Gogh and Post-Impressionism.
Children will copy the artist's style to create their own picture, and everything you'll need for each lesson is included in the download.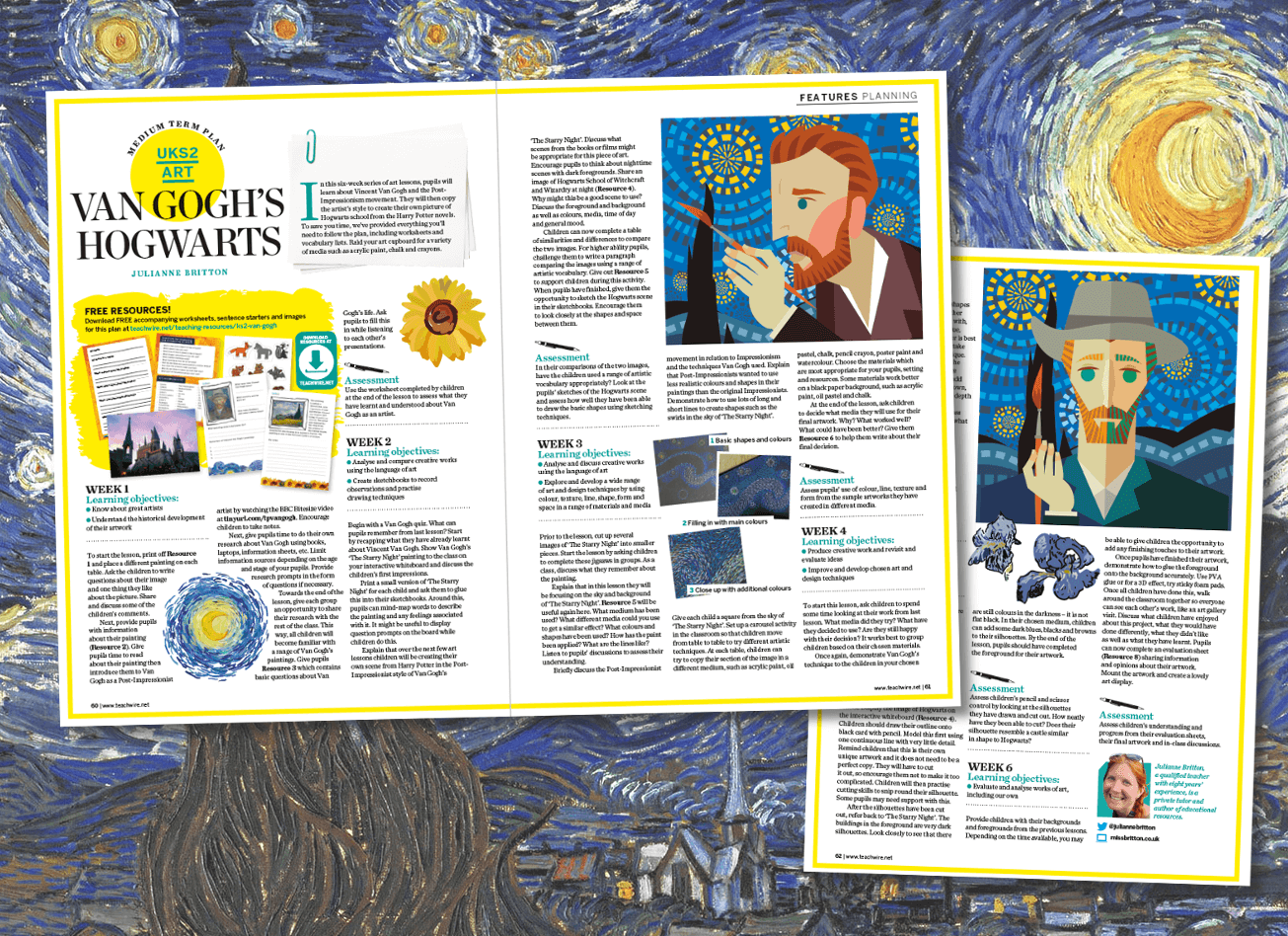 Alternatively, try this KS2 medium-term art plan which is focused around the topics of self-portraits.
Pupils will find out about a range of famous artists and will learn how to draw faces using correct proportions.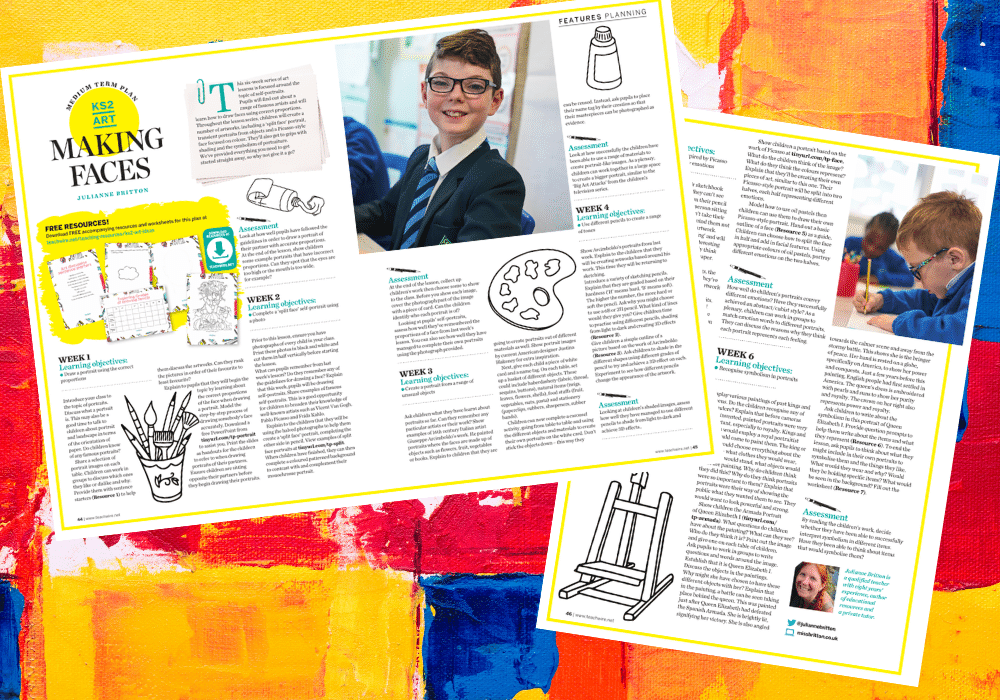 Art club ideas
If you're in charge of an after school art club or are thinking about setting one up, check out these art project ideas from Kapow Primary.
Ideas include creating a club mural on cheap ceramic tiles and using paper to craft simple origami models.
There are lots of easy craft ideas to try on the National Geographic Kids website too, including a super pebble people project and an arctic scene paint project.
Children might also enjoy making a collage landscape art work featuring two contrasting environments. Watch a BBC video demonstrating the idea here.
More craft ideas for kids
Get kids colouring, crafting and creating with these easy-to-do Easter craft ideas.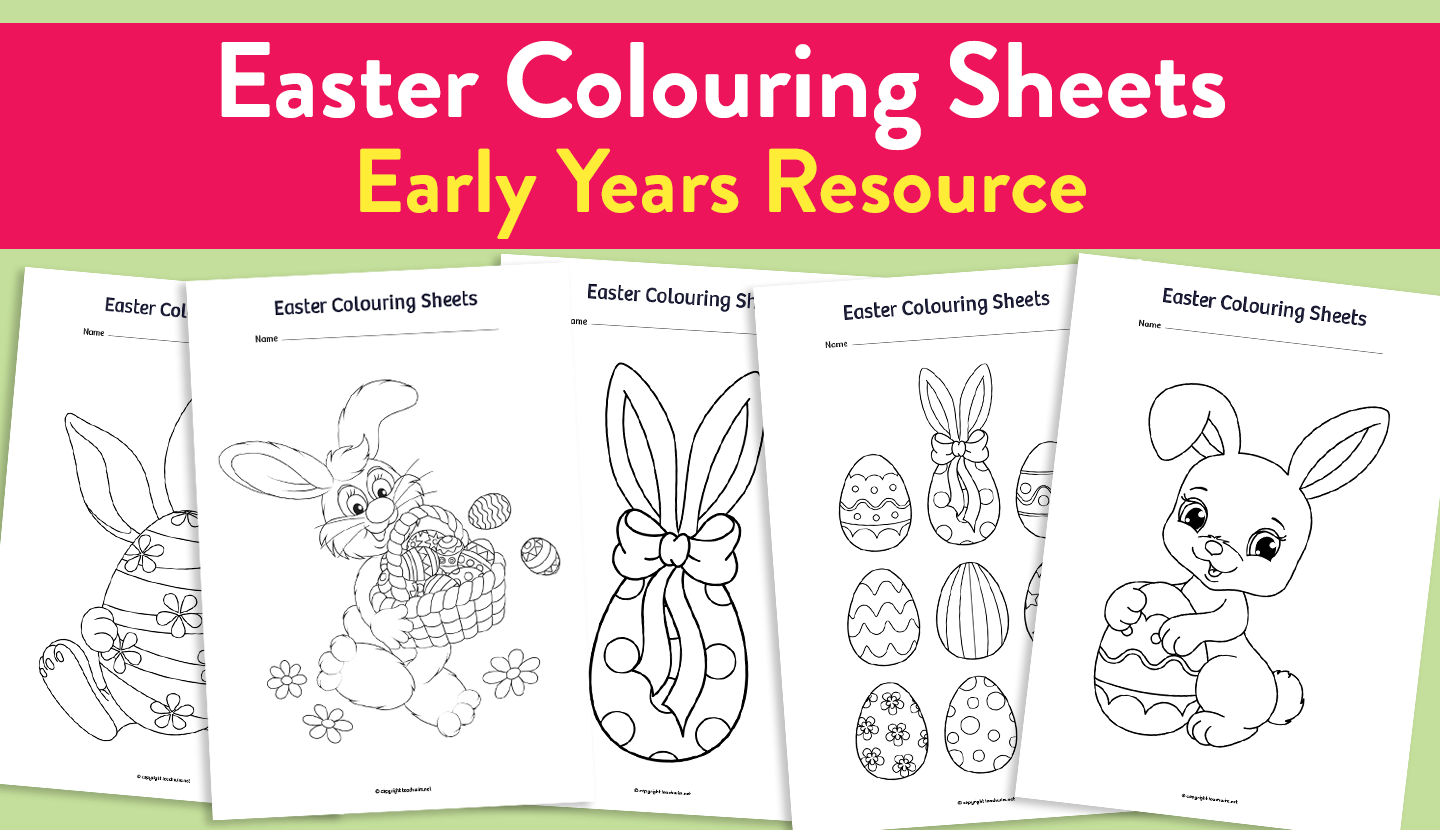 Find Christmas make and do activities for EYFS and KS1 here.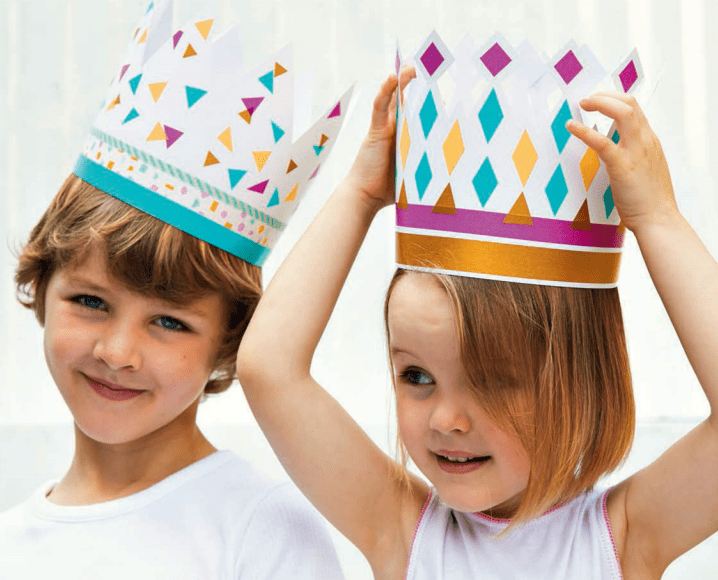 Find nine craft ideas that are perfect for young children here, including parrot pals, a Lego printing activity and colourful collages.