KS1 art ideas – Develop fine motor skills with cardboard cars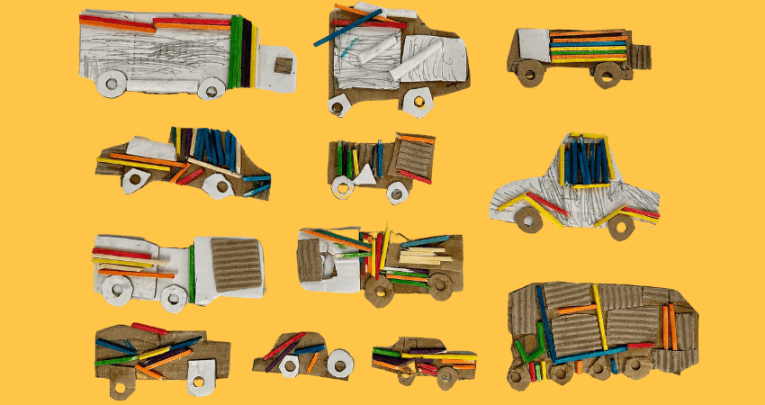 Challenge your youngest pupils to work with their hands and create their very own collage with this engaging KS1 art project
I created this KS1 art ideas lesson recently with a group of Y1 children as part of a 'London Landmarks' project.
They absolutely loved it and spent a lot longer making them than I'd anticipated; some of them even made more than one.
It's simple but effective KS1 art ideas that work the best. You can help by cutting some of the shapes for them if necessary, but it's great practice for their cutting skills.
You can substitute the materials too. I've used matchsticks and some corrugated card, but you could just as easily use paper straws, or paper with different textures or thicknesses.
1. Car body
For this lesson, you'll need: cardboard of different thicknesses; corrugated card; scissors; PVA glue; a hole-punch; matchsticks; and paint.
To begin, get the children to cut some cardboard into squares and rectangles of different sizes. These will act as the body of the cars (or trucks/coaches if they prefer).
Pupils may find this easier if you cut longer strips that they can then chop up into smaller sections, but you can decide what works best for your class.
2. Basic shapes
Next, glue some of the cardboard pieces together to make the basic shape of your chosen vehicle.
Explain to children that they can layer pieces to make the bonnet of the car, the boot, and the cab, for example. Coaches or trucks may have a longer base.
Pupils can also modify the shapes once they're glued and dried, by cutting in slightly sloping roofs, drawing in windscreens, or making the edges more rounded.
3. Wheels
Now guide pupils to use a hole-punch to pop circles out of some thin cardboard. These pieces will become the wheels of the car.
Help children cut around these holes to make the wheel shapes – each should end up as a circle of card with a hole in the centre.
This is tricky, but it's good practice and the circles don't have to be perfect. Glue these onto the vehicles; coaches or trucks might have more!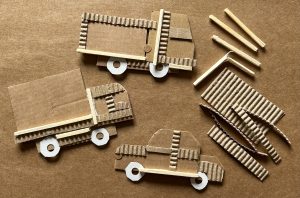 4. Texture
Glue on corrugated card and matchsticks to add some textures (see picture above).
I usually pre-cut thin strips of the card to make it easier for the children, and I show them how it's better to 'snap' the matches rather than trying to cut them.
If they get frayed at the break, you can use your scissors to clean them up, snipping off the rough bits.
5. Painting and colour
Once the glue is dry, the children can paint their vehicles in whatever colour they choose.
Can they think of cars, buses or trucks they've seen on the road to give them ideas about what kind of colour they'd like to use?
Generally, any kind of paint is fine for this, but I find regular school water-based paints plus a little metallic silver (if you have it) works well to give a bit of shine.
Darrell Wakelam is an artist, teacher, and trainer with over 30 years' experience of working creatively with children. He is also the author of the recently released book Art Shaped. Follow Darrell on Twitter @DarrellWakelam and see more of his work at darellwakelam.com