Knowledge narrowed? – How Ofsted's deep dives betray the government's curriculum priorities
If the government wants to provide a 'broad, knowledge-based curriculum', it should examine why its favoured EBacc is narrower in scope than what schools were teaching in 1904, says Adrian Lyons…
by Adrian Lyons
Ofsted school inspections now follow a familiar format. Whether it be a full Section 5 inspection, or a reduced Section 8 inspection of a 'good' school, its approach on day one is to focus on the 'quality of education' through the spectrum of subject deep dives.
For each subject selected, the relevant subject lead will be required to justify to the inspector their 'curriculum intent' – i.e. the point of studying their subject. Subject leaders must then explain the knowledge they have selected to be taught, and the order in which it will be taught. The purpose of this is to demonstrate sensible sequencing of learning.
Knowledge base
Ofsted in its current incarnation is deeply committed to the notion that a curriculum must be knowledge-based. There's a strongly held belief that pupils growing up without a rich knowledge base will be disadvantaged once they enter the employment market, and will have to negotiate barriers to social mobility in later life.
As Nick Gibb – former Schools Minister, DfE guru and shaper of Ofsted's thinking over the last decade – explained in a 2021 speech to the Social Market Foundation, "We replaced the 2007 National Curriculum because it was based on a series of general aptitudes with insufficient subject-based content. In its place we introduced a National Curriculum which gives pupils a grounding in the 'best that has been thought and said'."
However, earlier on in that same speech he stated that, "My belief, and my argument today, is that we will only deliver on the promises that all politicians make, of ensuring that every child receives a first-class education, if we ensure that all our children are taught in schools with an extensive knowledge- rich curriculum by well- trained and supported teachers … in schools that encompass the arts, languages, music and the humanities as well as science and maths; [and] in schools that give every child the knowledge they are entitled to as part of their cultural inheritance."
This speech effectively saw Gibb countering his own argument. After stating that the arts and music should form part of a first-class education, he went on to enthusiastically promote the benefits of studying the EBacc at KS4 – a development which has served to squeeze those subjects out of the curriculum, and effectively devalued them at KS3.
What's the rationale?
Ofsted predicates its curriculum discussions on the principle that choices must be made, and that a rationale must always be given for how those choices are ultimately arrived at.
So what is Ofsted's rationale for its latest curriculum choices? Research carried out by former HMI and Ofsted senior leader Adrian Gray has sought to show which subjects Ofsted focussed on the most during the autumn of 2021, as illustrated below.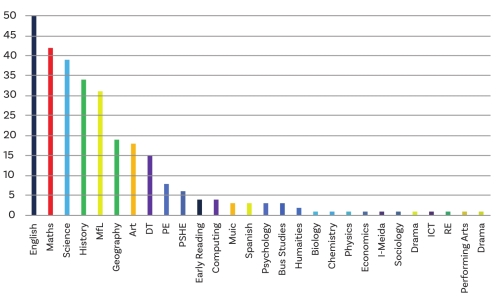 Those curriculum choices were largely made by individual lead inspectors, with little to no centralised strategic thinking behind them. Where there has been direction from the centre, it has largely resulted in a narrowing of the subjects that can be chosen for Ofsted enquiries into quality of education.
So it was that in January 2022, Ofsted quietly dropped both PHSE and citizenship from the pool of subjects that could potentially be inspected under its quality of education judgement. The rationale for this is difficult to pin down. The organisation's argument is that PHSE already plays an important part within an inspection's Personal Development judgement and isn't a National Curriculum subject.
That may be true, but then neither is Religious Education, which is subject to deep dives (albeit rarely, as shown in the graphic). On the other hand, citizenship is a standalone National Curriculum subject that has been sorely neglected over the past decade.
I fear that the relative lack of RE deep dives in secondary schools is due to the strong probability that statutory requirements wouldn't be met, thus causing problems for the whole quality of education judgement.
I used to joke with other HMI that if you wanted to be sure of getting evidence for an Inadequate judgement in a secondary, you'd select RE, PHSE and citizenship for deep dives. All three have become overlooked, yet nonetheless vital subjects for preparing young people for life in modern Britain – particularly if there's a suitably strong focus on the 'E' for 'economic' within PHSE.
A narrow spectrum
Internally, the range of subject areas considered 'worthy' of Ofsted's attention has been steadily reduced, with the upshot that two years ago, the highly popular secondary school curriculum area of economics, business and enterprise was axed altogether.
It's not simply the case that an over-emphasis on knowledge to the exclusion of other skills has been controversial. The problem is more that the knowledge selected forms a very narrow spectrum. In this ongoing, confected battle between 'knowledge' and 'skills', important aspects of personal development have lost out.
In the Nick Gibb speech cited earlier, the most problematic words are arguably, 'We introduced a National Curriculum which gives pupils a grounding in the 'best that has been thought and said'' – a sentiment that appears in the current Ofsted framework, despite being highly contestable.
We presently have a National Curriculum that largely reflects the values and priorities of 1904 – the year in which the then Board of Education first issued its Regulations for Secondary Schools. If we compare the makeup of 1904 curriculum with the EBacc curriculum, the government's preferred choice for today's students, we can see that relatively little has changed, except for the EBacc becoming even narrower, as shown in this table. Where is the room for new or different knowledge?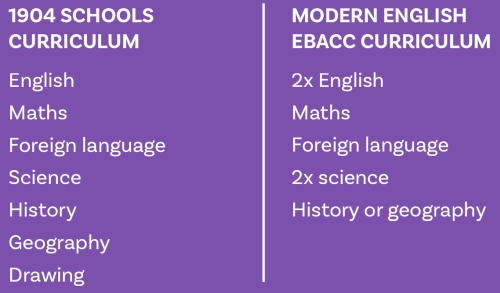 Part, not whole
Ironically, Lord Kenneth Baker – architect of the 1988 National Curriculum – has said that the current EBacc is 'regressive', and 'severely limits learning' describing it as ignoring the skills needed for today's workforce, and failing poorer students. Instead, he has called for a broadening out of the EBacc into a 'new Baccalaureate' with a wider scope, offering opportunities to teach computer science, creative and technical subjects.
I agree entirely with Her Majesty's Chief Inspector, Amanda Spielman, that a child growing up in Grimsby should have the right to the same curriculum as a child growing up in Chelsea. I would, however, argue that powerful subject knowledge only forms part of a good quality education, and not – as Ofsted has been so keen to promote these last five years – the whole of it.
Adrian Lyons is an education consultant, having previously spent 16 years as an Ofsted HMI; for more information, visit adrianlyonsconsulting.com or follow @AdrianLyonsFRSA