"How Are Children Going To Get Inspired About Grammar?" Cressida Cowell On Dragons, Reading and SATs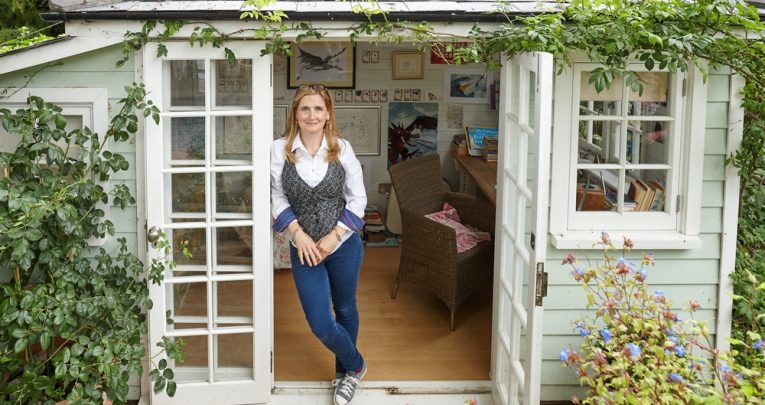 We chat to the author and illustrator Cressida Cowell about her ongoing efforts at getting families to read together – and the dedication of teachers at a 'demoralising' time…

by Teachwire
Author and illustrator Cressida Cowell is best known for creating the How to Train Your Dragon series of books. Currently numbering 12 volumes, they have been subsequently adapted into two successful animated films (with a third due out in 2018) and a Netflix TV series.
Cowell is also the co-creator, with illustrator Neal Layton, of the prize-winning Emily Brown series of picture books, and was recently appointed as BookTrust's latest online writer in residence.
What does your 'online writer in residence' role for BookTrust involve? Posting regular blogs each month on anything to do with writing, and getting kids and families reading. I'll be covering lots of areas, but the main focus will be on getting families to enjoy reading together, which is something I very much try to do with my books, and on getting children reading for pleasure.
I'll also be covering other things, such as getting adults and kids writing, how I write and hopefully interviewing other authors about their writing sheds…
Are there any aspects of your creative process that your readers might find surprising? My shed is quite small, but I have a bed in there. When I was little, I didn't have a desk in my bedroom and always did my homework on the bed, and I still find that a bed is a very creative place to be – it's where you dream isn't it? I'll often go there when I get stuck, or if I'm doing a particularly emotional or tricky bit of a story.
You've written before about the plethora of entertainment options available to children today, and how this affects the amount of time they and their families spend on reading… I'd never say 'ban telly' or screen time, but I would suggest that parents make sure there's time each day for them to read with their kids – and I'd encourage parents to do that beyond the age when they're able to read for themselves. Doing that can help kids move on to books they might be worried about trying for themselves, and helps send out the message that books are both fun and important.
I usually suggest setting aside around 10 minutes, though you've also got to be sensitive to the fact that parents are often knackered nowadays. 10 minutes is an achievable time; if the parent and kid are enjoying it they can spend longer, but the main point is to try and make it a regular thing.
When children are given books to read by their school, going through them with your child should be a non-stressful activity. With my own kids, I didn't do that kind of reading at the end of the day but over breakfast instead. The kids would be brighter and more alert, so we could keep things light and fun.
What are your general impressions of how reading is taught and enjoyed in schools now? It's getting harder nowadays for teachers to carve out enough time to do those things that I think are really helpful for supporting a love of reading, like reading a whole book with a class. Yet I know teachers are finding the time to do it, because I get letters from classes of children that say, 'My teacher is reading How to Train Your Dragon' to us.'
When I go into schools, I'm constantly impressed by the dedication of teachers – but at the same time, I'm also aware that they've got a tough task. It seems to me that it must be very demoralising, particularly with these new SATs and all this emphasis on grammar. Even the child who's most excited about reading – how are they going to get inspired about grammar?
I'm hugely sympathetic to those teachers who have to teach it in that way, but in my opinion it's likely to be counterproductive to getting a child to love English and start reading for pleasure. A teacher will have to work very hard outside of that to make English feel exciting, and for books not to feel like something you 'do' to be tested on.
The How to Train Your Dragon books have so far been turned into a TV series and two films, with a third on the way. How involved are you in the production process? Right from the start the production team have always been very open. They originally asked me whether I wanted to write a screenplay and I said no, which people are often surprised by. It was because I see myself as a book writer; while I love the movies, my passion is getting children reading.
I'm involved to the extent that they send me what they're doing and I'll advise and give my opinion. I'm good friends with the director and producer, I'm going out in November to see what they're doing with Dragon 3 and have a close involvement, but I'm not in charge.
What do you think it is about the character of [Dragon series main protagonist] Hiccup Horrendous Haddock III and the stories in general that resonates with people? Hiccup is an outsider. He's bullied, and nobody recognises his qualities – which are being clever, rather than tough and all these other things that are valued by the world that he's in.
There's also the fact that he finds it hard to live up to a much-loved parent. He loves his parents, and his parents love him – but they can't communicate.
A child has to learn that he can grow up to be his own person, but that that's not a rejection of the father, and then there's Hiccup's own quasi-parental relationship with the dragon, Toothless – so it's all to do with parenting, really. And because I want the books to be read aloud from adults to children, I try to write them from both points of view.
Last year you won the Philosophy Now Award for Contributions in the Fight Against Stupidity for your work on the series, and spoke then of not wanting to write down for children. Is that something you're conscious of seeing in other books and forms of media aimed at children? Not completely, because telly can sometimes be very sophisticated in the way it's written for children – but do I think that because children can struggle with the mechanics of reading, people can believe that the content has to be dumbed down, which isn't true at all.
What's special about books is that they're very much a 'thinking' medium. Philip Pullman once said, 'The book proposes, the reader questions, the book responds, the reader considers.' A book gives you more space to think than a film, which is much more about experiencing something.
I deliberately bring up some pretty weighty and even political themes, and invite children to think about what kind of world we want to be growing up in. What kind of leaders do we want? What responsibilities do we have to other people? What starts wars?
The world faces very serious problems. We need to be raising children of the future who can think about those problems, come up with creative solutions and deal with them. By creating readers, we'll hopefully be creating the kind of people who can get us out of some of the problems we're getting ourselves into…
Further details about BookTrust, visit www.booktrust.org.uk or follow @Booktrust
For more information about Cressida Cowell's work and upcoming activities, visit www.cressidacowell.co.uk or follow @CressidaCowell