Diverse books for kids – how we took inclusive stories into our own hands…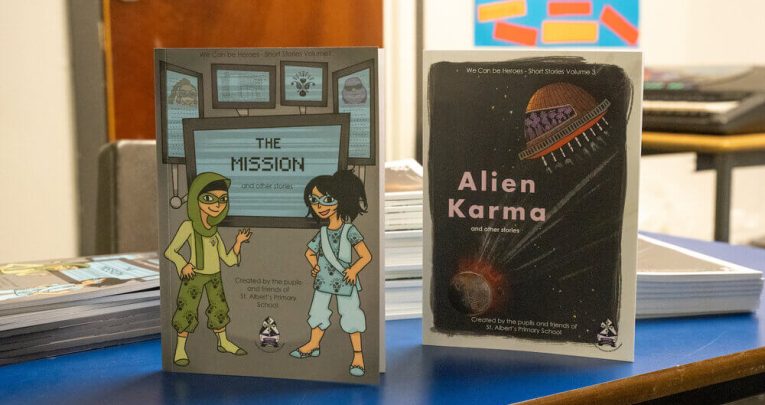 From a nameless teddy bear to a publishing success story – an approach to literacy that's no more than our pupils deserve
"Miss, we can't think of enough names!" I was on playground duty, and the Christmas Fair was fast approaching. Two Primary 5 pupils (Y4) were holding a large piece of cardboard on which they had drawn a 5×10 grid. About half a dozen of the squares were filled: James, Emily, Sally, John…
"What do you need names for?", I enquired, slightly absent-mindedly as my 'on duty' eyes scanned the raucous cricket game beyond.
"For the teddy," one girl explained. "We need 50 names and we don't know enough – can you help?". Realising with sudden, gut-wrenching clarity, what the issue was, I looked around the playground again. St. Albert's Primary School in Pollokshields, Glasgow, has a pupil intake that is almost 90% non-white.
And the horrible truth was that these intelligent, diligent and impeccably behaved girls considered neither their own nor any of their classmates' names worthy for inclusion, even in this most trivial of contexts.
"Of course I can help," I said, sincerely; and the conversation that followed, in which I suggested their own names, their friends' names and their parents' names, was the first of very many exchanges which have shaped our successful social enterprise and our culturally responsive literacy teaching policy over the past two years.
Representation in books
Talking with colleagues and senior leadership, we gathered other examples of the pupils' deference to Western 'white' names: they chose them for characters in their own stories, they used them in imaginary play.
An infant teacher even commented that she had seen many children draw themselves with pink (white) skin when theirs was most definitely brown. We asked the children why, and they said that they had never read books or seen films featuring characters with Arabic names.
Of course, as a school we quickly looked into buying new books for our pupils; but as the Centre for Literacy in Primary Education (CLPE) would reveal later that year (2018), there weren't many to be had.
CLPE's first Reflecting Realities research report on children's publications found that of new books published in 2017, just four per cent had Black, Asian or Minority Ethnic (BAME) characters, with only one per cent featuring a BAME protagonist. Happily, the head teacher at St. Albert's, Clare Harker, is a creative and brave leader. "We'll just have to write our own, then!" she said.
We can be heroes
Over the following few years, a small group of teachers and pupils led a project called 'We Can be Heroes'. It aimed to engage South Asian writers to work with our pupils on stories that would feature characters like them.
The pupils co-wrote the stories and we self-published three beautiful, illustrated editions of short stories in November 2021. To date, we've sold over 300 copies of our books direct from the school and via our Etsy online shop (see panel). It's a major success story which has run in parallel to the Black Lives Matter movement and a zeitgeist of change which we are now seeing in new publishing.
The 2021 Reflecting Realities report showed an encouraging increase in books featuring BAME characters – now 15 per cent; and eight per cent of main characters were BAME. It is progress, but it's far from ideal. The demographics of St. Albert's are such that we would want every book in our children's hands to feature a range of ethnicities of character.
The Social Enterprise Academy (SEA) has worked with St. Albert's on a number of projects over the past five years and we have been repeatedly recognised as a National Social Enterprise Champion school by them.
'We Can be Heroes' operates as a social enterprise model, whereby sales revenues go back into the social aim of the project – in our case, into producing more stories. So now, in phase two, 'We Can be Heroes' is working with parents to delve deeper into the school community's heritage and six new stories are in production, dealing with themes such as cultural norms for marriage, bilingualism and pre-partition India.
This next phase of the project has attracted a grant from the Scottish Library and Information Council's School Library Improvement Fund, which has enabled greater partnership working, including with Glasgow's Barrowland Ballet, to create a performance element to the storytelling.
Making real changes
The St. Albert's school motto is 'Conscience-led Communities'. The writing project has raised awareness and built momentum and excitement as it has attracted funding, awards, media coverage and the acclaim of national organisations such as the Scottish BAME Writers' Network, the Scottish Book Trust and BBC Scotland.
The real work, however, is only just beginning at St. Albert's, as we now translate this into classroom practice and into a true overhaul of our school's literacy resources.
Three new library spaces are currently in development to be stocked with all the titles featuring diverse characters that we could purchase, thanks to advice from Glasgow's Mitchell Library team and specialist bookshop A New Chapter.
A new literacy teaching policy is in development through a collaborative process, and it has been encouraging to see almost half of the class teachers engaging in it. Ultimately, the real impact of the work will emerge when the teaching and learning in St. Albert's consistently interrogates the texts (including audio-visual influences) that are forming our pupils' ideas of who can be a hero.
In March this year, I took four pupils along to the Social Enterprise Schools: Glasgow 'Dragon's Den' event run by the Social Enterprise Academy to present an update on 'We Can be Heroes'.
As we were preparing, I asked the children if they felt like what we'd done mattered. Did they really mind that characters in books didn't very often have names or skin like theirs? Part of me has always been conscious that back when the pupils asked me for teddy bear name suggestions, they were in no way sad, angered or feeling second-rate about the fact that their names didn't seem appropriate. Had we, in fact, drawn attention to something that wasn't causing them any immediate problems?
One said, "Well, when characters are nothing like me, I feel like, why should I bother reading this?", another added, "If your family is like the ones in books or films, you feel included", and a third told me, "When a character is like you, it gives you a value in the world". What better reason to continue could there be?
Shirley-Anne Brightman studied languages at the University of Cambridge and holds an MSc in Social Policy from London School of Economics, and has taught ESL and primary in four countries. She is currently a Leader of Learning for Glasgow City Council's Improvement Challenge.