Diary Entry – 8 of the best writing resources and worksheets for KS2 English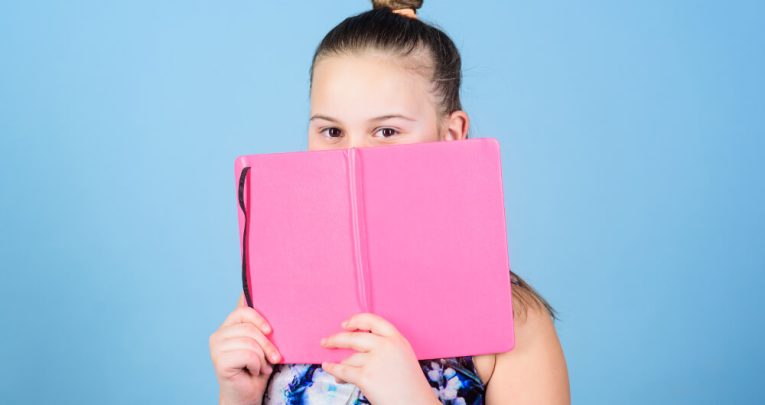 Get primary kids writing great diary entries with this selection of activities, classroom ideas and other resources…

by Teachwire
1 | KS2 SATS TAF writing evidence – diary recount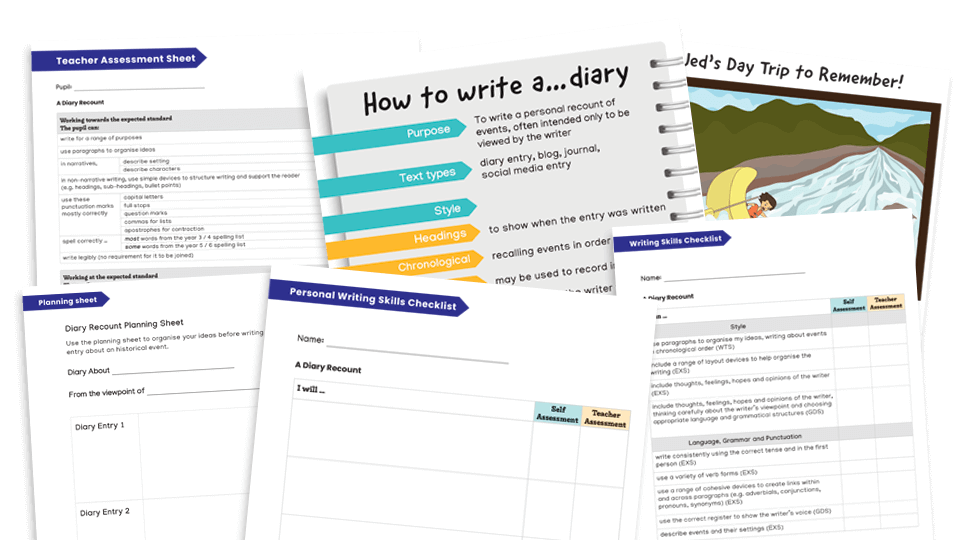 In this writing task, pupils are asked to write a diary, recounting a key historical event. This could be used within a history topic, with pupils writing about a key event in history.
This resource pack includes:
Personal writing skills checklist: for pupils to write their own writing checklists to encourage independent editing
Diary Recount writing skills checklist: a list of features, without modelled examples, for pupils to use as a checklist for editing writing.
How to Write a Diary poster: a poster for display with the key features of diary recounts.
Jed's Day Trip: a picture prompt for writing
Sequencing cards: an activity to help pupils organise their own ideas for writing
Diary Recount Planning Sheet: to support pupils when planning and organising their ideas
Teacher Assessment Sheets: for teachers to use to assess pupils against the year 6 writing TAF statements which could be placed in pupils books as a record of evidence seen
---
2 | A Christmas Carol diary writing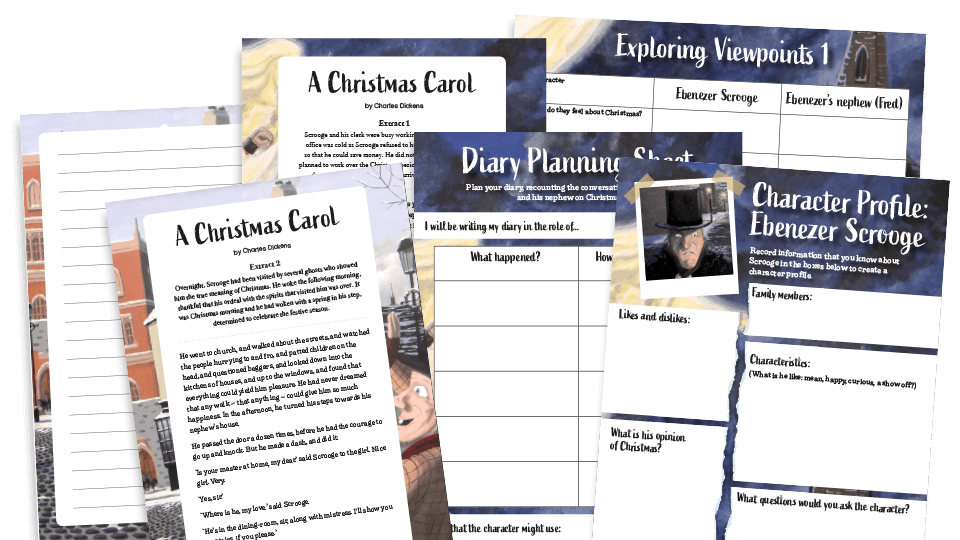 In this resource pack pupils in Year 5 and year 6 can explore characters' viewpoints using extracts from A Christmas Carol by Charles Dickens.
They will read two extracts from this classic text and explore Scrooge's view of Christmas at the beginning and end of the story and compare these viewpoints with his nephew's.
In the writing tasks, pupils will write diary entries in the role of Scrooge (or another character) describing the events, and his view of them, from the two extracts provided.
---
3 | Topical Tuesdays diary exercises with The Week Junior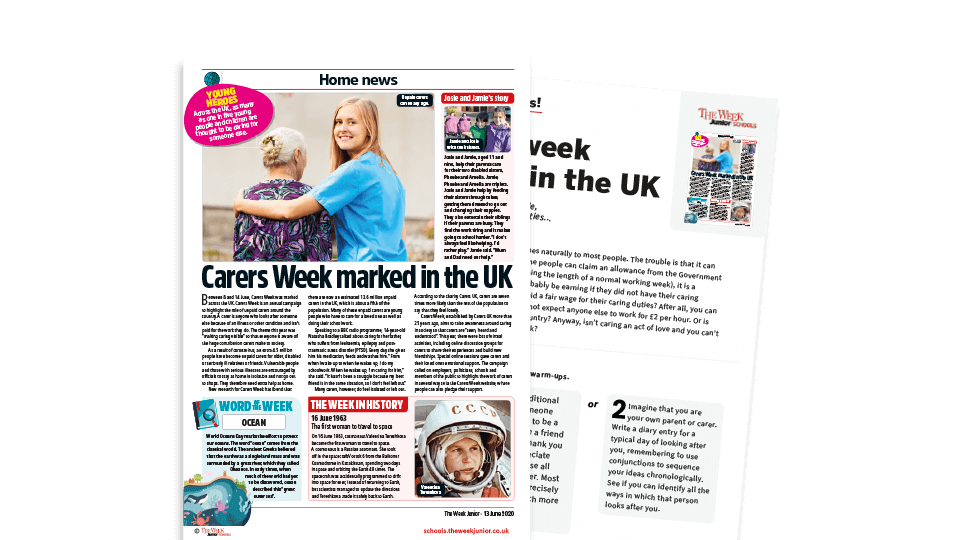 If you're not familiar with Topical Tuesdays, these weekly resources feature a news story from The Week Junior, and a series of reading and writing activities to accompany that story.
There are a whole host already available, some of which include diary writing tasks, like these:
Take a look at the entire Topical Tuesdays series here.
---
4 | Diary entry examples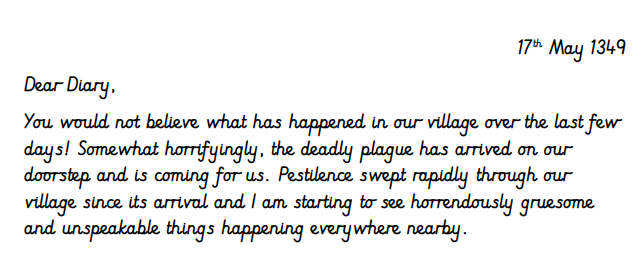 If you're after a whole selection of model texts for KS2 diary entries then head over to Literacy Wagoll where you'll find everything from Anne Frank and 'My first day at school' to Hades – God of the Underworld.
---
5 | BBC Bitesize diary entry lesson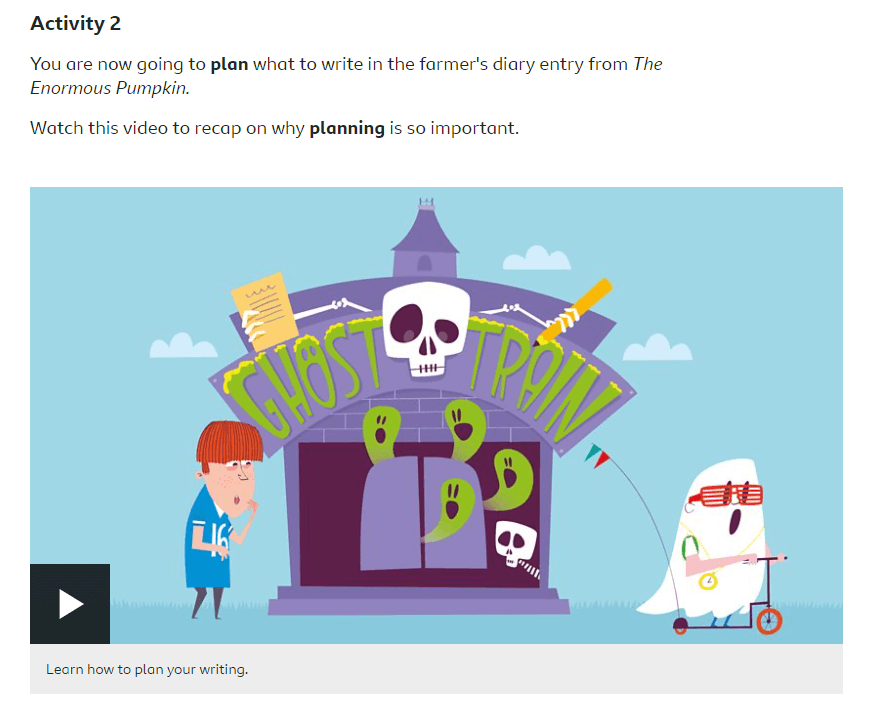 This BBC Bitesize lesson will help children write a diary entry based on a classic tale. It uses the example of The Enormous Pumpkin, and has a video of the story to watch, three activities and some downloadable accompanying worksheets.
---
6 | Writing a successful diary entry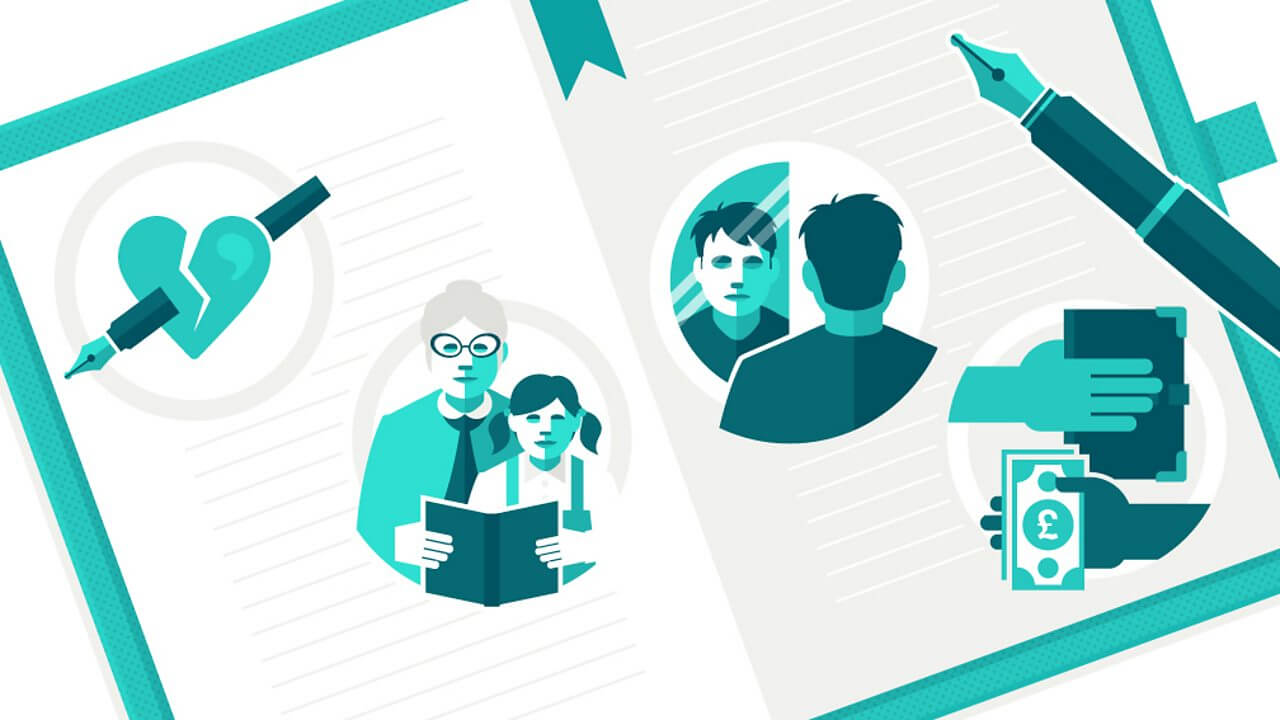 If students need a neat recap on success criteria for writing diary entries, then BBC Bitesize also has this advice entry.
There are overall tips, a video to watch, pointers on structure, tone and tense and some activities to practise what they've learnt.
---
7 | Diary writing worksheets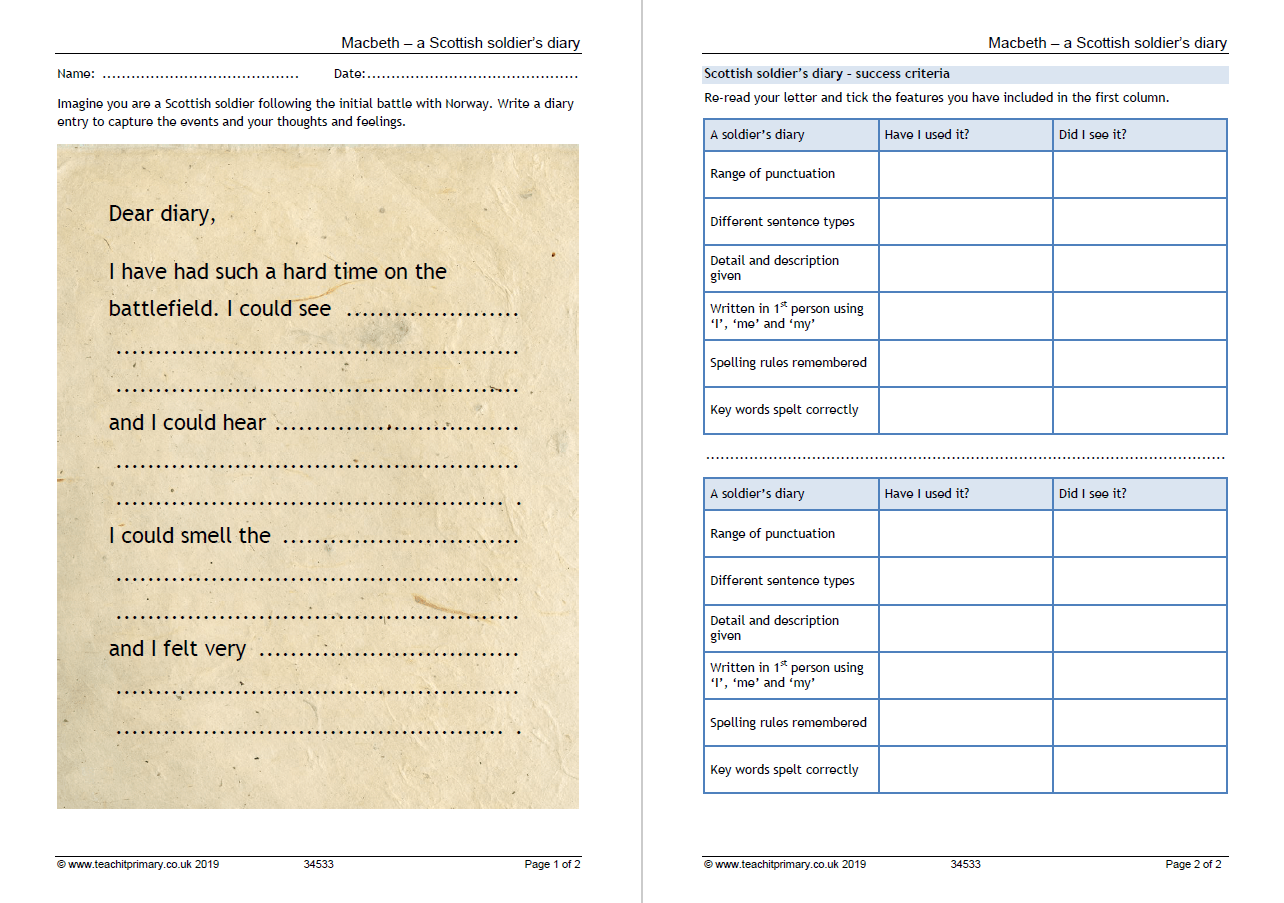 For a nice selection of printable diary entry worksheets then here you'll find things like a Scottish soldier in Macbeth, nursery rhyme characters, a Stone Age Man and Diary of a Wimpy Kid.
---
8 | Diary of a Wimpy Kid diary template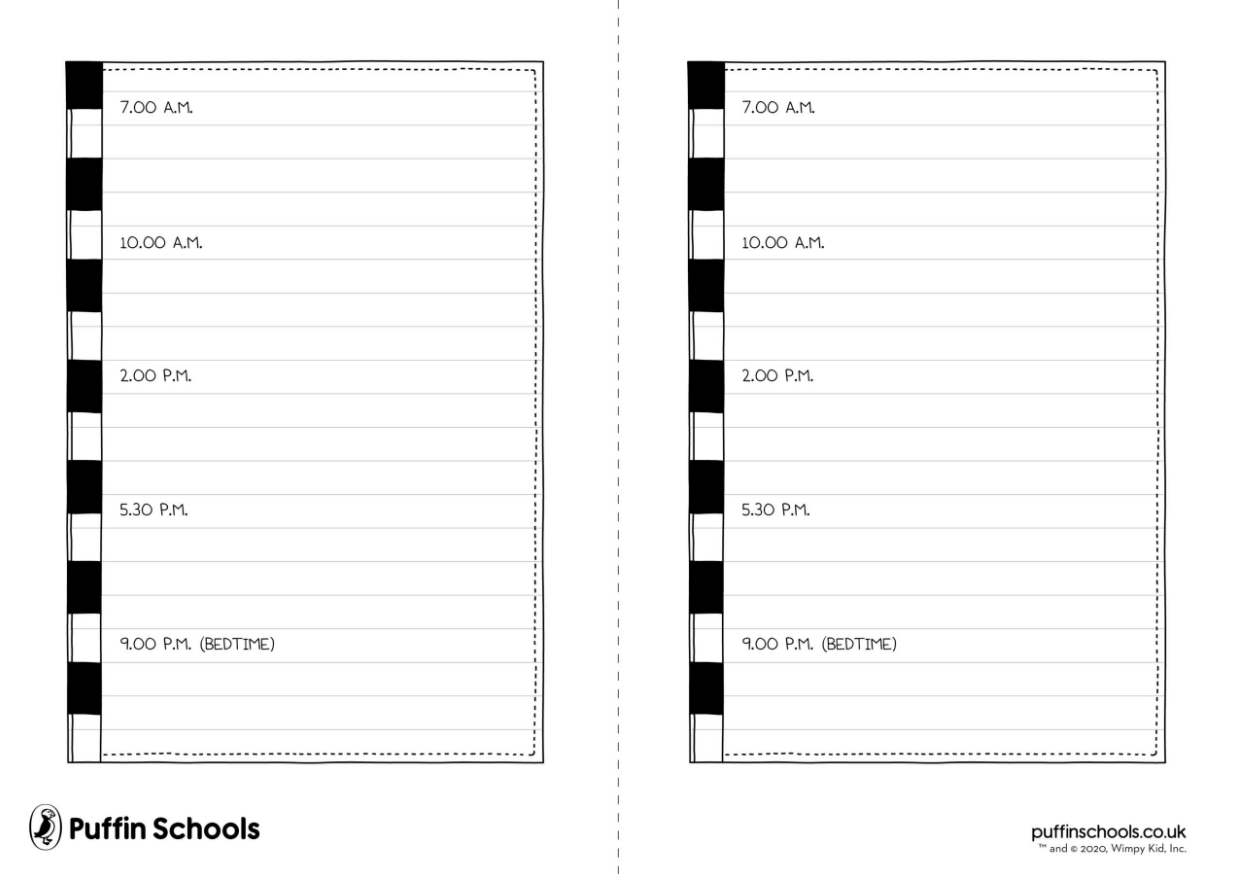 This activity provides a framework for children to write their own diary entry across two days in the style of the Diary of a Wimpy Kid books.
It is divided up into times of the day, so they're only writing short sections for each rather than being given one long piece to do.