Could Psychological Capital Help Teachers Beat Burnout?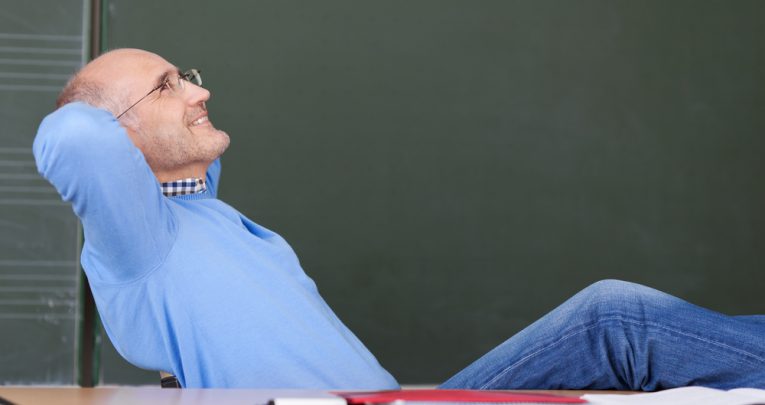 Dr Nicola Davies examines a scientific approach to wellbeing that could make a real difference to the morale and performance of school staff…
Research has shown that teacher wellbeing has a direct impact on student outcomes – yet the performance-based mandates that are constantly being introduced in schools simply create more work and angst for educators.
At this year's Division of Occupational Psychology Conference, the impact of this dichotomy was one of the topics under discussion. A number of insights were offered that could potentially help advisers move away from the broken record of how teachers might be able to prevent burnout – take up yoga, learn mindfulness, hot bubble baths, etc. – and towards a more evidence-based approaches. Of these, the concept of 'psychological capital' looks especially promising.
What does it mean?
'Psychological capital' is a term that describes the positive aspects of an individual, based largely on the following four traits:
• Self-efficacy Self-belief in one's ability to produce positive results and to achieve self-defined goals.
• Optimism Being and remaining positive about the likelihood of personal success.
• Hope Persevering in taking action towards achieving goals, even in the face of obstacles, and with a willingness to change direction as needed.
• Resiliency The ability to bounce back, even when it seems that there are no solutions to a negative situation.
The term first became popular when economists realised that happiness in the workplace revolved around more than just salary. Instead, by testing various theories, the four components of psychological capital were identified as key to people's workplace wellbeing.
It's since been further determined that consideration of psychological capital shouldn't just a one-off topic of professional development, but rather an ongoing way of determining how individuals can utilise resources within themselves and their colleagues to help manage wellbeing in workplace. Psychological capital is, in effect, a resource, just as someone's personality traits and intelligence are.
Back to schools
With little published research available on how psychological capital can support teacher wellbeing, educational consultant Karen Salter chose to dedicate her doctoral research to the subject.
During a presentation at the aforementioned conference, she pointed out that while introducing wellbeing programmes into schools is essential, the process of doing so can itself create more stress. Instead, she suggested, "Supporting educators to learn to change – when already feeling overburdened by workload – is aided by emphasising the benefits of the desired change and how it can help them to reduce, or better manage workload."
Emphasising the benefits of taking part in psychological capital initiatives shouldn't be too hard, since such programmes can be seen as a welcome relief from performance-based initiatives. Moreover, finding one's own psychological capital is essential in all aspects of life, not just work – though it's less about learning specific skills, than it is about reaching a certain state of mind.
Salter's employment history includes a range of education roles, giving her an understanding of the stress that accompanies the life of a teacher.
She notes that teachers' main priority is their pupils – and that many feel introducing yet another 'perfect solution' approach to their job simply serves to add yet more work. Her research into introducing educators to psychological capital, however, has been showing promising results. Once educators have grasped the concept of psychological capital, and managed to develop a workable plan for themselves and their colleagues, they've found themselves more in control of their classroom, their work day and their personal lives.
Making plans
It takes a dynamic team of teachers to develop a successful psychological capital program that works for everyone. Such teams must, however, remember that whilst everyone in the school may have the same overall goal in mind, personalities, duties, and teaching and learning styles are different, just as in any professional environment.
A school's staff should begin by understanding what each of the four characteristics of psychological capital are, and then determine where they sit on the continuum, from high to low, in terms of self-efficacy, optimism, hope, and resilience.
This can be achieved through discussion or by completing a psychological capital questionnaire, which helps to pinpoint a person's strengths and enables communities to use each other's strengths to build well-being and camaraderie. Just getting teachers to devote time to thinking about optimism, resiliency, self-efficacy and hope can be an effective intervention in and of itself.
Getting leaders involved
The components of psychological capital can also be developed through more targeted interventions. These include:
Participation in management Research has shown that by allowing employees to have more input into managerial decisions, self-efficacy is increased. Are leadership teams doing enough to let their teachers contribute to major school-wide decisions?
Cognitive restructuring Cognitive training and challenging negative thinking has been found to improve levels of hope. Teachers are often well-versed in helping their students think more positively – but how many schools provide staff with opportunities to help each other restructure their negative thinking habits?
Relaxation training Relaxation activities such as laughter therapy have been found to cultivate optimism in the workplace. How many schools ensure that there is time set aside for their teachers to have fun?
Psychological counselling Having a time and a place to talk stress through can help teachers maintain resilience. Many schools now make counselling services available to their students – but where and when are teachers able to air their worries?
Also key to a successful psychological capital plan is committed involvement from the top down. Ideally, the headteacher will helm the program, schedule regular meetings to discuss its progress, and welcome input from everyone involved.
He or she would also act as a coach, supporting the entire school as they help each other learn and implement strategies that can work for everyone, while also producing more successful and prepared pupils.
As Karen Salter explains, "The coach focuses on supporting the individual to come up with their own ideas and solutions." When working through the areas of psychological capital, skills and systems already in use become evident, naturally boosting a person's self-efficacy, optimism, hope and resilience.
Alternative options
What about other forms of teacher support that can improve wellbeing?
National and local teacher support programs, such as those offered by Education Support Partnership, differ from psychological capital programs in two main aspects – they are reactive, rather than proactive, and there is no evidence of their effectiveness.
Psychological capital has already been used in other industries and professional settings, particularly in large businesses, and has been proven to be effective in increasing employee well-being.
Psychological capital is proactive in the sense that it requires implementing plans designed to serve as a preventative against stress and anxiety, leading to a more productive and satisfied workplace. It is an approach to wellbeing that takes some work to prepare, yet the finished product typically emerges as well worth the effort.
It is also proactive in that it encourages teachers to find within themselves the strengths they have built up over the course of their work. Instead of conducting a top-down process, in which teachers are taught 'external' tools, psychological capital programmes show teachers how to find 'internal tools', thus effecting change from the bottom up [PDF].
The beauty of psychological capital is that it enables organisations and individuals to 'pay it forward', allowing for an intergenerational transmission of optimism, hope, resiliency and self-efficacy; perhaps the most valuable capital growth of all.
Nicola Davies is a psychologist and freelance writer with a passion for education; for more information, visit healthpsychologyconsultancy.wordpress.com or follow @healthpsychuk