Climate change for kids – 16 of the best KS2 global warming teaching resources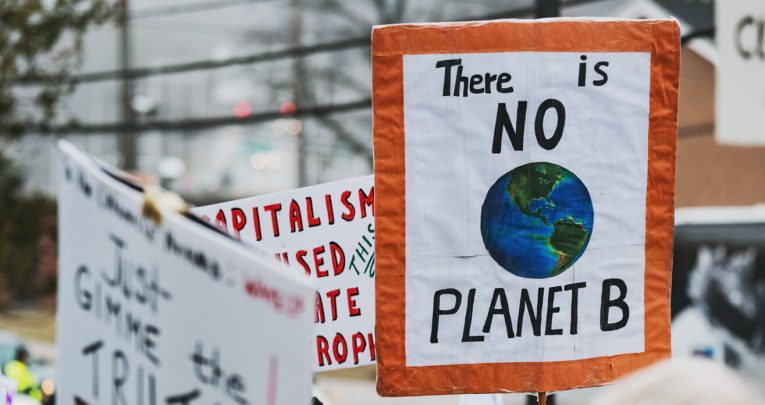 Learn all about Greta Thunberg, Extinction Rebellion, the climate crisis protests, carbon emissions and more with these worksheets, lesson plans and other resources for primary pupils…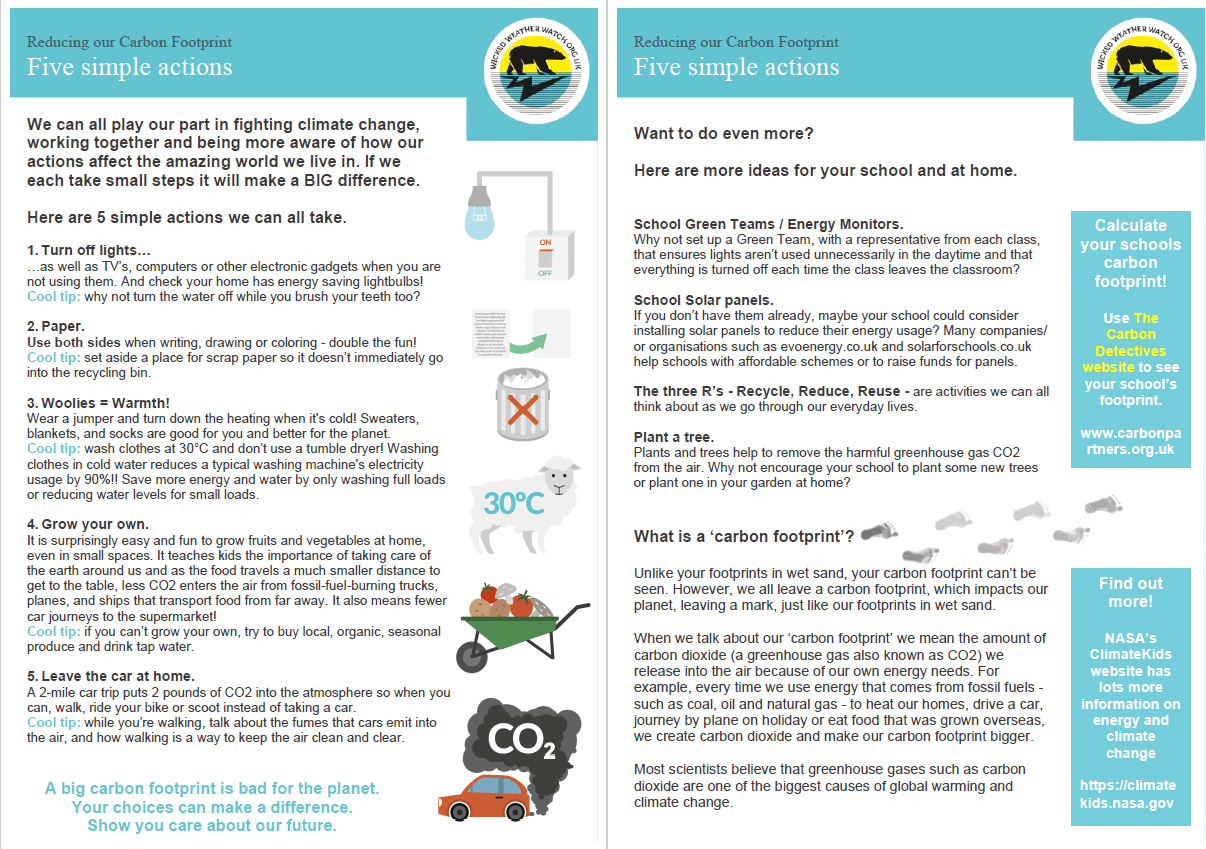 1 | Greta Thunberg and climate change reading comprehension worksheets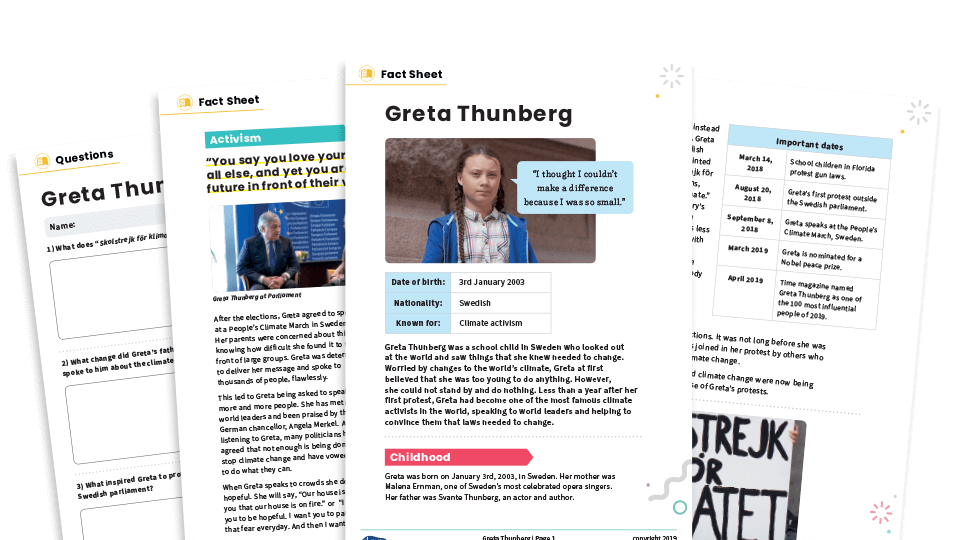 Less than a year after her first protest, Greta Thunberg has become one of the most famous climate activists in the world, speaking to world leaders and helping to convince them that laws needed to change.
This resource includes a 5-page factsheet on Greta and her role in climate action, as well as a 12-question worksheet for pupils to test their comprehension skills.
---
2 | Greta Thunberg and climate protests
This resource includes a feature looks at the global climate change action that took place on the International Day of Peace, this 21 September.
Your pupils will find out all about the International Day of Peace and what its aims are, as well as how peace is affected by climate change, what the UN is doing about it and how young people like themselves can get involved.
Then, there are four activities they can do: debating schools strikes, writing a five-point instructional plan urging world leaders to make climate change an essential issue, creating clever slogans to go on protest signs and looking into a recent event where extreme weather meant people had to leave their homes.
---
3 | Protest pollution, fossil fuels and greenhouse gas with this art lesson plan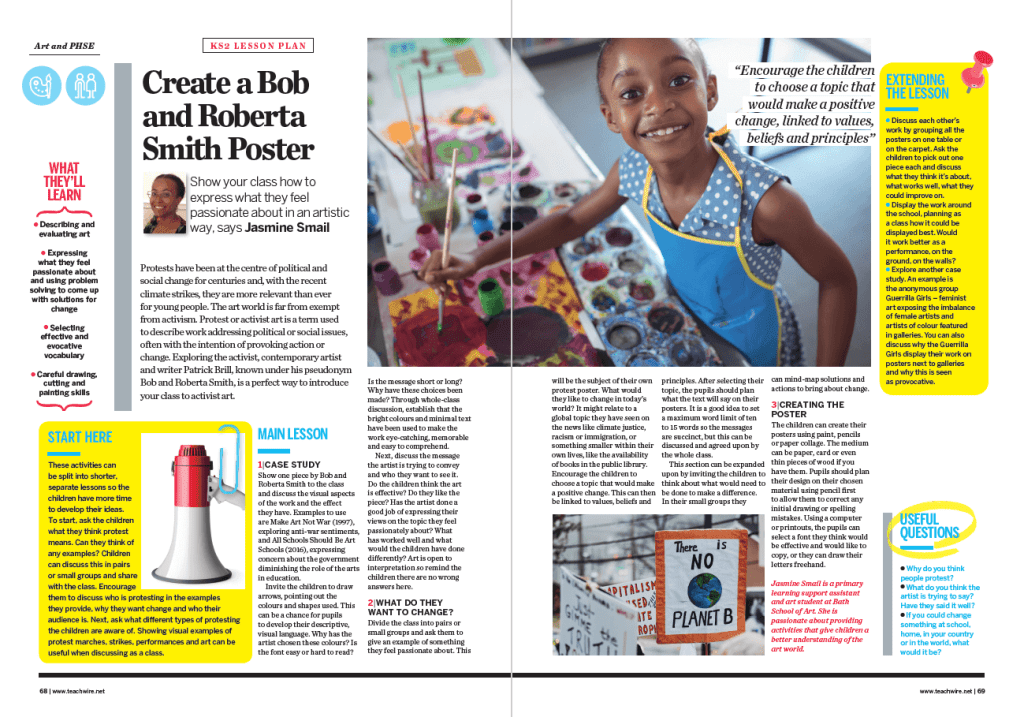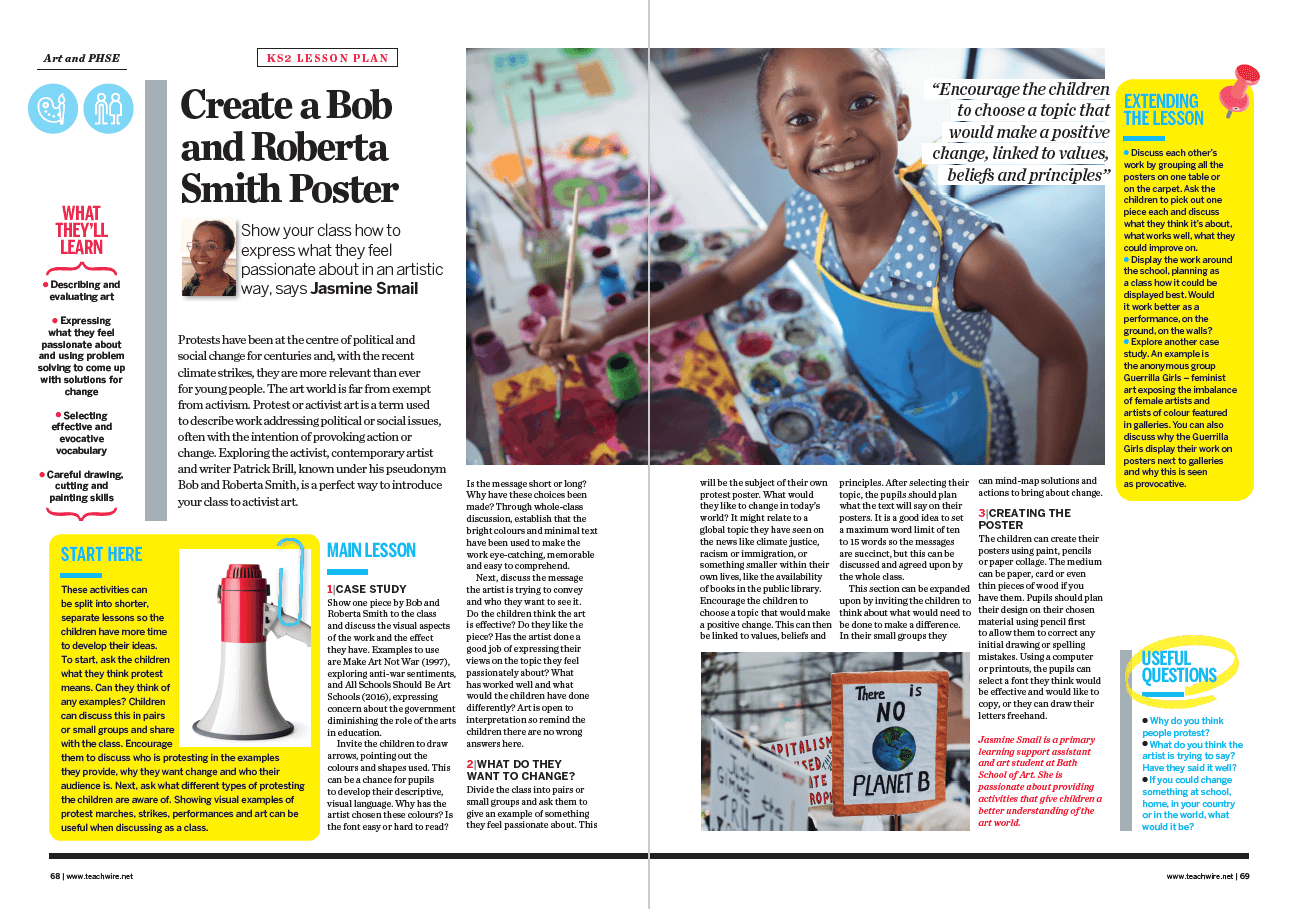 Show your class how to express what they feel passionate about in an artistic way, with Jasmine Smail's art and PSHE lesson plan.
Protests have been at the centre of political and social change for centuries and, with the recent climate strikes, they are more relevant than ever for young people. The art world is far from exempt from activism.
Protest or activist art is a term used to describe work addressing political or social issues, often with the intention of provoking action or change.
Exploring the activist, contemporary artist and writer Patrick Brill, known under his pseudonym Bob and Roberta Smith, is a perfect way to introduce your class to activist art.
---
4 | Five simple ways to reduce your carbon footprint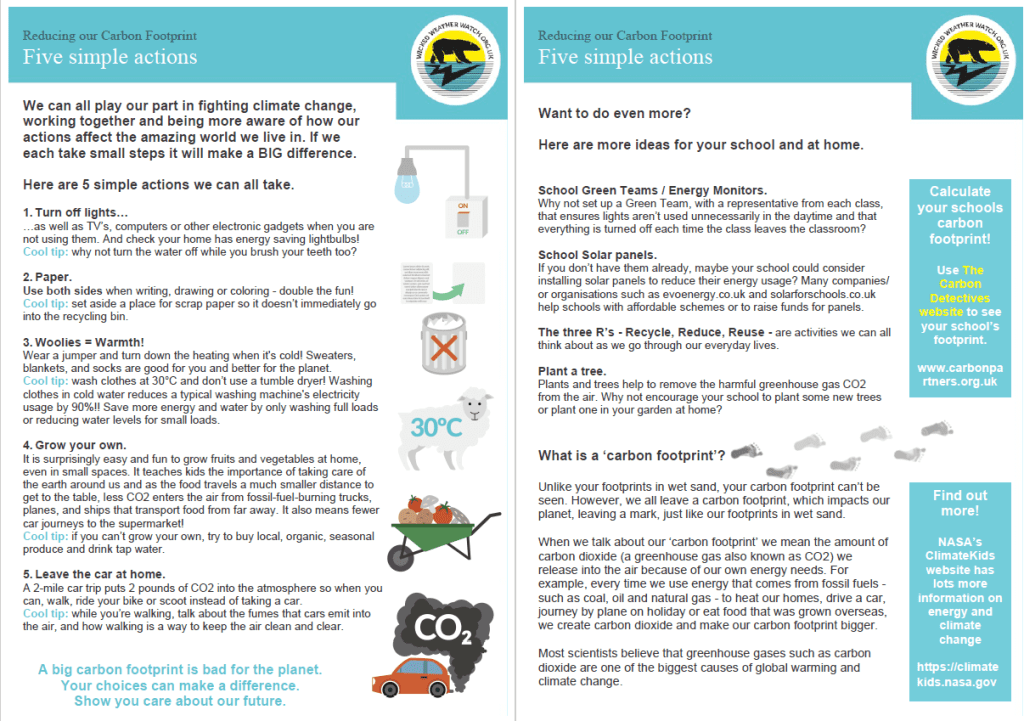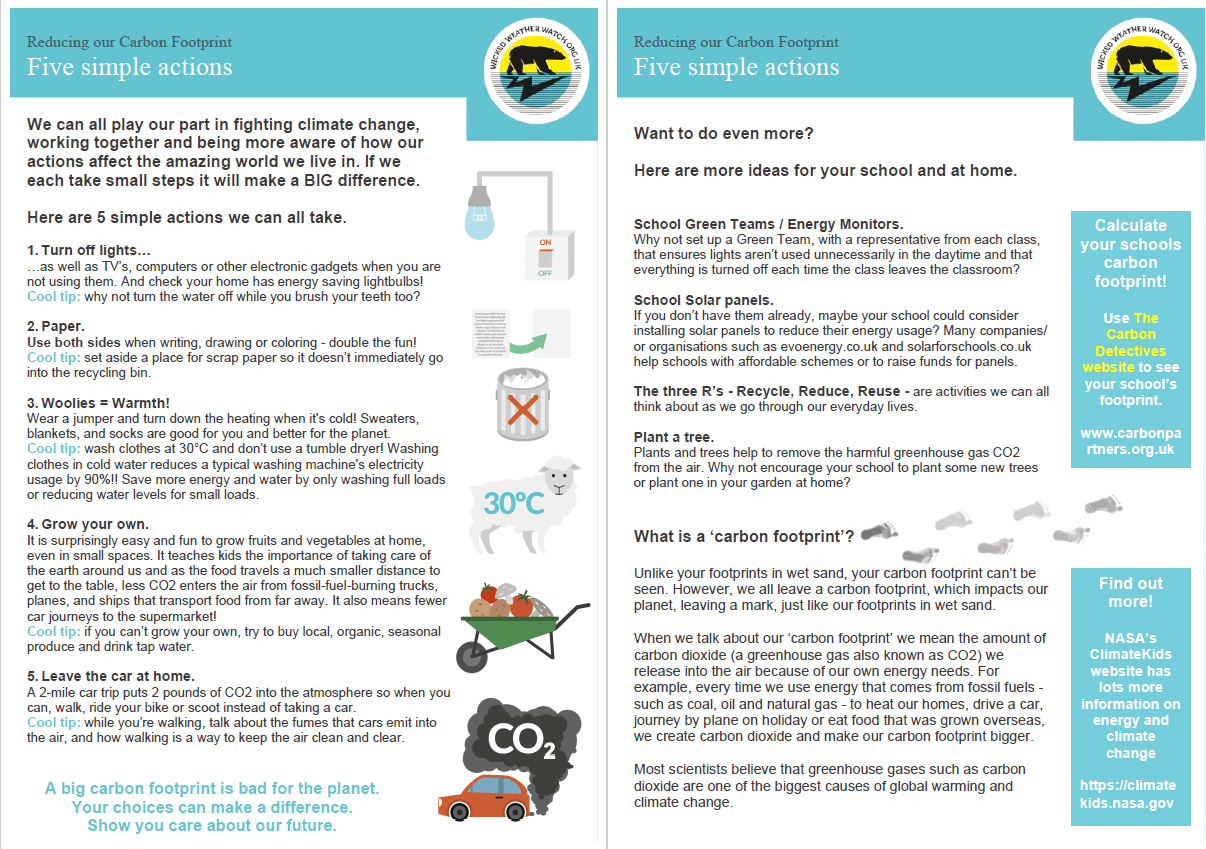 We can all play our part in fighting climate change, working together and being more aware of how our actions affect the amazing world we live in. If we each take small steps it will make a big difference.
This PDF from Wicked Weather Watch offers five simple ways to reduce our carbon footprint, and some extra ideas to take it further in school or at home.
---
5 | Climate change KS2 scheme of work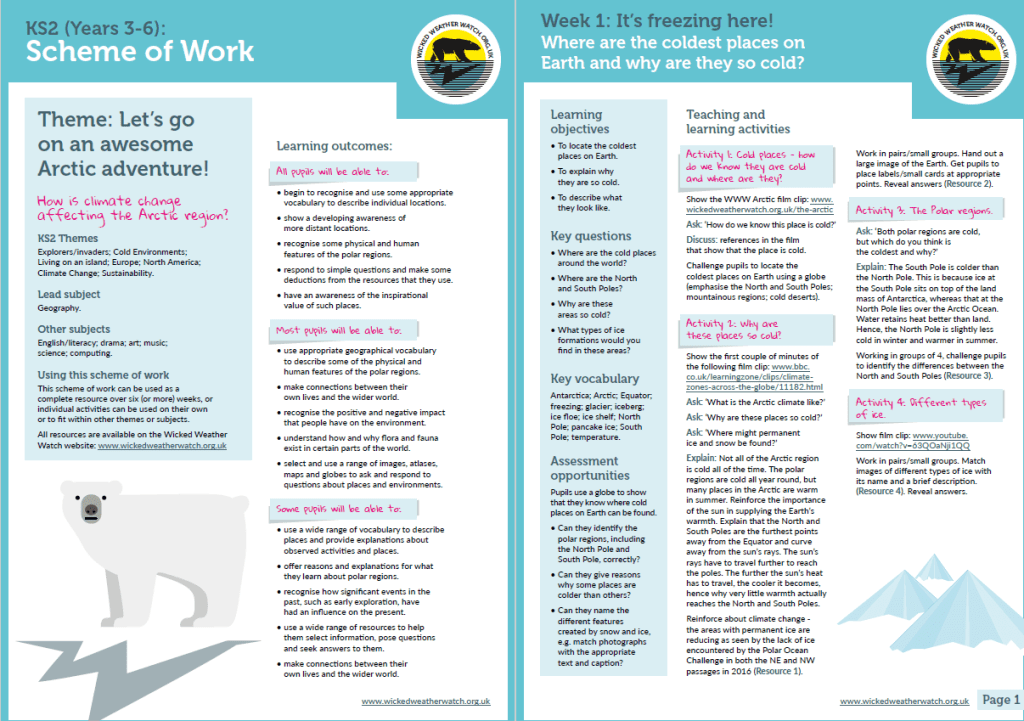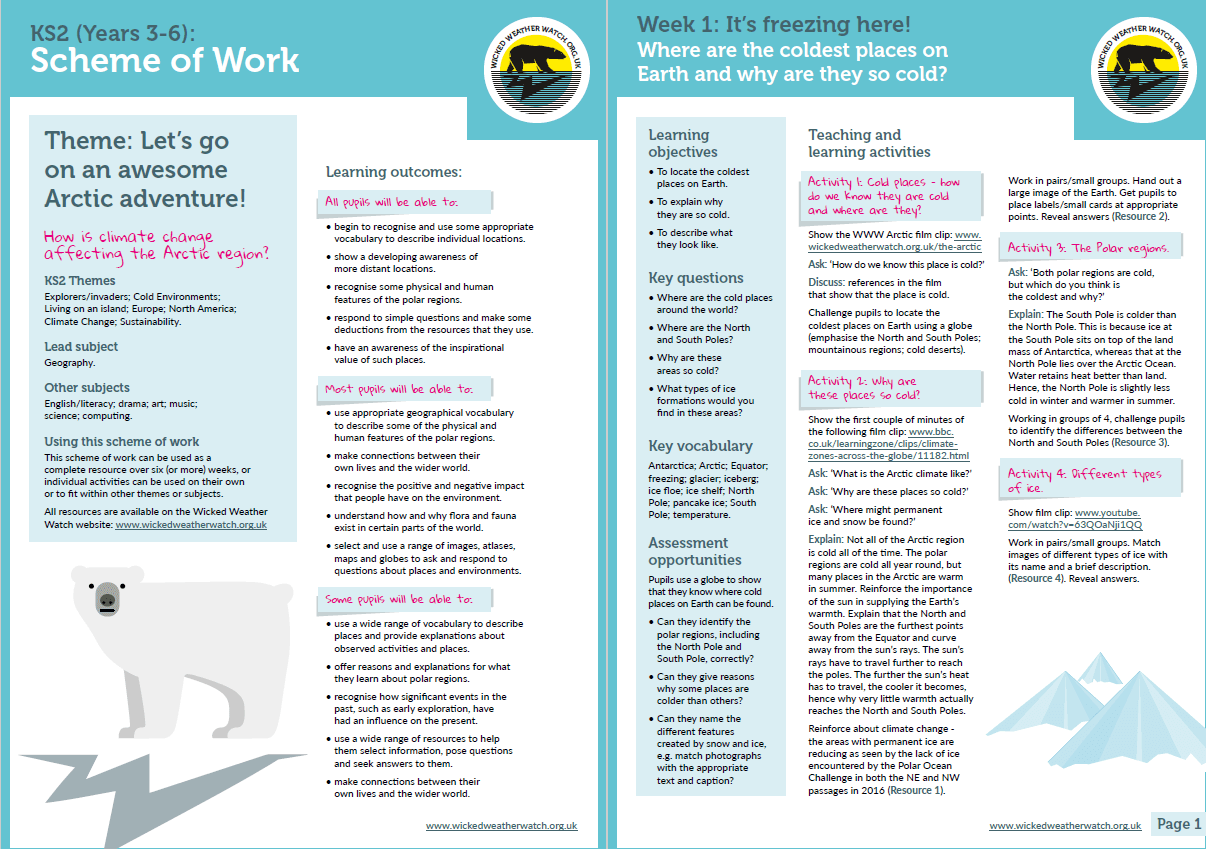 Wicked Weather Watch has also produced this KS2 scheme of work, which can be used as a complete resource over six (or more) weeks, or individual activities within it can be used on their own, or to support teaching other themes or subjects.
This download PDF provides an overview of the scheme, and you can download 26 individual resources for free on the Wicked Weather Watch website here.
KS2 Themes
Explorers/invaders
Cold environments
Living on an island/island life
Europe
North America
Lead subject: Geography
Other subjects: English/literacy, drama, art, music, science, computing, D&T
---
6 | WWF climate change activities for kids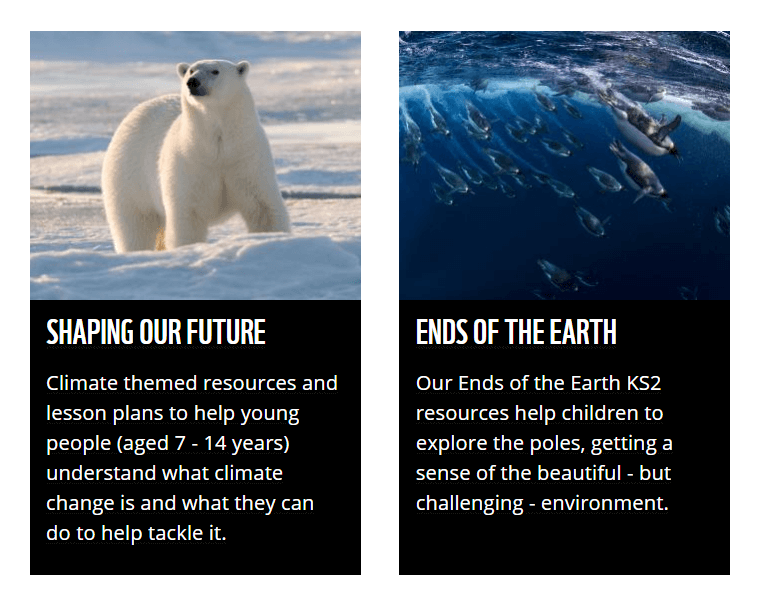 The World Wildlife Fund has produced a range of curriculum-linked resources for the classroom to help your pupils explore the issues of climate change in an engaging and motivating way.
There's Shaping our Future, which gives an introduction to climate change and what it is; Ends of the Earth, which looks at the poles; and for getting involved with WWF events there's Earth Hour and Green Ambassadors.
---
7 | How plastics affect animals and the environment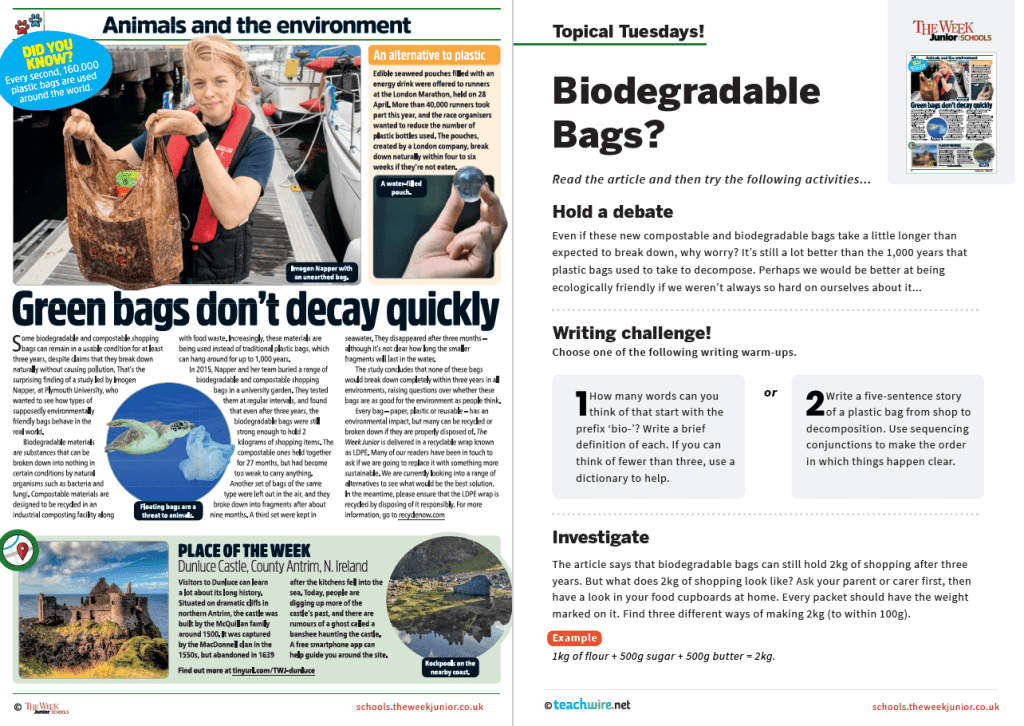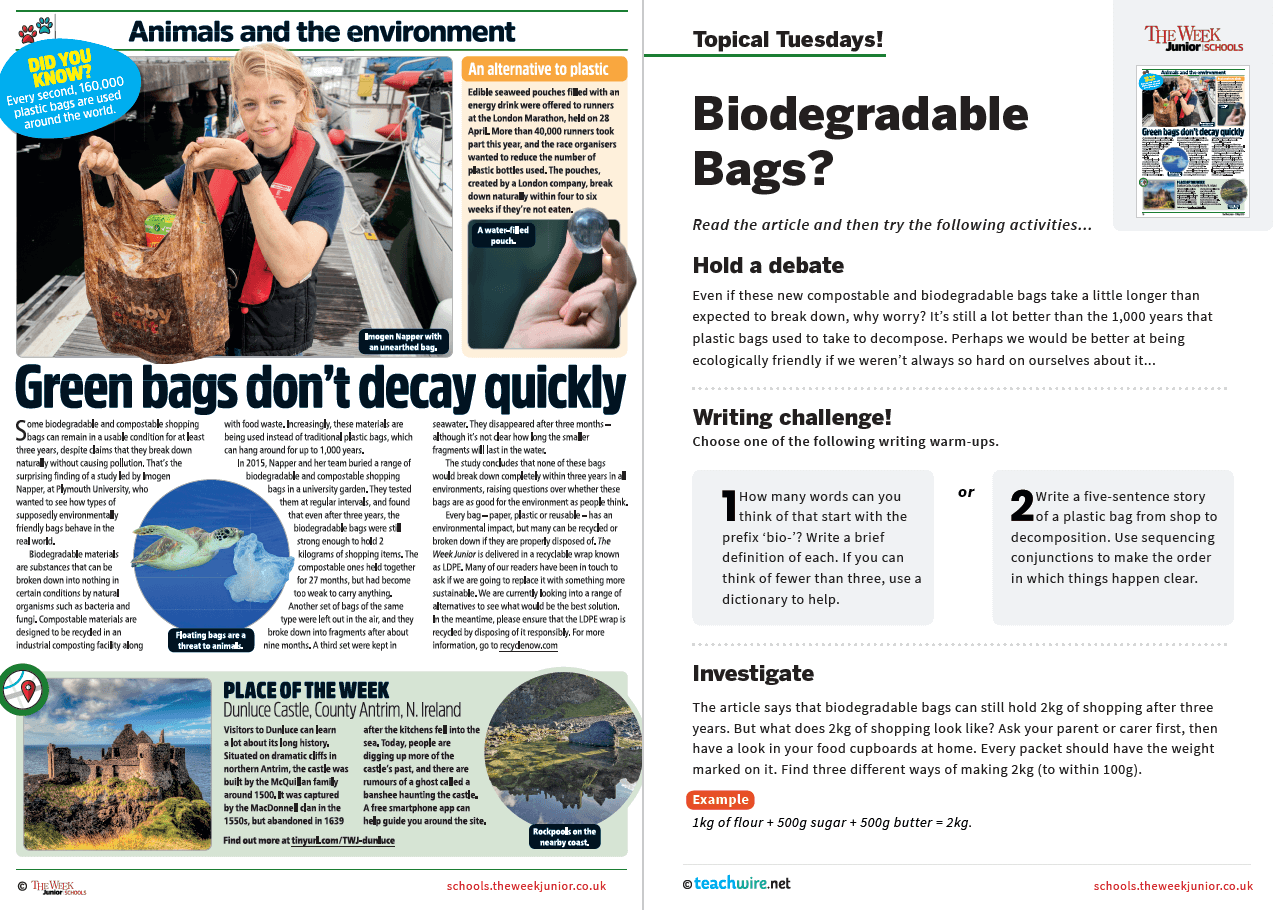 This resource introduces children to the effects of plastic bags on animals in the ocean, discussing how traditional plastic bags can stay around for 1,000 years.
It also looks at what alternatives we have for a greener future.
This PDF resource includes an article about plastic bags and their effect on animals and the environment, as well as accompanying activity ideas:
---
8 | Climate change facts for kids – lessons and PowerPoint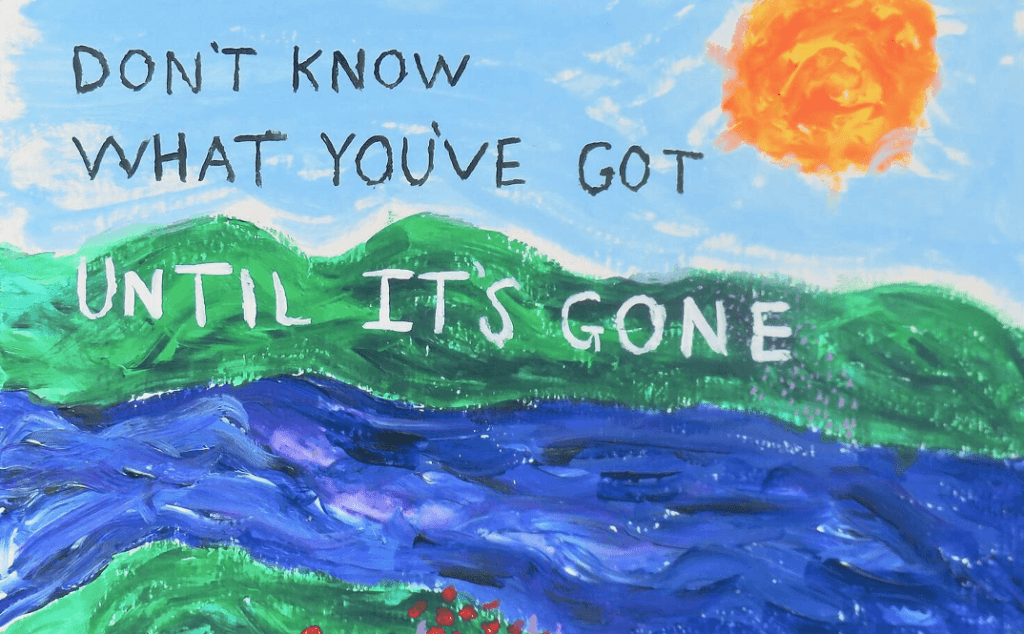 In this suite of lessons from Young People's Trust for the Environment, KS2 (or 3) students will learn:
What is climate change?
What impacts is climate change having around the world?
How are humans causing climate change?
What can we all do to stop climate change?
As well as extensive notes and suggestions for classroom activities, this lesson plan suite also includes detailed instructions for a simple, but highly effective and engaging experiment that can be carried out using simple equipment in the classroom to show how increasing levels of carbon dioxide in the atmosphere are contributing to rising global temperatures.
Also included is a spreadsheet that students can populate with their own data from the experiment and visualise on a graph, an energy efficiency quiz and a PowerPoint Presentation.
---
9 | Polar bears, glaciers and climate change worksheet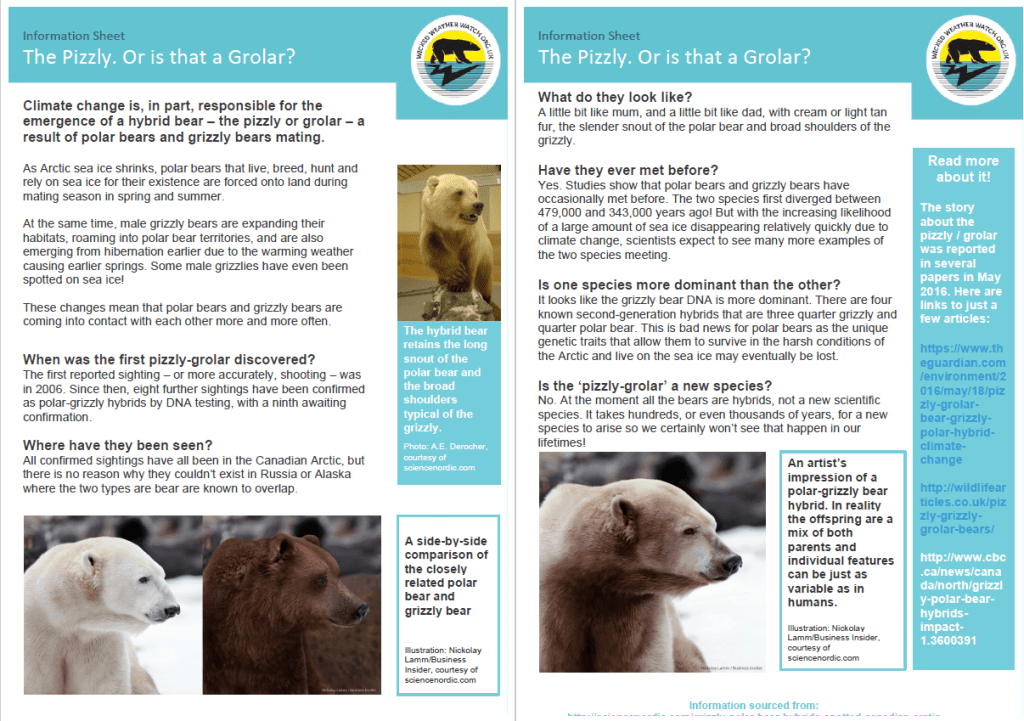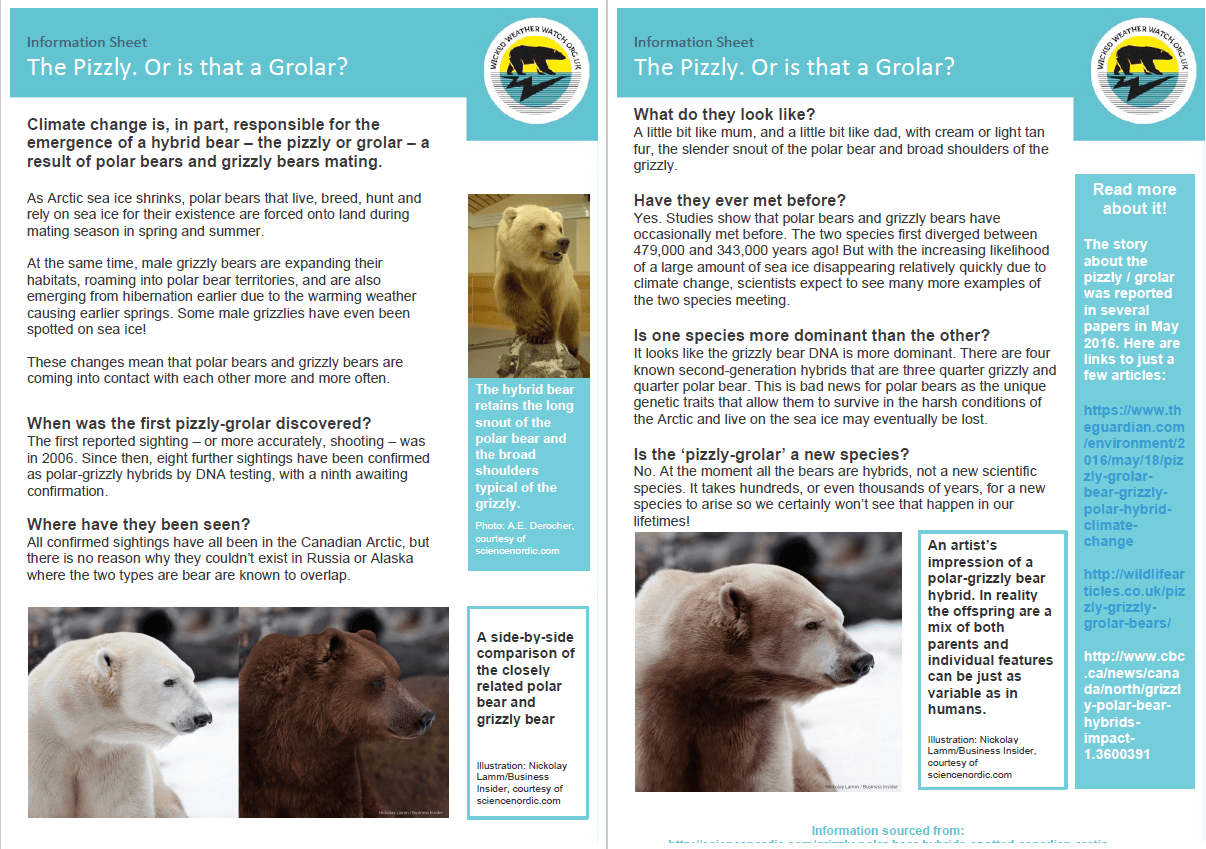 This activity pack contains a selection of resources based on the theme of polar bears and climate change, including a 'Grolar bear or pizzly?' info sheet and a polar bear quiz.
---
10 | Teaching children about Earth's climate with hope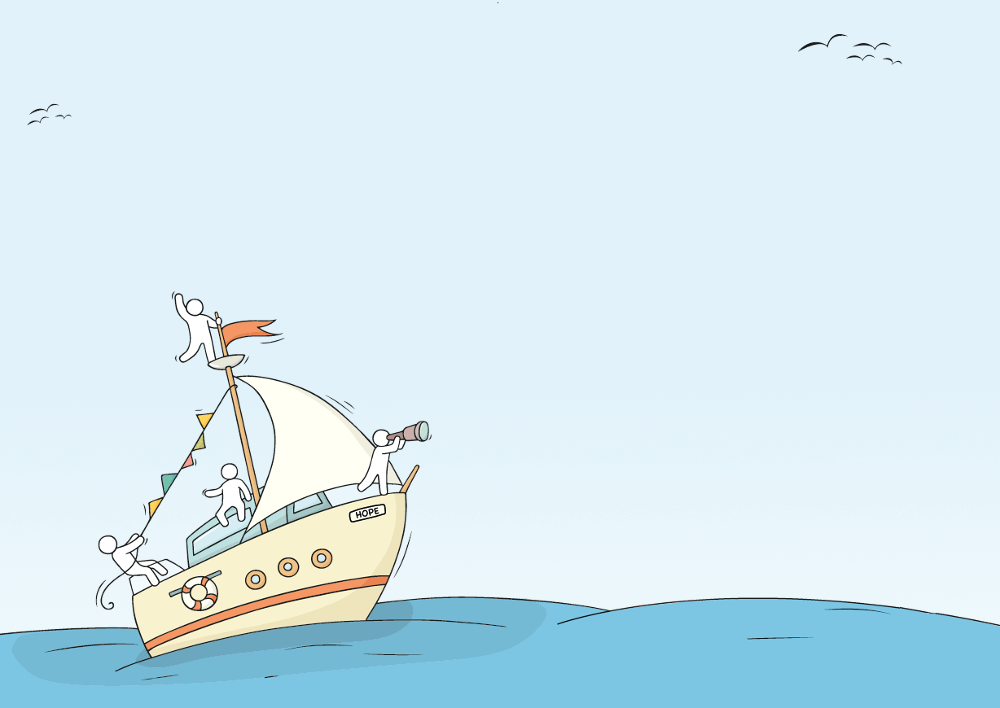 The best way to respond when children are scared is to offer reassurance, says Alex Standish, so our role as teachers is to encourage a more balanced narrative.
In this article he explains how you can teach climate change while presenting hope for our children's futures and empower them to create a positive change.
---
11 | Climate change geography activities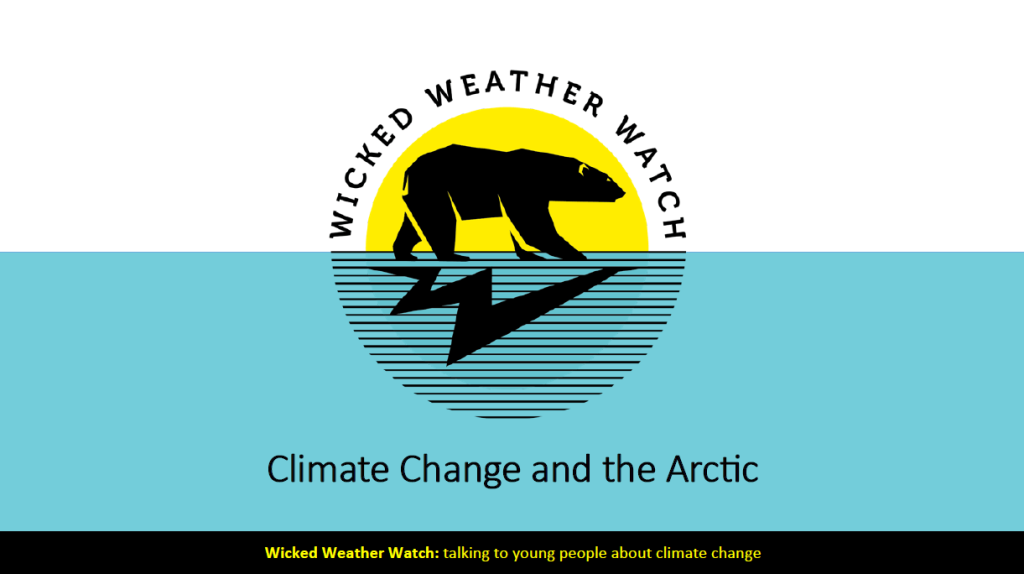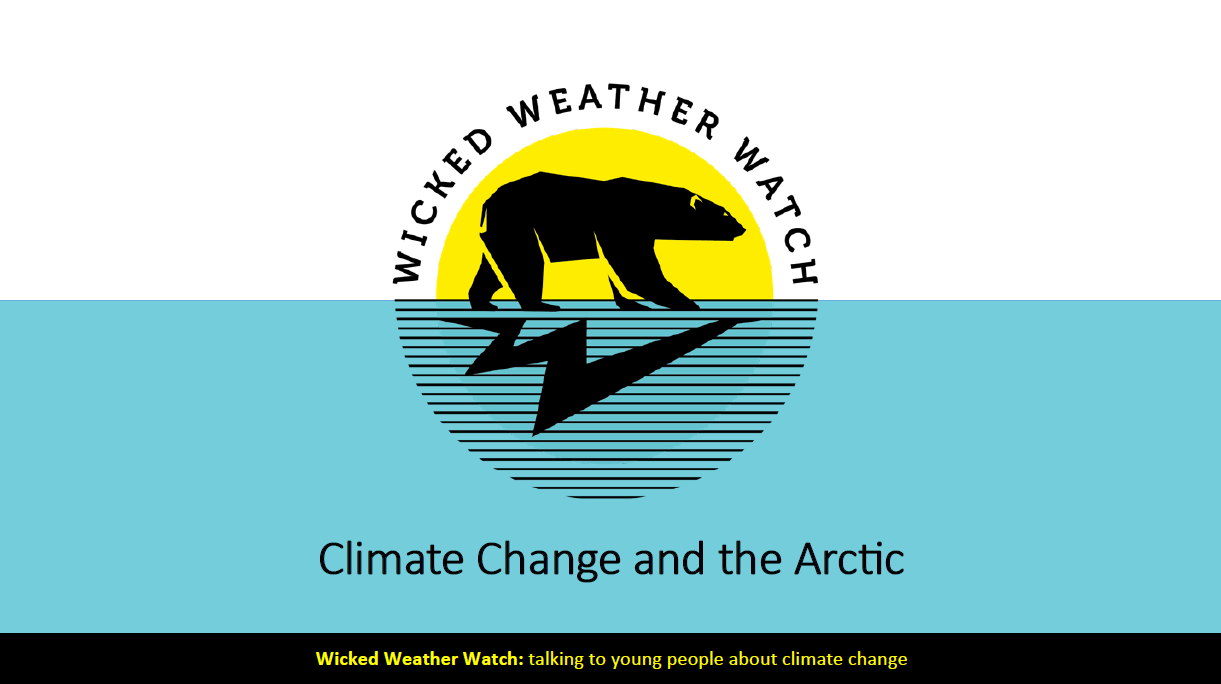 This activity pack from Wicked Weather Watch contains a selection of resources based on the theme of climate change.
'What is climate change?' PowerPoint
Awesome Arctic experiments: Less snow and ice means a warmer world
Awesome Arctic experiments: Rising sea levels
Awesome Arctic experiments: Ocean currents and climate change
Greenland climate changes infographic
---
12 | Amazon forest fires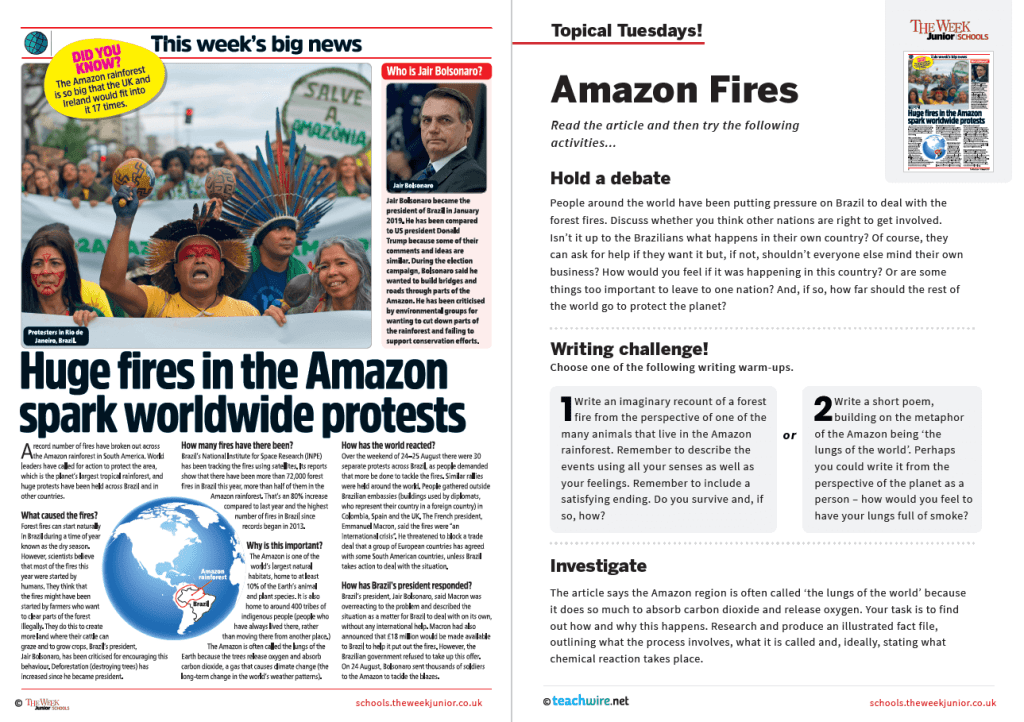 This resource looks at the devastating fires in the Amazon rainforest, and the global protests that are taking place to ensure their protection.
Students will learn what caused the fires, how many fires there have been, why this is so important, how the world has reacted and how Brazil has responded.
This PDF resource includes this article, as well as accompanying activity ideas:
Hold a debate on whether other nations have a say in how these fires are dealt with, or whether it should be up to Brazil alone.
Write an imaginary account of the fires from the perspective of an animal living in the rainforest
Write a poem using the metaphor of the Amazon rainforest being the lungs of the world
Investigate how much oxygen the Amazon rainforest produces, and how this happens
---
13 | Fairtrade Fortnight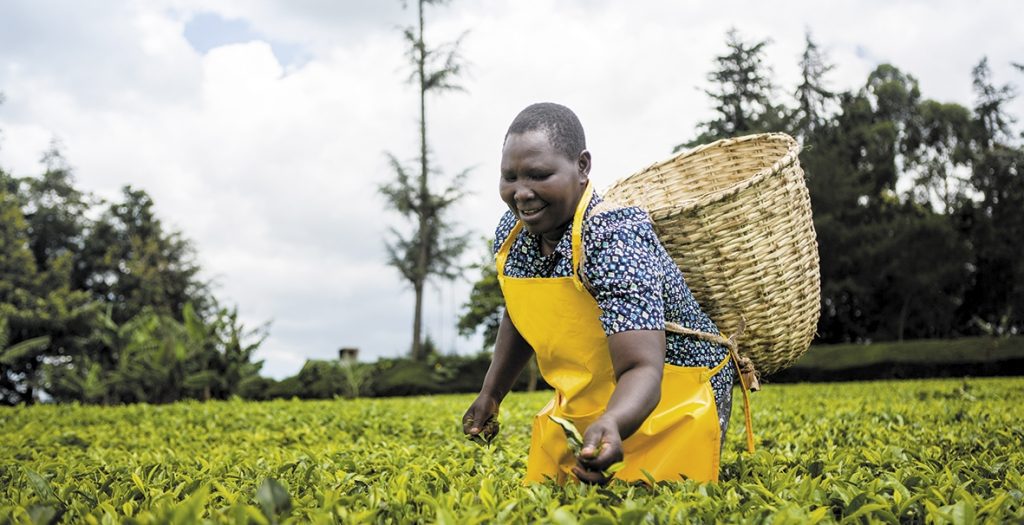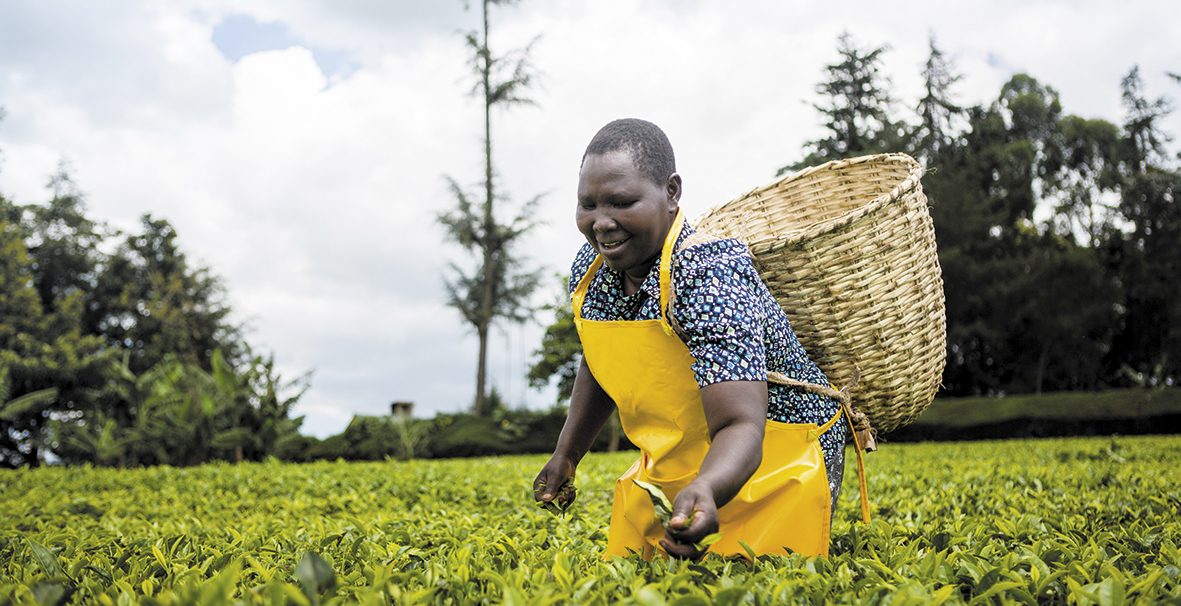 Fairtrade Foundation has developed a set of resources focusing on something many of us start our mornings with – tea.
They tell the story of how tea growers in Kenya are adapting to a changing climate while improving the sustainability of their farms, thanks to Fairtrade.
---
14
|

Extreme weather events and rising sea levels in the UK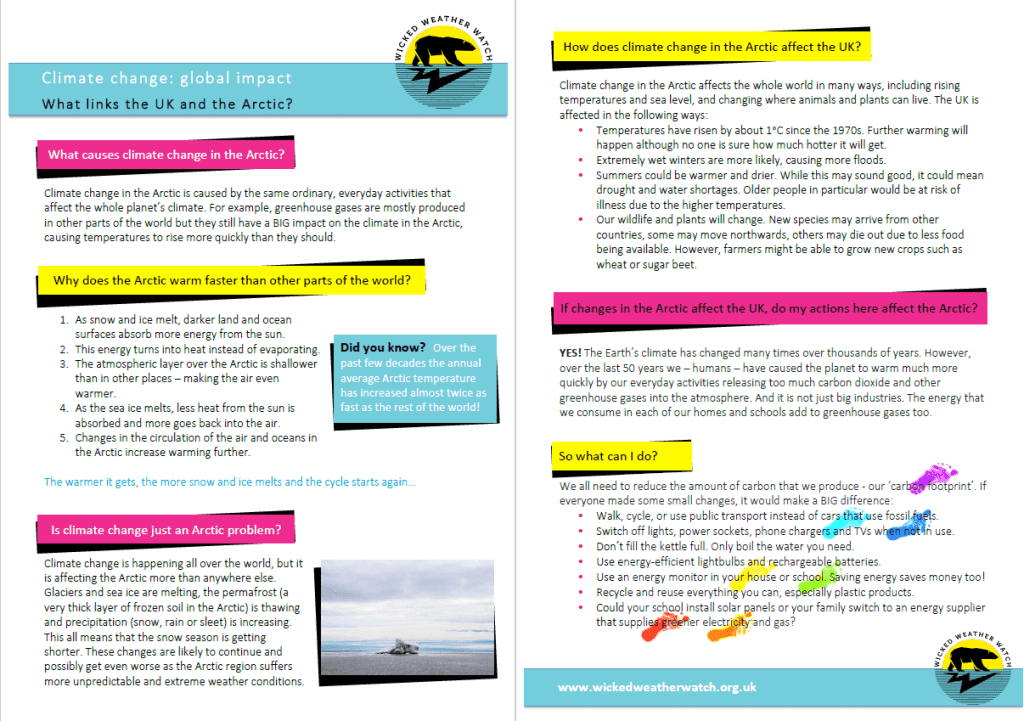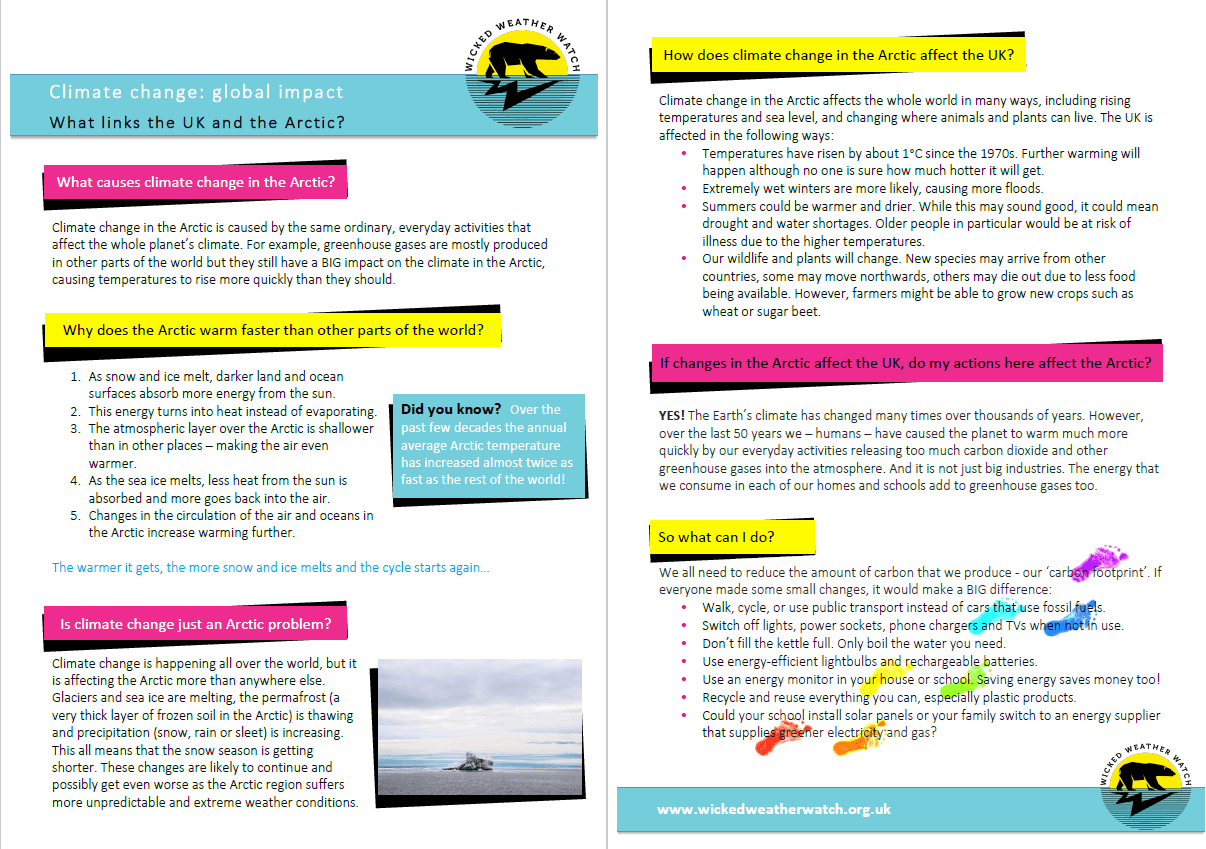 Of course, it's not just climates with extreme hot and cold weather that are affected by global warming. This activity pack contains two resources based on the theme of the climate change in the UK.
Impact of the UK on climate change (activity)
How the UK is linked to the Arctic (info sheet)
---
15 | Climate science, air pollution and greenhouse gas emissions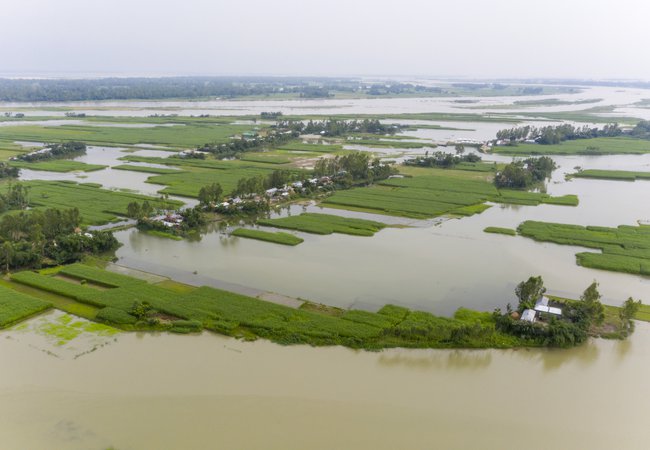 Recently updated, Oxfam's Climate Challenge resources use engaging tools and activities to explore the causes and human impact of climate change, and consider what action can be taken in response.
Investigate the greenhouse effect and analyse carbon footprint data, and use a 'consequence wheel', case studies and roleplay to learn about how communities are being affected by climate change and how people are responding and adapting to these challenges.
---
16 | Life without electricity science resource
This PDF resource includes an article about a power cut that affected 1,000,000 people in England and Wales, the biggest in a decade, as well as accompanying activity ideas:
Hold a debate on our reliance on electricity and whether we should be forced to go without electrical appliances for two hours each day
Discuss whether the climate emergency is so bad that individual rights to using electrical items should be overridden
Write an acrostic poem about being stuck at a railway station because of a power cut, or instructions on what to do in the event of a power cut
Investigate how much power you use by keeping a mini-diary of all your activities that require electricity
---
Browse more resources for World Environment Day.