Classroom discussion – Cyberbullying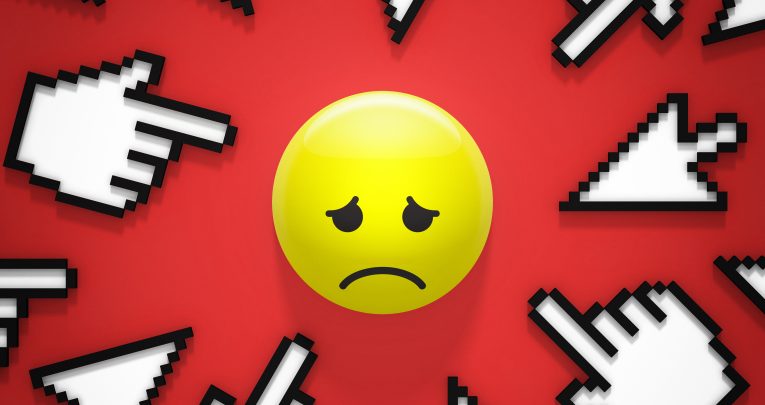 Get your children talking about and understanding the seriousness of online abuse with these five sources of guidance, support and ideas…
As many teachers and students know all too well, the internet – and social media platforms in particular – can be both an empowering force for good, but also used to make someone's life a misery in a ruthlessly cruel way.
The latter has now become so commonplace, it's long had a name – cyberbullying.
A global YouGov survey conducted among 4700 teenagers in September this year found that among those previously on the receiving end of cyberbullying, half reported that it was worse than being bullied face-to-face, while a fifth said they had been affected by it so badly that they had considered suicide.
What makes cyberbullying so insidious is that can be conducted at a distance, with relatively little effort on the part of the perpetrator and under cover of anonymity. Since cyberbullying doesn't involve physical harm, its perpetrators may be minded to view their actions as less damaging and more innocuous than if they were to intimidate their victims with kicks and punches. This also makes it harder to spot when it's happening – but the psychological consequences are very real, and can be extremely debilitating – for both staff and students alike.
DfE-issued advice on what schools can do prevent and manage cyberbullying incidents against staff can be found here [PDF]; below are several providers of materials and guidance to support discussions of cyberbullying with students and help implement an effective anti-cyberbullying strategy.
Facebook Due to its ubiquity, the world's pre-eminent social media service is a frequent flashpoint for cyberbullying incidents. Facebook itself has general advice for educators on tackling bullying at the Safety Centre area of its website. Teachers can also download a Facebook-authored 14-page 'resources and strategies' document [PDF], suggesting ways in which to approach victims, perpetrators and witnesses of cyberbullying.
Net Aware From Instagram to Snapchat, from Vine to Periscope – new online services launch and gain popularity with dizzying speed these days, making it hard for teachers and parents to keep up with the websites and apps that young people are discovering and experimenting with.
The Net Aware online service from the NSPCC helps to demystify what those numerous messaging apps and wildly popular mobile games actually are – what they're for, how people use them, what their appeal is and how easy they are to sign up to. It also assesses how suitable the material typically found on each service is for different age groups, and presents quotes from young people about their experiences of using the service in question.
Childnet This internet safety charity offers a wide range of advice services and resources to help young people stay safe and positive while online. The Childnet website has a series of teaching materials available for download on everything from using smartphones and webcams responsibility, to helping young people with autism navigate the internet and how to maintain one's online reputation. Childnet also produces a 56-page Cyberbullying Guidance document [PDF] for school staff, and has an in-house Education Team that can deliver internet safety presentations in schools.
Digital Literacy & Citizenship A collection of free teaching materials produced by the non-profit South-West Grid for Learning, which combine to form a digital literacy curriculum spanning EYFS learners right through to KS5, with ideas and links to external resources structured into five distinct lessons per year group.
Topics covered include the creation and keeping of secure passwords, what's meant by a 'digital footprint' and the legal and ethical issues surrounding copyright – lessons devoted to cyberbullying are included at years 2, 4, 6, 7, 9 and 10.
Films and videos Let's Fight It Together is a short film produced by Childnet about the effects of cyberbullying and the impact it can have on a range of different people. Originally made a few years ago, some of the technology central to its tale now seems a little dated, but otherwise the film itself has good production values and is backed up by some useful lesson resources.
A good illustration of how primary schools can tackle cyberbullying in an engaging way is the ambitious and highly impressive short film The Anti-Social Network made by Eastlands Primary School in Warwickshire. There's also a short video about a Minecraft play session gone badly wrong produced by the E-Safety Committee of Oaklands Community Primary School in Yeovil [], to coincide with this year's Safer Internet Day.