What to expect at Bett 2022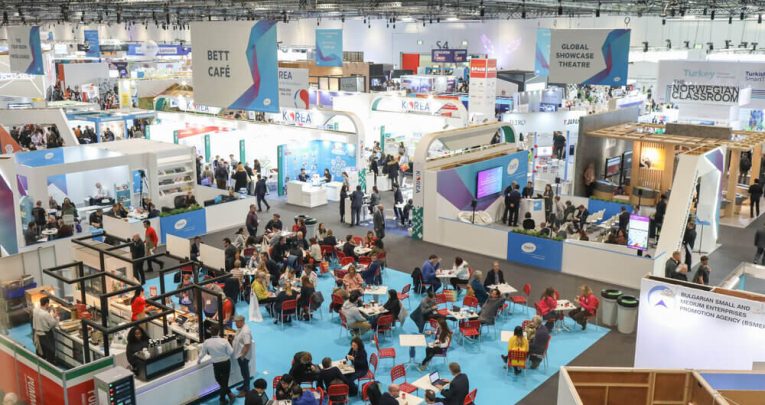 Check out these lessons from longstanding attendee and Bett pro, Martin Bailey…
NOTE: Bett 2022 is postponed to 23-25 March and will continue to take place at the ExCeL London.
What are you most looking forward to at Bett 2022?
Bett for me will always be about the people, and I can't wait to meet up face-to-face again. The organisers did a fab job with 'Bettfest' online last year, but there are many people who I only ever see at Bett and after two years, it will be wonderful to reunite.
Top advice for a newbie?
Until you first visit Bett you can't appreciate the enormity of it. Planning is everything! Make a list of vendors you want to visit and plan a route – there are many different zones!
Make a timetable, too, of the talks you want to see, but do allow yourself some time to simply wander. One of the beauties of Bett is discovering those new things!
Wear sensible shoes (you will definitely get your steps in) and pack some water. You will most likely be taking photos on your phone and posting on social media about your Bett experiences too, so it is well worth taking a phone charger.
If you could only have one thing with you during the show, what would it be?
A colleague! Bett is most definitely an experience best shared and I would recommend all schools to send more than one staff member if they can.
Things are always far better articulated and disseminated back into school when there has been more than one person visiting, and it also allows you to view more of what is on offer. Ideally, try to visit for more than one day too.
Favourite Bett memory?
There are lots and lots! I do remember my first Bett trip fondly and have happy memories of those early shows at Olympia. These were days before social media and you often became aware of products for the first time at the show.
I used to love the smaller, more independent companies you could discover upstairs at Bett, and often came away with some great quirky products.
My first experience of presenting at Bett is a particular highlight, as is taking my pupils for the first time.
However, my standout highlight is presenting alongside my pupils at Bett in 2020 to a crammed-full arena. Very memorable for me, but such a fantastic experience for the pupils too.
Three things not to miss at Bett 2022:
now>press>play I first discovered this company in the Bett Futures zone a few years ago, and my pupils instantly loved it. In my 20+ years of being a computing subject leader it is probably the best product I have ever introduced to a school.
Lanchester Digital Leaders My Lanchester pupils will be presenting in the Bett Academy Live (North Hall), on 'Coding Across the Curriculum' and will be sharing how students can shape the curriculum.
For me, it is so important that we listen to the student voice, and it is one of the key reasons I take my pupils to Bett each year.
Bett Fringe Lots of vendors run great sessions in bars and restaurants on the outskirts of Excel, and this is a great way of networking and meeting other visitors. The Bett Teachmeet is also fantastic and I can highly recommend it.
Martin Bailey is the digital enrichment leader at Lanchester EP Primary School in Durham, and has been attending Bett for 15 years. Find out more about the show at uk.bettshow.com